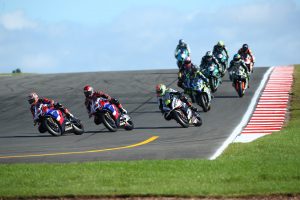 The Honda Racing UK team have experienced a mixed day at Donington Park for the tenth round of the Bennetts British Superbike Championship, with wet weather conditions hampering progress. Pre-empting a poor and potentially disruptive weather forecast, the schedule for today was altered bringing both the opening races for Superbike and the Pirelli National Superstock Championship forward by a few hours. 
This morning Glenn Irwin set the third fastest qualifying lap in Q2 aboard the CBR1000RR-R Fireblade SP in what was tricky conditions. With the rain coming down for the opening race of the weekend, Glenn had a good start and was running in third place until lap three where he crashed out, unhurt, at Fogarty Esses. 
Teammates Ryo Mizuno and Takumi Takahashi both made their race debuts on the GP layout at Donington Park, but sadly for Ryo after setting the ninth fastest time in the morning's practice, he also crashed out of the running, unhurt, on the 12th lap, where he was sitting 12th. The 16-lap race saw 15 finishers cross the line out of 26 riders on the grid, and coming home 13th was Takumi who added further points to his BSB tally. 
Honda Racing UK's Superstock rider, Tom Neave qualified seventh ahead of his 12-lap race and with the rain firmly set for the day, it wasn't going to be an easy race. Wanting to protect his championship lead as much as possible, Tom had a cautious run not wanting to do anything that might have caused him to crash out. Coming home 11th, Tom maintains his championship lead by 14 points, ahead of title rival Alex Olsen. 
The Honda Racing UK team will be back in action tomorrow (Sunday 3 October) for two more Superbike races, as well as the second Superstock race of the weekend.
Glenn Irwin
Race 1 DNF
"In the race I felt good, the track was like ice and we struggled with edge grip. The crash was frustrating as I went into the corner slower than the lap before and there was no warning. I was nervous with my shoulder, physically I knew it would be easier, but it also would have been easy to crash in those conditions. Apologies to the team for the work this evening, the Fireblade has been working well in both conditions this weekend and that's the main thing."
Ryo Mizuno
Race 1 DNF
"I had a good feeling from FP3 and was attacking in Q1, marking my best time, when suddenly I was hit by a rider who was going slow and I couldn't avoid him, crashing and ending the session. I'm looking forward to the two races tomorrow because Donington Park is one of my favourite circuits and I've been riding very well here this week. I'm not sure what the weather will be like, but I'll do my best in all conditions and try to finish in the top 10!"
Takumi Takahashi
Race 1 13th
"In qualifying I was able to ride in Q2 but I crashed on the first lap and I am sorry to my team. I was able to finish the race and get some points, but I couldn't adapt to the conditions and I didn't ride well, so I will try to make up for it in the two races tomorrow."
Tom Neave
Race 1 11th
"The worst thing I could have done was watch the Superbike race before ours, because everyone was crashing and it planted a seed in my head, and the objective then was just to purely finish. Obviously we wanted results, but in conditions like that there's so much to lose and that played a huge part in my race. I wasn't prepared to push and I was having so many slides, and all I wanted to do was to bring her home and that's what I did. Today was about damage limitation and hopefully tomorrow we can have a dry race where I know I can be strong."
Thrilling third for Tom Neave on Sunday
Tom Neave brought his Honda Racing UK CBR1000RR-R Fireblade SP machine home in third place, after a thrilling battle in today's Pirelli National Superstock race. Starting from 12th on the grid, Tom had his work cut out across the 14 laps in order to keep his championship hopes alive, but getting his head down and riding a smart race he made light work of cutting through the pack to get into the group battling for fourth. 
Once he had shaken off challenges from Chrissy Rouse and Fraser Rogers, Tom was fourth and started the hunt to third place, where with just three laps remaining, he made his move on Davey Todd and slotted into the final podium spot. With the championship clear in his mind, title rival Billy McConnell was in second and despite giving it his best shot, Tom crossed the line third, 1.757 seconds shy of Billy. Tom still remains the man to beat as the title fight now goes to the final round at Brands Hatch, where Tom has a 22-point lead ahead of Billy, and 23 points ahead of Alex Olsen, with one race to decide who will become the 2021 Pirelli National Superstock Champion. 
The team's Superbike riders again had a day of mixed conditions with Race 2 taking place in glorious sunshine, while Race 3 was disrupted by a heavy rain shower and shortened to 15 laps. Glenn Irwin had a solid ride in the opening race of the day finishing tenth, but it was in the final race of the day in terrible conditions, where he put in his best performance of the weekend. Having to start from pit lane after suffering a technical issue with his quickshifter during the warm up lap, Glenn had 26 riders in front of him. Quickly and carefully making his way through, Glenn came home in 10th place having made up an incredible 17 places across the 15 laps. 
Keen to improve after yesterday's crash in Race 1, Ryo Mizuno collected further BSB points finishing 14th. However with wet conditions for the final race and struggling with surface grip, he wasn't able to match the 14th position in the earlier race and came home 21st. Meanwhile Takumi Takahashi took on a development role for the weekend's action, using the races to test and develop new parts for the Fireblade, he came home 18th and 20th in both of today's outings. 
There's now a short break for the Honda Racing UK team, before the season finale takes place at Brands Hatch on 15-17 October. 
Glenn Irwin
Race 2 10th Race 3 10th
"Race 2 today was fun, the Fireblade was working well but physically I was beat and couldn't give any more. We made a change for the last race, and it felt good in the dry, but in the end, it didn't matter as we had the issue with the quickshifter and it was a wet race. Losing the warm-up lap and initial heat in the tyres wasn't ideal, but fair play to the team, they had to make another quick change and they were faultless. During the race and seeing the likes of Josh [Brookes] and Danny [Buchan] go out, I thought to myself 'we're not able to win the championship, but we can beat those guys and fight'! It has been a weekend of frustrations at times, but the positives have outweighed those frustrations, and we're coming away having learnt a lot and I can tick off gaining confidence riding in the wet."
Ryo Mizuno
Race 2 14th Race 3 21st
"It was not a good day for us. We had a good qualifying session and we tried to improve the set-up, but in Race 2 it was worse. For Race 3 we went back to the set-up and in the warm-up we got the feeling right away, and I was looking forward to it, but then it started to rain and the wet conditions were very bad, so we finished in a bad way. It's a shame about the result but we have made a lot of progress in the dry and I'm looking forward to the next round, which will be the last one. We will work hard as a team to end the season on a high note!"
Takumi Takahashi
Race 2 18th Race 3 20th
"I worked a lot this weekend trying to find a good feeling with a development swingarm. My feeling in the dry was getting a little better, but it was a difficult weekend for me because I didn't have much time in the wet, and when we did I didn't have a good feeling. There is only the final round left, so whether we cry or laugh, we will be ready to finish with a smile on our faces."
Tom Neave
Race 2 3rd
"After yesterday's result it's good to turn it around to have a solid result and an awesome battle! When you have a race like that it doesn't always matter where you finish, it's just a fun position to be in. I gave it all I could today and left nothing on the table, we were so close to being able to wrap the championship up if we had finished second we'd have won today, but after yesterday's performance it was just good to put a solid race together again. I probably spent too long battling for fourth/fifth place, so to break free and come back at the end showed I had my head on and I wanted it. Although we're taking the championship to Brands, we don't have much to do, so fingers crossed we can do the business there!"