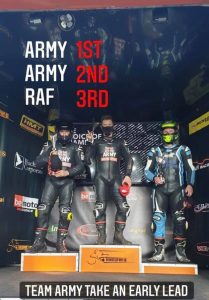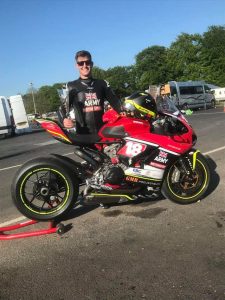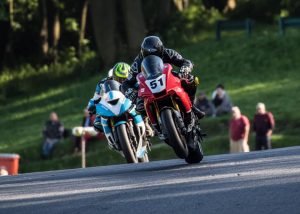 Summary
It was finally here, the first round of the season at a gloriously sunny Cadwell Park on the bank holiday weekend. The team enjoyed three days of testing and racing culminating in the Military race last thing on bank holiday Monday. The team was back to winning ways taking first and second in the Military race as well as stacking the mid-field to take a commanding lead in the overall.
#29 Lt Col James Alder
Lieutenant Colonel 'JJ' Alder begins this season on a new motorcycle in a new class. Having competed for the last three seasons on a Suzuki SV650 in the Stocktwin class, he has now moved up in terms of power and competition to the GP1 Classic class on a Yamaha R1. The season opener was therefore a very steep learning curve for JJ having missed out on track time due to bike setup issues and lockdown restrictions. Entering the weekend, JJ had the aim of getting to know the new bike and to at least better his lap times from last year, which he achieved with his best times and race position in the third race on Sunday morning. JJ is now looking forward to the next round at Mallory Park, which was always a favourite in the past, and can't wait to see if he can continue his improvement with the new bike.
#78 Maj John Miller
Following a crash at the final race of the 2020 season which happened to be at Cadwell Park Maj Miller had unfinished business with the circuit. The weather was glorious all weekend, but Maj Miller struggled to get a good lap time on the test day. He pushed hard in qualifying and qualified in 10th place in the Pre-national 600 class and 5th on the Military grid. He had some successful results in the pre-National class but was saving himself for the Military race which was the last race on Monday. He got a good start remaining in 5th place, unfortunately the pace of the top four was too much and he could not stay with them. With riders breathing down his neck he worked hard to maintain his position and finished in 5th, very happy for a clean race and good points for the championship.
#62 Sgt Sam Cartwright
The Military race was the last race of the day on the Monday. Sgt Cartwright qualified 11th out of 23 riders. He started the race and kept his positions for the first couple of laps before starting to have problems with his rear tyre and had the feeling of no grip. He carried on however he was passed by a RAF rider putting him back to 12th. On the last lap Sgt Cartwright managed to get up the inside of the RAF rider going into Mansfield out braking him going into the corner, finishing 11th.
#18 Sgt Spencer Fleet
Sgt Spencer-Fleet having only joined the Sprint team this season, was feeling very confident having won just weeks before at Cadwell Park in another championship in wet/drying conditions. With the heat and dry track, the weekend started off very well, chasing some fast racers in GP1 class to get up-to speed saw personal bests beaten and putting him on Pole for the Military race. Personal bests dropped every session and set up changes were going the right way. The Military race was a bit nerve racking experience, having never started from pole or led a race. Using his pit board, he managed that perfectly, leading the race from start to finish, Sgt Spencer-Fleet won the race and now really looking forward to round 2 at Mallory Park.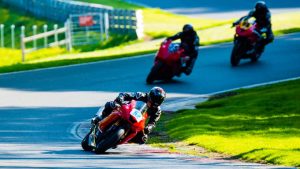 #55 Sgt Leon Wilton Sgt Wilton
Having new suspension for the 2021 season, he was looking forward to seeing some improvements. With great weather on the cards it was a good time to test the new suspension, taking advantage of the whole track day dialling in the settings. Qualifying felt very good and he even achieved a new PB putting him 3rd on the Military grid missing out on 2nd by tenth of a second. GP 1 Sportsman Elite race 1, DNF, prior to the race Sgt Wilton cleaned his Visor and Pin Lock and did not completely seal the Pin lock back, so after 4 laps he could not see through the visor, forcing him to retire.
GP 1 Sportsman Elite race 2, solid race at the start, but due to having 12 laps in the GP1 race at a very demanding track, Sgt Wilton's attention span was being testing and started making mistakes after 8 laps, moving up 10 place from his start position was still a good result finishing 6th in his class. Military Race, starting from 3rd Sgt Wilton was in a good position, he had the inside line or so he thought! Having watched the lights go out and his bike not move he missed the clutch bite and got a terrible start. Putting that behind him, Sgt Wilton was still running in 3rd but quite a way back from the leader. After getting his head down and putting in some quick laps he eventually moved into 2nd and then chasing down 1st place, but even after putting in the fastest lap of the race he ended up finishing 2nd. All in all, a very strong weekend as this being Sgt Wilton's least favourite track.
#159 LCpl Tyler Viveiros
LCpl Viveiros faced a testing weekend at Cadwell Park upon his return to racing. Challenges during qualification for both bike and rider returned a mid-pack grid position for race one and two. Viveiros made his way through the pack well in race one to finish P12. Despite a great start off the line for race two, Viveiros was pushed off track into turn one and sent grass tracking in a style that Tom Pages would be proud of. Re-joining the track in last place and several seconds behind, LCpl Viveiros enjoyed a race carving through the field to take 14th overall; a disappointing result from a points perspective, but a thoroughly enjoyable race working from the back. Day two saw much of the same with a P12 and P11 respectively in class. LCpl Viveiros ended the military race P16, a solid result on a 500cc machine against a strong cohort of talent, scoring points for the Army team.
#93 LCpl Liam Palmer
Being LCpl Palmer's 2nd time to Cadwell Park he felt much more confident in his abilities. Test day went well and learning the new tyres from Michelin and how they reacted he managed to push to bring his lap times down every session. Qualifying found LCpl Palmer starting from 6th in class with a time that was approaching his main competition. Race 1 he finished in his starting position of 6th after some hard battles. Race 2 saw LCpl Palmer achieve a new personal best time and finish in 5th after another hard battle. 3rd Race unfortunately due to the challenges of the circuit he started suffering with arm pump again but managed to hold on to finish in 6th. 4th Race was his best finish this weekend finishing in 4th with another best time. LCpl Palmer made a really good start in the Military race passing many into the first corner being a slower bike he was soon again passed but sat in behind a fellow army rider on a 1000cc bike and managed to hold his slip stream and use the corner speed that the sv650 has to stay with him the whole Race. Finishing the race as the first in class and gaining a lot of needed points for the start of the season.