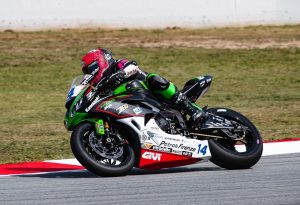 After a month's break, Kawasaki Puccetti Racing is back in action on British soil, at the historic Donington Park circuit, which hosted the very first Superbike World Championship round in 1988.
In Supersport, young Can Oncu, injured in a blameless crash at the very start of race 2 at Assen, is not yet ready to take on a full race weekend and will be replaced once again by Lucas Mahias, who already competed for Kawasaki Puccetti Racing during the previous two rounds at Barcelona and Misano. The Frenchman has continued to improve and is finding the right feeling with the ZX-6R.
The same goes for Tito Rabat who was back with the Italian team at Misano and will continue to work to adapt to the Ninja in English, at a track that both he and Mahias know very well. As well as the variable weather, they also have to consider that the track has recently been resurfaced, and so will need to understand the grip that it offers.
The Donington Park circuit was built in 1931. Closed due to the two world wars, it began to host motor racing events again as of 1977. The very first WorldSBK round played out at the British track on 3 April 1988 and since then, 58 reigning class races have been staged at the Leicestershire track. It currently measures 4023 metres in length and features 12 corners, seven of which right-handers and five left. Over the years, it has undergone restructuring work, most recently in 1985 when the section behind the paddock, known as the Melbourne Loop, was added, a stretch that has often been the scene of race-deciding. The entire track has recently been resurfaced.
Manuel Puccetti
"Donington has always been a good track for our team, and in the past we've won across all categories in which we've competed, with the exception of Superbike, where we've nevertheless been on the podium. Can Oncu is unfortunately not yet ready for a race weekend, but we can count on Lucas Mahias who continues to adapt to the bike and the category. Tito Rabat showed continuous improvement at Misano and so we're confident we can score good results."
Tito Rabat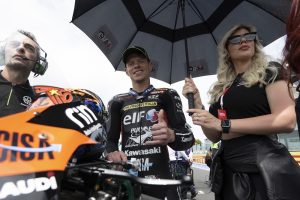 "The Misano round was very important to adapt the electronics to my riding style and this left me feeling a lot more comfortable on my Kawasaki. I'm confident heading into Donington, because I know that by working with the team we can take another step forward. The weather is always changeable and so we'll see what condition the track's in, also because it's recently been resurfaced. I feel fit and ready to take on this round in the UK."
Lucas Mahias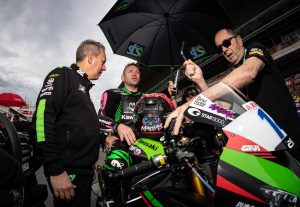 "I'm pleased to have another chance to race in WorldSSP with Kawasaki Puccetti Racing, but I hope Can is able to return soon. I really like the Donington Park track. It's old style with many fast turns. The asphalt is new which is great news because there were too many potholes in recent years. Looking at the forecast, it seems the weather might be nice which would be fantastic. I'll continue to work with the team to improve the bike and I can say my feeling with the Ninja has improved race by race. This means I can be more aggressive in the initial phases of the race."