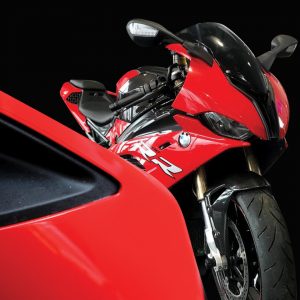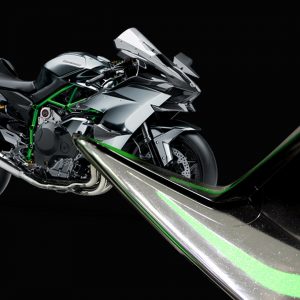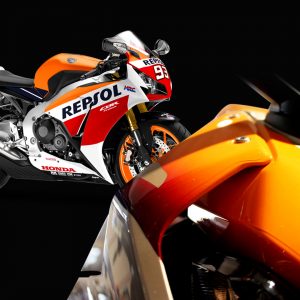 Do I get everything I need to install my motorcycle Paint Protection Kit?
Yes. Our Paint Protection Kits are supplied with your bespoke cut Paint Protection Film pieces, a bottle of application solution (just add water), a squeegee, cleaning wipes and fitting instructions. Eazi-Guard Motorcycle Paint Protection Kits are easy to fit, with sectional pieces, that in conjunction with our advanced fitting solution, simply float into place. 
Is the Eazi-Guard Paint Protection Kit easy to fit?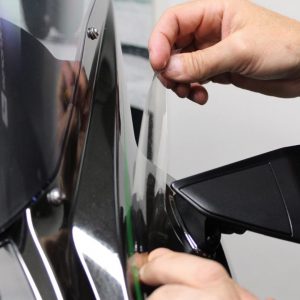 Our kits have been specially designed to be fit by anybody at home. The film is extremely conformable around even tight radii and compound curves. It does take a little patience and time, but the results are more than worth it. Check out Bennetts' review further down the article to see John fitting a kit to his S1000XR for more details.
Clean the surface to be applied to thoroughly, using the enclosed isopropyl wipe or degreaser. Do not use products such as methylated spirits, lighter fuel or white spirits, as these leave behind a greasy residue that will affect the ability of the adhesive to bond to the surface to be protected.
Use the enclosed diagram to identify the parts to be fitted.
Fill the spray bottle with water, the spray bottle contains a small amount of concentrated lubricant that when mixed with water will produce a fitting solution. Once the surface has been cleaned and all contaminate removed, spray the fitting solution onto the area of paintwork to be protected. At the same time, generously spray the adhesive face of the part to be fitted with the fitting solution. This will significantly ease positioning of the protection film and float into position. Avoid touching the adhesive when dry, as this will leave a fingerprint in the film. If you don't wear gloves, wet your fingers to avoid fingerprints.
Once the film is correctly positioned, start applying the film, working with half the film at a time, using a squeegee to expel 100% of the air and liquid from the centre towards the edges. Also spray the top face of film to allow the squeegee to slide smoothly and avoid scratching the film. For curved surfaces, pull gently in the direction required and you will find the film will naturally take to the curvature of the panel. Continue to push out all the remaining water or air bubbles from under the film, ensuring the squeegee slides smoothly from the middle area of the film to the outside edges. This will produce a perfectly clear look. If the film needs to be repositioned during the application process, remove it partially and respray some liquid on both the surface being protected and the adhesive side of the film. If any creases appear in the film work out towards an edge using either the squeegee or your thumb to gently spread the film. Dry off any excess fluid with a paper towel and finally, use a hair dryer or heat gun to warm up the film to ensure a strong and lasting bond. Do not exceed 80°C.
If you have any questions or need some advice when fitting your kit, we are just a phone call away, or message us on social media.
Will it protect my motorcycle's resale value?
Our Paint Protection Film is super thin, but very tough and is non-yellowing. It disperses gravel and stones and protects against scratches, road tar, bird droppings, tree debris, salt, UV rays and abrasions. It self heals too. This is shown in more detail when Bennetts tested our Paint Protection Film properties. Click here to watch the video. This means your paintwork remains untouched beneath and therefore retains your bike's resale value.
Is a motorcycle Paint Protection Kit affordable?
Wrapping a motorcycle isn't cheap, it is from around £1500. Our Paint Protection Kits provide a much more affordable form of protection with prices starting from just £55 + VAT.
Do you design and manufacture the Paint Protection Kits yourself?
Our designers personally visit our local dealerships to trace any new models. All kits are scanned, designed and cut by our fully trained staff. We do not use template libraries and all our bespoke kits are trademarked registered designs.
Is it noticeable on the motorbike once installed?
As our film is so clear and thin, it provides an almost invisible finish when applied, so it not only protects the look of your bike, but it looks good on your bike too. It is available in Matte and Gloss.
Do any of the leading race teams use your Paint Protection Kits?
Our Paint Protection Kits are used in the TT, BSB, WSBK, MotoAmerica, ASBK, Moto2 and Moto3 paddocks. BMW Motorrad World Superbike Team, Westby Racing, McAMS Yamaha, DesmoSport Ducati, Silicone Engineering Racing and Synetiq BMW all use our Paint Protection Kits. Our teams have thoroughly tested our Paint Protection Film and helped us make it the best it can be.
Are there any independent reviews for your Paint Protection Kits?
We have over 26,000 positive feedback reviews on Ebay for Eazi-Grip Racing Products, which you can see here https://www.ebay.co.uk/usr/hillcroftnw
We are rated 4.4 stars on Trustpilot, which can be seen here https://uk.trustpilot.com/review/www.eazi-grip.com
John Milbank at Bennetts has also reviewed our Paint Protection, which he fitted to his personal BMW S1000XR, which you can read here https://www.bennetts.co.uk/bikesocial/reviews/products/motorcycle-accessories/eazi-grip-paint-protection
More reasons to protect your motorcycle with Eazi-Guard Paint Protection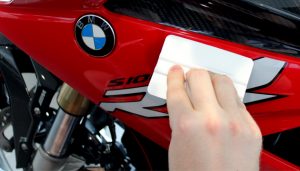 High durability – Eazi-Guard™ protection film provides lasting scratch resistance, puncture resistance, stain and chemical resistance.
Self healing – Eazi-Guard™ protection film will regenerate with the help of heat from the sun or hot water.
Self cleaning – Eazi-Guard™ protection film contains an anti-adhesion component, ensuring that dust and dirt will adhere much less to the protected surfaces, making cleaning less frequent and significantly easier.
Oxidation and acid rain resistant – Eazi-Guard™ protection film provides an effective barrier against harmful acid rain resulting from air pollution and the damaging effect of UV rays.
Over 125 kits available
We have created bespoke kits for all the major manufacturers including BMW, Ducati, Honda, Kawasaki, Yamaha, Aprilia, KTM, Suzuki and Triumph, as well as universal sets. Together with our standard range of pre-cut kits, we also offer rolls of PPF in 75mm, 100mm & 150mm widths , ideal for protecting front forks, chassis rails and swingarms.
What if I cannot find a Paint Protection Kit for my bike?
If there isn't a kit listed for your bike, just let us know and we will see if we can create it. If it's a new bike, it's probably already on our list. We also have universal kits for sale, which can be cut to suit as an option.
To buy an Eazi-Guard Paint Protection Kit for your motorcycle, visit https://www.eazi-grip.com/cat/eazi-guard/