We had the pleasure of meeting Phil Armes at the Official BSB Testing last week at Silverstone. We are keen to share his story and the impact of using Eazi-Grip Tank Grips has had on his confidence getting back on the course.
In August 1995 Phil Armes' motorcycle racing career came to an abrupt end when he crashed at the Ulster Grand Prix and broke his back, leaving him paralysed from the lower chest down, and confined to a wheelchair.
Fast forward 18 years and the father of three was invited, as a past winner, to take part in the 90th anniversary celebrations of the Manx Grand Prix on the world famous TT course in the Isle of Man. This included a parade lap which the organisers agreed that Phil could take part in, if he could prove he was safe and competent to do so.
After learning to ride again on a modified bike at The Bike Experience charity at Silverstone race circuit he took on the challenge of riding the world's toughest track in September 2013. It didn't all go according to plan and a technical issue forced Phil to pull out after 24 miles of the 37 ¾ mile circuit. Two subsequent attempts in 2014 and 2015 were thwarted by a combination of technical and weather problems, but on August 29th 2016 Phil became the first paraplegic to complete a solo lap of the TT course on his Triumph Daytona 675.
After finishing the lap Phil said, "that was probably the hardest thing I've ever done on a motorcycle, but also one of the most rewarding. To be able to ride the TT course again was certainly something I never thought would be possible, but it just goes to show that if you put your mind to something you can often get a great outcome."
 
The Triumph Daytona was fitted with several technical modifications including a duel brake lever on the right handlebar, a Pro-Shift gear change unit with auto-blipper which allowed for thumb operated gear changes, and extended footrests with cycle toe clips to secure Phil's feet safely. But one of the simplest additions, that made one of the biggest improvements was the fitting of Eazi-Grip tank grips. Being paralysed means that Phil can slide in the seat, and the extra grip between his knees and the tank eliminated much of this problem and made life so much easier.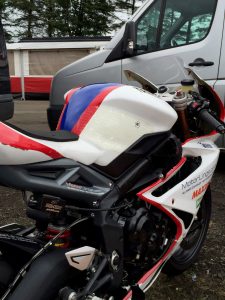 Riding the TT course was the height of his return to two wheels, but just two weeks prior to this historic ride, he also made an emotional return to Northern Ireland to successfully complete a lap of the Ulster GP track that he crashed at 21 years ago. He commented afterwards, "the Dundrod track is known as the fastest road race in the world, but it took me 21 years to complete a lap which has to be some sort of record in it's own right!"
We are so pleased to have been a part of Phil's journey and wish him all the best for the future.