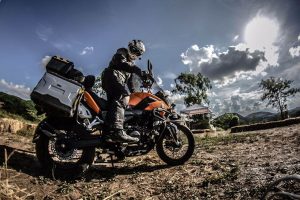 If you're used to a quick blast on your bike on a Sunday, meeting up with your friends for a brew, or just getting out to clear your head, you will struggle to suddenly ride your bike for a long tour.
Here we share our tips to prepare yourself for an upcoming motorcycle tour.
Build stamina for your long distance motorcycle tour 
If you're not a regular tour rider, you need to prepare for it. Build up your mileage on a ride, start with 50 miles, then work your way up to 100, 150 and so on. You will soon be able to cover a good distance in a day.
This is also a fantastic opportunity to test out different luggage set-ups, so you know what will work for you when riding long distances on your motorcycle.
Refine your long distance motorcycle set up
A lot of riders don't ride with full luggage, if you are one of them, it's worth a few ride outs with a top box, roll bag and panniers to get used to how it affects your riding and the feel of your motorcycle. Whilst building up your stamina and mileage, consider riding with luggage at the same time. This will give you the chance to refine your set up before the tour.
Use these practice rides to try different luggage combinations. You may prefer riding with a tail pack over a tank bag, or just a top-box rather than panniers too. Find out what works best for you.
Improve your riding fitness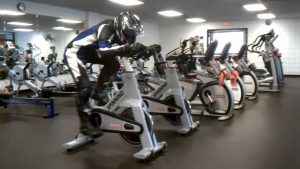 Long distance riding is draining, both physically and mentally. In the months leading up to your motorcycle tour, try to get your body in good shape.
We're not suggesting running a marathon or an Iron Man challenge, but basic cardiovascular fitness and muscle endurance will help with long distance motorcycling.
Having a good level of fitness will also help with your levels of focus and concentration.
Packing your kit
Now you know what luggage set up works best for you, now you need to pack your kit. It's important to make sure you have everything you might need to hand, for example, your passport for border crossings. Make sure your documents and anything else you might need are close to hand and easily accessible.
Don't worry if you fall behind on your schedule
First get your map (physical or digital) and check over your route. Find out where you are and where you want to be and calculate the miles. Look at little changes you could make to speed up your journey, for example, can you change the scenic route to a motorway temporarily? Avoid difficult roads and mountain passes. Are there any shortcuts you can take? Toll roads are an expense, and can be a drag, but in these situations they are usually worth it.
Early starts
Want to cover more miles? Simple, get up earlier.
You may not be the nest morning person and need a couple of brews to get going, but most people tend to feel more motivated in the morning and more likely to cover a longer distance in the first few hours of riding. In the afternoon fatigue can set in and you slow down.
Plan smarter breaks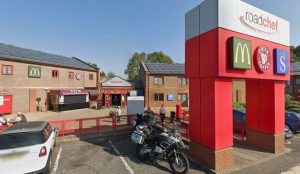 You don't want to lose momentum on your motorcycle tour, sometimes taking multiple breaks for fuel, food, drink and stretching can make you reluctant to get back on your bike, and it slows you down. Try to stop at places where you can do all of this in one place, for example, service stations. Make it a priority to nip to to loo, get something to eat and drink and refuel within the shortest time possible.
Eat little and often
When riding there's nothing worse than feeling bloated, tired and lethargic. While it's tempting to have a huge lunch after a morning's riding, try and save your large feed for the end of the day. Eat small, healthy meals during the day and make sure you drink plenty of water.
Stay hydrated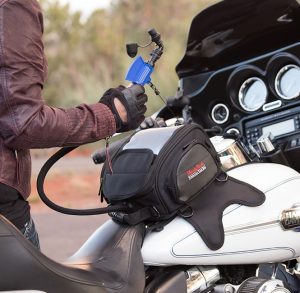 Not only is your motorcycle engine kicking out a lot of heat, but you may also be riding in a hot climate. It's easy to underestimate the amount of water you will be losing.
If riding in a hot country, you will be going through around 5/6 litres a day. If you're drinking enough to keep hydrated, you may start to lack salts. Make sure you replace those salts with soluble tablets or the occasional electrolyte rich drink.
A convenient way to keep hydrated is to use a hydration pack. They typically hold a couple of litres and will keep your fluids topped up. Just take a sip every 10-15 minutes. Fill it back up on your breaks and drink some water there too.
Don't ride aggressively
This is a marathon not a sprint. The quickest riders on a tour are those that maintain a steady and constant speed all day. Not only is it quicker, it's safer, more fuel-efficient and sustainable over a long distance, meaning it's much less tiring.
The same goes for breaks, don't ride hard for an hour, then have a break for an hour because you're tired. Ride consistently for longer with shorter, more time efficient breaks.
Choose your riding partner(s) wisely
Ideally you want to ride with people that have the same riding style as you. If your mate wants to stop every half hour, it can be incredibly difficult to make up time and can lead to arguments and disagreements. Don't ride your motorcycle when you're in a bad mood!
Caffeine and motorcycle touring
Caffeine can be great, but you need to drink it wisely. If you drink too much it can affect your mood, and actually make you sleepy rather than waking you up. Make sure you space your caffeine fixes out with a good few hours in between. This way you will get the energising effects without the comedown after drinking too much.
Wear the right gear
Having the right gear for the conditions is super important and can make all the difference.
You'll need to keep warm or cool, ventilated and dry.
Having a couple of pairs of gloves (Summer set and a Winter set) is a good tip too if you have room.
If you can get clothing that is both waterproof and breathable that's great. If not, make sure your waterproofs are easily accessible.
Helmets for long distance motorcycle riding
Don't go for an open face helmet, yes you might look cool in it, but only until you get a bug to the face or sun damage.
With a full-face lid your head, eyes and lips are all completely protected from the wind, rain, sun and any flying debris.
Get yourself a screen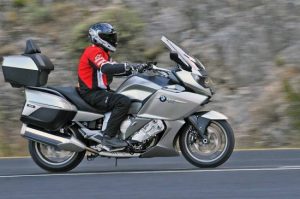 Different riders prefer different heights of screen, the best thing is to get an adjustable one, or one you are comfortable with. Bimbling on your Sunday morning ride without a screen is fine, but when you find yourself on a motorway for a good number of miles it is very different.
Fighting against the wind will make you more tired and will take its toll on your energy supplies. Using a screen will help to combat this.
Wear earplugs
The noise of traffic, your engine and the wind over hours can really sap your energy. Physically you can end up with a headache, but mentally it can become exhausting and affect your sleep. Ear plugs will help you stay alert against the constant noise in your ears, so making your ride safer.
Tailor your motorcycle for comfort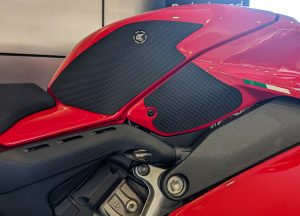 During your pre-tour test rides take note of what makes you feel uncomfortable. If you get achy wrists, or you find yourself sliding around your tank, our Tank Grips will help to keep you in position and reduce tiredness. They also reduce pressure on your arms and wrists. You can find them here https://www.eazi-grip.com/cat/eazi-grip/
Perhaps your bottom really starts to hurt after a few hours or your legs start to ache. Make sure your handlebars and pegs are at the right height and adjust the levers to suit. Having rubber topped pegs will also reduce vibrations when riding.
Consider an aftermarket seat or a seat pad if you can't ride for any period of time without getting pins and needles. If you find your seat uncomfortable on your test rides, swap it out before your tour.
Power ports are a must
If your bike doesn't have one as standard, invest in one. If your hardwired GPS fails, your phone needs charging, or you have heated gear, a port can be another way to charge and power them.
Enjoy the ride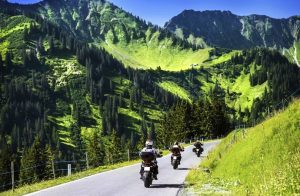 Now you know what to do to for your motorcycle tour, enjoy it. Getting out on the bike and exploring new places is one of life's pleasures!