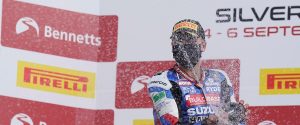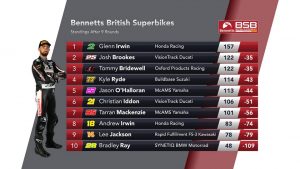 Kyle Ryde delivered an inch-perfect performance in the final Bennetts British Superbike Championship race of the weekend at Silverstone, claiming his second victory after scoring his debut win for Buildbase Suzuki earlier in the day.
Ryde got an electric start from pole position to lead Glenn Irwin and Josh Brookes on the opening lap, but Jason O'Halloran soon dived ahead of his VisionTrack Ducati rival to grab third position, before snatching second place by the end of lap three.
Ryde was soon trying to make a break, and the Buildbase Suzuki rider executed it perfectly as he was able to edge an advantage over the chasing pack behind him where there was an intense battle for the podium positions.
O'Halloran was holding off Glenn Irwin, despite the McAMS Yamaha rider trying to get ahead of Ryde in the early stages of the race for the lead.
Christian Iddon meanwhile had moved into the mix for the podium fight, and by lap ten he was holding third place ahead of Tarran Mackenzie and Glenn Irwin.
At the halfway point of the race Iddon was able to make a decisive move on O'Halloran for second, but over the final ten laps he started dropping back through the field and on the final lap the battle for fifth was a Ducati dogfight.
Iddon had held the advantage from Brookes and Bridewell but as they crossed the line the trio had shifted with the Oxford Products Racing Ducati emerging ahead with Bridewell leading Brookes and Iddon across the finish line.
The battle for second meanwhile had intensified between the McAMS Yamaha teammates with Mackenzie able to fend off the challenges from O'Halloran to claim second place as they celebrated their strongest weekend of the season.
Glenn Irwin finished Round 9 in fourth place, but the points still give the Honda Racing rider the edge in the championship standings ahead of the next three races at Oulton Park later this month.
Lee Jackson was the highest placed Kawasaki as he finished in eighth place for the Rapid Fulfillment FS-3 Kawasaki team, with Andrew Irwin and Luke Mossey getting the better of Danny Buchan on the final lap to complete the top ten.
Bennetts British Superbike Championship, Silverstone, Round 9 result:
Kyle Ryde (Buildbase Suzuki)
Tarran Mackenzie (McAMS Yamaha) +1.549s
Jason O'Halloran (McAMS Yamaha) +1.649s
Glenn Irwin (Honda Racing) +3.421s
Tommy Bridewell (Oxford Products Racing Ducati) +4.911s
Josh Brookes (VisionTrack Ducati) +5.329s
Christian Iddon (VisionTrack Ducati) +5.373s
Lee Jackson (Rapid Fulfillment FS-3 Kawasaki) +5.481s
Andrew Irwin (Honda Racing) +9.614s
Luke Mossey (Rich Energy OMG Racing BMW) +10.144s
Bennetts British Superbike Championship standings after Round 9:
Glenn Irwin (Honda Racing) 157
Josh Brookes (VisionTrack Ducati) 122
Tommy Bridewell (Oxford Products Racing Ducati) 122
Kyle Ryde (Buildbase Suzuki) 114
Jason O'Halloran (McAMS Yamaha) 113
Christian Iddon (VisionTrack Ducati) 106
Tarran Mackenzie (McAMS Yamaha) 101
Andrew Irwin (Honda Racing) 83
Lee Jackson (Rapid Fulfillment FS-3 Kawasaki) 78
Bradley Ray (SYNETIQ BMW) 48