Lee Jackson is determined to be back in the hunt for a podium at Knockhill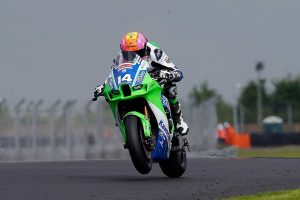 Lee Jackson was a double podium finisher at Knockhill last season and as the Bennetts British Superbike Championship prepares to head north of the border next weekend (June 16/17/18), the Cheshire Mouldings Kawasaki rider is focused on securing his first podium finish in 2023.
Jackson scored a fourth place last time out at Donington Park to edge closer to the top three, with further changes made with the Cheshire Mouldings Kawasaki, giving the Lincolnshire contender a more familiar feeling and with it more confidence. The team were not present at the recent private test, but Jackson believes that they will be in the fight next weekend.
Jackson said: "Donington Park was my best weekend so far; I went there pretty open minded seeing as Oulton Park was a bit better than Silverstone, but it was still not quite where I wanted to be. Donington Park was really good, we made changes not big ones, but quite a lot of changes on Friday. We had a new link that matched the actual factory swingarm, which we hadn't used yet this season and that was probably the most positive and the biggest effect we have done so far this year.
"It was fantastic and made my bike feel so much more like the feeling I had last year. That isn't always what you want of the bike feeling the same, but it gave me familiarity which was a lot better.
"Going into Saturday I felt a lot more confident and was really looking forward to going into Superpole and really my main aim was getting into it to be honest as it is something that I enjoy doing, so I was happy to get through on Friday. We made a decision to go on the SC0 tyre, which I think paid off, as nobody knew what the tyre gamble would be. I knew I could be fast on it even without much testing so it boosted my season.
"The round at Donington Park definitely made me feel better and the feeling I had with the bike too was improved. We were pretty close to the podium in race two; the Safety Car bought a lot of us back into the race and it felt good to be back at the front battling, proving what we can do and not lost it since the end of last season!
"It is onwards to Knockhill now. We didn't have the test, but I am looking forward to it and I am feeling strong. I am looking forward to trying to get on the podium for the first time in 2023."
Ryan Vickers is boosted by his first podium at Donington Park and ready for Knockhill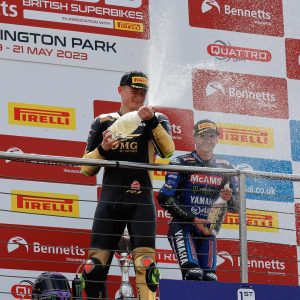 Ryan Vickers celebrated his first Bennetts British Superbike Championship podium finish at Donington Park and after a recent test at Knockhill, the LAMI OMG Racing Yamaha rider is buzzing to get back on track next weekend (June 16/17/18).
Vickers had his strongest weekend so far of the season last time out, and with a positive test ahead of the annual round in Scotland, he is confident that the team can carry the momentum into the next races.
Vickers said: "We had amazing weather for the Knockhill test and it was really hot with over 50 degrees track temperature! We managed to do over a hundred laps and I really felt good on the bike straight away – we didn't have to change much from Donington Park which is always a good thing.
"I feel like we have a really good base setting now, so we went to the Knockhill test with a few things to try out as we didn't have too much testing in the UK when we came back from Spain, so we were a bit behind on that.
"We got through a few items that we wanted to back-to-back and that answered a few questions and gave us and confirmed the direction we were going in so I am really happy with that so thanks to the team as they have done a great job ready for Knockhill.
"I am really excited for the round now; I have always liked racing at Knockhill especially if the sun is shining! It is great fun and a really technical little circuit, and it gives great racing as the times are always so tight. Me and Kyle were both strong; I did my fastest ever time around Knockhill so I am all happy and excited to get going and look forward to the round."
Championship leader Tommy Bridewell looks to extend his points lead at Knockhill
Tommy Bridewell holds a slender three-point advantage over his BeerMonster Ducati teammate at the top of the Bennetts British Superbike Championship ahead of Knockhill next weekend (June 16/17/18) as he bids to extend his points lead in the standings.
Bridewell celebrated a win at Oulton Park for round two and last time out at Donington Park he claimed a pair of second place finishes to fire himself marginally ahead of Glenn Irwin, but with just ten points covering the top five in the standings, the championship leader knows he cannot afford to give an inch.
The BeerMonster Ducati team took part in a single day test at Knockhill ahead of the next races in Scotland, with Bridewell happy that the work completed will stand them in good stead for next weekend.
Bridewell said: "Donington Park was a really positive weekend again, for us I guess I always look at the positives. The one negative was that we had a great opportunity to extend our championship lead by a good amount but unfortunately, a technical issue out of our hands put us out of the second race whilst we were leading. That aside, Donington Park has always been a really strong circuit, but also a really weak circuit for my riding for some reason, so I think to come away from that weekend again shows the strength that we have taken with the bike. To be able to get two seconds was positive for sure.
"Also to be the only one to really be able to match what Kyle was able to do on the Yamaha. We know where our weaknesses are at Donington Park. Now I am looking forward to analysing that and getting the rest of the season underway before we go back there, because we have a really obvious area where we are weak, and I feel that if we can fix that, it will really make us that little bit stronger again. That was a good weekend.
"The Knockhill test was positive, but it was tricky really as it was a day of two weathers in truth. We only did the one day, and by the time I got back up to speed and got my head around Knockhill, the weather really sky rocketed and the track temperature was through the roof, so the track was quite greasy.
"All in all, it was still positive as we were bang on pace and the main thing for us was to get as many laps under our belt so that our side of the team, me and Paulo, could analyse the data over the break to come back stronger for the race weekend. So it was really an exercise to collect data and information for suspension, for tyre life, for all of it so hopefully that has ticked those boxes.
"Going into the weekend, it is fairly obvious that Knockhill can be hard to make the passes; so we really need to focus on making the bike strong for one lap, which hasn't been our weakness but it is something that we can improve.
"I think for me, Knockhill is crucial to really maximise the potential for one lap in qualifying, put ourselves ideally on the front row and worst case, on the second row, and take the race from there. I feel that we have good potential there and a good opportunity to do a good weekend, so we just need to let it play out and go from there. The goal is always to extend the championship lead and that is definitely something that I will be looking to do."
Kyle Ryde is raring to go at Knockhill this weekend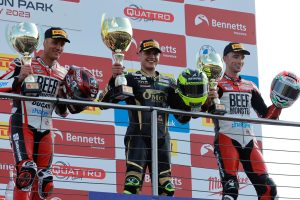 Kyle Ryde arrives at the fourth round of the Bennetts British Superbike Championship at Knockhill trailing Tommy Bridewell at the top of the standings by just ten points as the LAMI OMG Racing Yamaha rider bids to add to his winning tally this weekend.
Ryde has so far celebrated victory three times as the team continue their title defence, claiming a double win last time out after bouncing back from a crash from the lead in race two.
The LAMI OMG Racing Yamaha team completed a successful test at the Scottish circuit ahead of the event, with Ryde hopeful of continuing his podium finishing form at a circuit which traditionally has not been his strongest.
Ryde said: "The Donington Park weekend was absolutely great and the best one so far, probably my most enjoyable since I have been racing in the BSB class. Me and the bike worked great all weekend, it's my favourite track, it only takes 20 minutes to get back to the pub at the end of the weekend which is a massive bonus!
"To get two wins was a great milestone for me and it put me in a great headspace, especially after the little tip off, which I didn't really know what I did wrong, but these things happen. The biggest thing was to bounce back; I wasn't excepting to lead every lap and then win the last race, but that shows where I am at.
"I have a lot of confidence from Donington Park; the Knockhill test was absolutely beaming hot and the track temperature was sky high and it was very hard to set the bike up. The test went as well as it could do, we didn't crash when quite a few people did. We got a pretty decent base set up for the race on used tyres, it was just lacking a bit on new tyres, but I am sure with the race weekend in the sun and following a couple of experts around Knockhill, normally about three foot taller than me, then we can get somewhere!
"I don't think it will be as easy as what it was at Donington Park, that isn't saying that event was easy, but it was solid and I was working really well with the bike and team and everything was great. Knockhill results last year were not the best, but they were not the worst either, so the point system now is great; solid top five results is what I will be aiming for I think this weekend.
"The biggest target I have had for this year is to get a podium at every track, and some tracks haven't been my best, so if I can pull some podiums out at Knockhill, Oulton Park and maybe Cadwell Park then it shows that we have made a massive step for this year. Not just with the bike and team but with myself as well.
"A nice little podium and some solid results at Knockhill would go down a treat! I just want to keep this championship on track and on target until we get back to some favourite tracks of mine, like Snetterton that suit the Yamaha and Donington Park where we know I can be really fast."
Leon Haslam "I love the battle around Knockhill."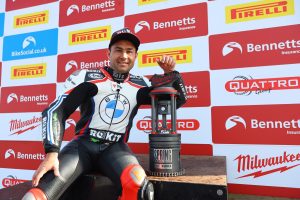 Leon Haslam is ready for the fight as the Bennetts British Superbike Championship returns to Knockhill this weekend, at a circuit that has a mixture of memories for the 2018 champion.
The ROKiT BMW Motorrad rider claimed his first win at the Scottish circuit and as he bids to build on his strong start to the season with his new team, Haslam is hungry to be back in the fight this weekend.
The 'Pocket Rocket' has already celebrated podium success this season, but has yet to clinch a first race win for the team. A determined Haslam though is ready to scrap it out in Scotland, despite a tough recent test at the circuit after he sustained a shoulder injury. He remains confident ahead of this weekend's races following recent weeks of rehabilitation following the crash.
Haslam said: "Knockhill for me has always been a bit of a mixture really, I got my first win there back in '98 on a 125 and had a lot of success there on the Kawasaki. But then I also broke my neck in a crash there in 2017, which was a big one and last year I got clipped at the hairpin and had to have all my neck stitched up so a bit of misfortune too!  But I do love the battle around Knockhill.
"BMW have not had the best of results there over the last few years, and for me the test didn't really go to plan. We only got 30 laps before I dislocated my shoulder so it's been a few tough weeks on a bit of a rehab, but we did get to test a few things over those 30 laps.
"This year it has been so far, so good, we have been battling for podiums every weekend so hopefully fingers crossed we can hit the ground running. It's a real tight and aggressive circuit, we need to improve the bike on the braking stability, but the rest of it has been going really well so fingers crossed and we are looking forward to another three races."
Glenn Irwin ready to be back in the mix at Knockhill
Glenn Irwin arrives at Knockhill as the Bennetts British Superbike Championship resumes this weekend trailing his BeerMonster Ducati teammate Tommy Bridewell by just three points at the top of the standings.
Irwin has an impressive tally of two wins and a further four podium finishes so far this season, with just a single DNF when he crashed out of the second race at Donington Park last time out. The BeerMonster Ducati rider believes that this weekend could prove more difficult for the Ducati, but remains optimistic that he will be in the fight in the three races following a positive recent test at the circuit.
Irwin said: "We left Donington Park on a high; I think with a great position in race three and where we finished, gaining eight positions and a rostrum was a job well done. Maybe a tough weekend with some little niggles going on but we ware only three points behind in the championship and only lost seven points as such to Tommy, so I was made up with that. If that is a tough weekend, I will take that.
"The Knockhill test was enjoyable, if I am honest I expect a tough Knockhill round to be honest. The bike was working good but I think it is maybe one of the weaker circuits for the bike. We won't allow that to be a limiting factor in what we can and believe we can achieve, I will use that to know that I will need to be one hundred percent and the bike and team too so that we can get the best possible results."