Glenn Irwin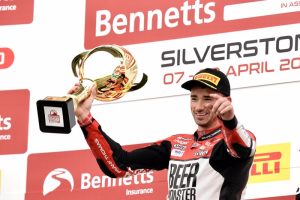 Glenn Irwin heads to Oulton Park for the second round of the 2023 Bennetts British Superbike Championship with confidence high after a victory in race three at Silverstone and the BeerMonster Ducati rider is determined to carry the momentum into the Bank Holiday weekend (April 29 – May 1).
Irwin claimed a double podium finish on his return to the PBM team at Silverstone, ending the weekend with a victory in race three at a circuit that has traditionally not been a happy hunting ground for the Italian manufacturer. However, in the past Oulton Park has proven to be a strong circuit for Ducati and the BeerMonster Ducati rider is feeling bullish about his chances next weekend despite being conscious of the level of opposition.
Irwin said: "I suppose in one sense it was nice to have the first round, not to say get it over and done with, but to understand where we were at, because going into the weekend everyone had done so little riding. To get that done and come away with a fifth, third and a first was great and puts a lot of the pre-season anxieties of what it's going to be like to bed.
"In saying that, I was a little bit disappointed with Sunday even though we took our first win, race two got cut short with the red flag and I really thought I could mount the challenge for the win in that race. As much as we grabbed a win, I also don't think we fulfilled the potential of the bike at Silverstone, but that said we came away third in the championship and took the team's first win and Tommy also had great results. It was great for the team and great for morale going forward.
"Silverstone is always a double edge sword; you can't look at it and say 'here is the form guide for the championship', but what you can do is look and say, 'Ducati's best result last year was a seventh or eighth with Tommy and the MotoRapido team last year'. So, to come away with the V4's first ever win on the Silverstone National circuit shows the steps forward that the bike has made from 2022 to 2023 and also shows that I have come in and done a good job straight away on my first weekend, at a track where the bike has never won at.
"We then go to the tracks like Oulton Park where it becomes more of the BSB nature tracks and where the championship will really start to sort itself out, and the bike has great history there. If we can win at Silverstone, can we win at Oulton? Of course we can. I think that's a very fair thing to say given previous results at Oulton Park for both me and the manufacturer.
"Because of the level of competition, we always say it, we know the Yamahas are a great package and are always strong, I don't think the Honda has shown its potential yet, I think some teams had some teething problems at round one, we know Lee has fantastic form there, it is Christian's local circuit and has gone well there. It's probably Tommy's best circuit, so straight away reading through that, you can easily be at the other end of a list of nine or so riders, but we also know the bike can win races.
"We need to assess on Saturday how the F23 model reacts around Oulton Park, and then find out does the performance from Silverstone carry over, and all being well we can knuckle down and come away with three strong finishes. I want to be on the podium in all three races and I want to be winning races. That's always the target; we know people can raise their level and the nature of BSB means you have to respect that the level is so strong."
Leon Haslam
Leon Haslam had a consistent start to his 2023 Bennetts British Superbike Championship campaign as the 2018 Champion bids to build on his results at the season opener with the ROKiT BMW Motorrad Team over the Bank Holiday weekend at Oulton Park (April 29 – May 1).
Haslam's race against time to be ready for the start of the season was rewarded with three consistent finishes at Silverstone with a hat trick of sixth places, but more importantly running in the leading pack despite still awaiting further hardware. However, with further development and the arrival of some additional parts, the 'Pocket Rocket' is feeling positive and focused on further improvement at round two.
Haslam said: "Silverstone for me was a really good weekend; we didn't get all of the material sorted in time so to start and finish all three races in a shout with the leaders was really good. We have a lot of things we have been working on as Oulton Park is a really different circuit. I have had quite a lot of success there in the past, quite a lot of wins, but figuring out what the BMW needs there and at the other circuits is a big thing.
"We should have a lot more of the material for the next round, we are a little bit on the back foot but I am also super excited. It is nice to be back up there and battling; there will be a few challenges at Oulton Park, but I can't wait to get started and see where we end up."
Michael Dunlop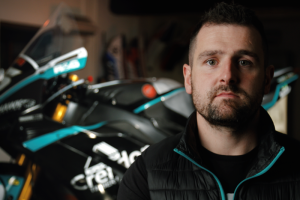 Michael Dunlop will once again feature on the Bennetts British Superbike Championship grid at Oulton Park this May Bank Holiday weekend (April 29 – May 1) as the road racing ace lines up with the Hawk Racing Honda team.
Dunlop will be back onboard the Fireblade this weekend in preparation for his forthcoming roads campaign.
Dunlop said: "I am looking forward to getting on track at Oulton Park this weekend. The track time is important to make sure we are sharp for the roads and it will be good racing against the BSB boys."
Josh Brookes
Double Bennetts British Superbike Champion Josh Brookes returned to the top step of the podium again at the 2023 season opener and as he arrives at Oulton Park this weekend (April 29 – May 1), the Australian admits that the Cheshire circuit will be an all new challenge for the FHO Racing BMW Motorrad team.
Brookes secured a hat trick of podium finishes, including the victory in race two on his debut with the team, which he followed up with a strong performance at the recent test at Oulton Park. Now heading into the next three races of the season, the Australian is determined to not rest on their laurels.
Brookes said: "Obviously we are carrying a lot of positive energy after winning the race at Silverstone; however I am not shy to say that Silverstone has always produced, not strange results, but hasn't always been the same character as the rest of the season as a whole. We have seen examples before so I don't want to get too hyped up and over enthusiastic about those results as we still have a whole season ahead to prove. Looking to Oulton Park though I have had success there in the past and I think it is a fantastic circuit, it's very technical and physically demanding. I am looking forward to getting there and see what we can do in the races.
"At the test we were really competitive in the times, both Peter [Hickman] and I were in the top six, so that bodes well but we also know we have areas and room to improve with the general package of the bike because of the limited time we had before racing. We haven't got what I would think, the bike in the perfect range. I feel it is quite easy at this stage to possibly make changes that will really improve our potential, against say later in the year  where you just set up from track to track. So given the proximity to where we started and where we are, I think there is a good optimism amongst us that we are going to improve at the round. I am looking forward to getting there and getting started."
Lee Jackson
Lee Jackson arrives at Oulton Park this weekend for the second round of the Bennetts British Superbike Championship bidding to emulate his race-winning success from last season when he claimed a debut race win for Cheshire Mouldings Kawasaki.
Jackson celebrated his first race win in the championship last season and after a challenging opening round at Silverstone, the Lincolnshire contender is targeting a return to the podium this weekend to really launch his championship campaign.
Jackson said: "The first round at Silverstone was tough for myself and the Cheshire Mouldings Kawasaki team. We went into the round with a new factory swing arm in the bike having not tested it beforehand, so trying to get that dialled into the Silverstone National, meant it was never going to be easy. We made progress over the weekend but for myself it wasn't good enough finishing where we did [14th/10th/9th].
"Oulton Park is a track I love so going back there will definitely be good for myself and the team. I don't believe it's going to be fully easy as this is BSB and we still have work to do with the swing arm, but we have a good starting point and know how the bike should feel and work.
"For me I want to go fight for the win of course, but the main aim is three strong finishes and to aim for the podium to kick start our season properly and our title challenge."
Jason O'Halloran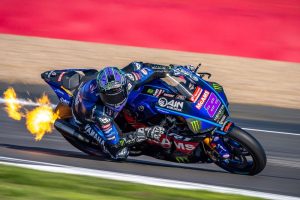 Jason O'Halloran topped the recent Bennetts British Superbike Championship R&G Official Test at Oulton Park and now the McAMS Yamaha rider is targeting his first podium of the season this Bak Holiday weekend (April 29 – May 1).
O'Halloran has previously had plenty of success at the Cheshire circuit and he heads into the team's home round bidding to add to his tally and be back in the fight for the podium finishes after a solid start at the opening round at Silverstone.
O'Halloran said: "It was good to get started at Silverstone; it was a fairly steady one to be fair. On Friday to be fair, it was the first time we had ridden the bike this year in the dry, it was the same for everyone, but I felt pretty good and we were still trying a few things on the bike. We did that to get some information, it probably didn't quite work out as good as what we had hoped for at Silverstone. I felt really good in myself and I feel overall we did a pretty good job for the first weekend of the year on the bike.
I was looking forward to the Oulton Park test straight after it and hoped for some dry track time to work through a few bits, the first day was rained off and then on the second day I had a small crash early on. Luckily I was able to do the last session and managed to be fastest, which is always pretty good but more importantly I had a good feeling with the bike and I think setting wise and overall we are in a pretty good place for this weekend.
"The competition is always strong, and there are a lot of riders that love Oulton Park, including myself so I expect it to be a competitive weekend. But I expect to be in the fight for the top positons and I am looking forward to trying to get our first podiums and hopefully first win of the season and I can't wait to get going."
Kyle Ryde
Kyle Ryde took the opening victory of the Bennetts British Superbike Championship season at Silverstone, winning the BikeSocial Sprint race for reigning champions LAMI OMG Racing Yamaha, and is focused on replicating that performance at Oulton Park this weekend.
Ryde celebrated a victory which he followed up with a fourth and seventh place finish, but arriving at round two holding fourth place in the standings, he is full focused on achieving more this Bank holiday weekend.
Ryde said: "I am very much looking forward to Oulton Park this weekend; we had a great test there. I am feeling really confident and comfortable with the bike at the minute. I am in a happy place so I can't wait to get going. The weather looks good, we need to go from where we left off at Silverstone – and I don't mean the seventh place, I want to try and replicate the race win we had on Saturday.
"I just need to be cool, calm and collected heading into free practice and enjoy riding, then hopefully the weekend will go smoothly. Oulton Park is more of a riders track, and I can't wait to see how the points tally looks on Monday after the races this weekend."