Tommy Bridewell – BeerMonster Ducati
Tommy Bridewell leads the Bennetts British Superbike Championship into this weekend's fifth round of the season at Snetterton and the BeerMonster Ducati rider is biding to extend his eight point advantage at the top of the standings.
Bridewell has celebrated a single victory this season, but a tally of seven podium finishes, six of which were second places, has rocketed him ahead of Kyle Ryde and teammate Glenn Irwin at the top of the standings ahead of this weekend.
Bridewell claimed a pair of second place finishes at Knockhill after bouncing back from a tough opening day at the Scottish track and believes this weekend could be when he returns to the top step of the podium.
Bridewell said: "Knockhill was a strong weekend, I think to be honest Friday was really tough and I didn't have a good feeling with the bike and the track. I felt like it was going to be quite a tough weekend so after Friday I said to myself 'this is where I need to be able to turn the weekend around, I can't have a bad weekend'.
"I think between myself and the team we really put our head down and worked out really exactly where I was riding incorrect, where the bike was incorrect, and it was a good mix of 50-50. I wasn't riding properly for the circuit, so it was obviously nice to be able to recognise that and for the team to get the bike to help me with that as well.
"I think to be able to come out of Knockhill with the results that we did, after obviously in truth, a poor qualifying which hampered us in the first race, but then also hampered us for the second race as I wasn't able to make the strongest lap times. So to start from tenth in race one, and ninth in race two, but to still come away with two podiums was a real big bonus.
"I think Knockhill was probably one of our strongest weekends up until now really which was good. Now going into Snetterton I am just full of confidence in all honesty. I am riding with a lot of confidence and going somewhere where I know the bike thrives let's say. The one thing we do need to keep an eye on is tyre life and just see what the conditions and temperatures are like. I am really looking forward to Snetterton as we are coming back into circuits now that we expect to fight for the wins. At Knockhill I didn't know where we would fare up, but at Snetterton I expect to be fighting from the start."
Leon Haslam – ROKiT BMW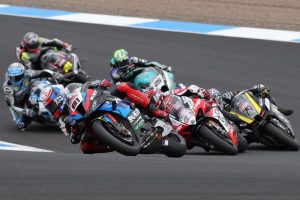 Leon Haslam is ready to come out fighting at this weekend's fifth round of the Bennetts British Superbike Championship at Snetterton as he bids to add to his podium tally for the ROKiT BMW Motorrad Team.
Haslam has been a podium finisher so far in 2023, but has yet to claim a win as he heads to the track where he completed the treble on his way to celebrating title victory in 2018. The 'Pocket Rocket' delivered a gritty performance last time out at Knockhill, still recovering from a dislocated shoulder sustained at a test prior to the event, to deliver two sixth place finishes.
Haslam said: "We had a real good result at Snetterton before with the triple win in 2018. It has been a bit of a mixed circuit over the years, but have also had some success there as well. I think the BMW should be a lot more suited than it was at Knockhill.
"It was nice to get the most points out of all the BMWs there but it was obviously not the positions we have been fighting for at the other rounds and we want to get back to that podium fight. We have got a few things we want to improve with the bike and hopefully my physical fitness with my shoulder will have also improved since the last round as well. Snetterton is always a fun weekend so I am looking forward to it."
Josh Brookes – FHO Racing
Josh Brookes is determined to fight back from a disappointing Knockhill as the Bennetts British Superbike Championship returns to Snetterton this weekend (July 7/8/9) and the FHO Racing BMW Motorrad contender bids for a podium return.
Brookes had a strong start to the season and has already celebrated a double win and a further three podium finishes, but a challenging weekend at Knockhill ended with a best result of eighth and two ninth places. The double Champion is focused on bouncing back this weekend, at a circuit where the team were podium finishers last season.
Brookes said: "I am most looking forward to Snetterton, particularly off the back of poor results at Knockhill. I can't put my finger on exactly why we didn't get what we needed. I have gone over all the variations from the bike not working to me and my riding style after the roads. All of the options that I could see to be explored didn't really show any conclusive evidence of why we didn't get the results, but either way they didn't come, so I need to get cracking again.
"I have refocused on Snetterton and we will see if we can maximise the speed of the bike and get the results happening again that we started the season with. That is what I am hoping for and trying to do."
Ryan Vickers – OMG Racing UK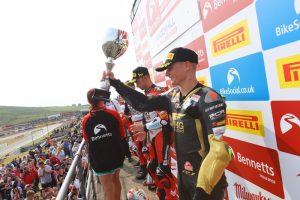 Ryan Vickers heads into his home round of the Bennetts British Superbike Championship at Snetterton next weekend (July 7/8/9) with confidence high after adding to his podium tally last time out at Knockhill.
Vickers claimed his first podium finish in the championship at Donington Park and he then backed that up with a third place at Knockhill for the title-defending LAMI OMG Racing Yamaha team.
"I am really happy with how Knockhill went, more so for the consistency in the top five – that is the biggest thing that I am happy about," said Vickers.
"It was nice to do a complete weekend with no dramas, pretty much every session we were in the top five, we qualified in P2 with my best every qualifying and my best ever lap around Knockhill by a long way. I felt really good and I was pretty much happy with all of the races really.
"The first race I was a bit disappointed to make a mistake early on, and then the two Sunday races I couldn't have been happier with a P4 and a P3. It is always nice to be on the podium and that was a great feeling so thanks to the team as they have been working amazingly and have given me a great bike. I am enjoying riding and hopefully we can keep progressing."
Vickers now holds eighth in the overall standings and is pushing to climb the order next weekend, and with some home crowd support, he will be eager to put on a good show at his local race.
"My home round is next at Snetterton and coming off the back of two podiums I am so excited for the next event," added Vickers. "It is a great round for the fans, my friends and family come and my local sponsors and everyone comes together for this one.
"I am really excited; hopefully I can put on a good performance for them and my fans. It doesn't add any pressure, we have the same approach at every round and just take it as it comes. I think we will have a good base to start with the bike and if we can have a good qualifying and three solid races, that is what we want.
"We are closing down the points slowly and if we can get another podium that is what we are aiming for and doing our best to achieve. I am really looking forward to it, the team had great success with the Yamaha last year when Bradley Ray did the triple and I think this year might be a slightly different race.
"Other manufacturers have made a step in a particular area and Snetterton with the long straights, we will really need to capitalise on the middle sector and concentrate on that to minimise the damage. I think we are in with a great shout of being up the front and consistently in the top five or six – hopefully we can get the podium!"
Bradley Perie – Lee Hardy Racing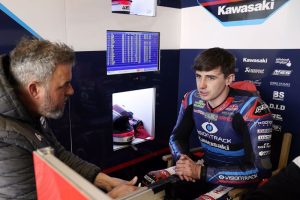 Bradley Perie is ready to bounce back at the next round of the Bennetts British Superbike Championship at Snetterton in less than two weeks' time (July 7/8/9) as the Lee Hardy Racing Kawasaki team get set for their home round.
Perie crashed out of the BikeSocial Sprint Race at Knockhill, which left him sidelined for the remainder of the event, but the rookie is now eager to rebound at the team's home round at the Norfolk circuit and add to his first point scored at Donington Park.
Perie said: "Having a crash at Knockhill wasn't ideal but I don't mind making mistakes as long as I learn from them. Moving forward, we go to the team's home track at Snetterton so hopefully, we can have a good weekend there. I went well there in Supersport last year, so I am looking forward to going back. It will be good to meet a lot of the local fans and sponsors to the team there too.
"This season has been a bit up and down, a bit like a rollercoaster but you have to expect that in your first year. I didn't expect it to be easy! I think we are doing all right and improving every weekend, it was a shame about Knockhill, but the aim is to keep scoring points and to try to climb up the standings in the Rookie Championship. We are positive and we are looking forward to Snetterton."