Jason O'Halloran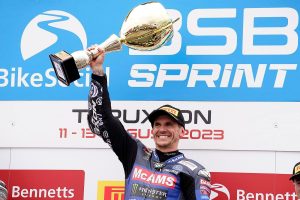 The McAMS Yamaha team are set for a party in the park as the Bennetts British Superbike Championship heads to the stunning Lincolnshire Wolds for round eight of the 2023 season.
Fresh from a BAFTA-worthy O'Show at Thruxton, Jason O'Halloran heads to Cadwell Park brimmed with confidence after securing a third career treble and taking the honour of the most victorious Yamaha rider in BSB history. The Australian has enjoyed prior success at the Lincolnshire venue, securing a last-lap win in 2021 and further podium finishes earlier in his career, so hitting the ground running on Saturday will be paramount, with more victories the target after reducing the championship gap to just 50.5 points.
The weekend will also pose another challenge for the Superbike riders as not only have they got to tackle 2.2-miles of the narrow and undulating circuit but will also face the iconic Superpole for the third and final time this season. Again, the top 12 riders from Free Practice will earn an automatic place into the pole shootout with just one single lap to earn their grid slot for Sunday's opening race.
Held over the traditional Bank Holiday August weekend, the event will start will a Friday evening test session (no public admission) before the action starts properly on Saturday. Superpole and the Bike Social Sprint Race will take place on Sunday before the Party in the Park concludes on Bank Holiday Monday.
O'Halloran will be flying solo for McAMS Yamaha this weekend after a decision was made not to extend 2014 Moto2 World Champion Tito Rabat's initial three-round agreement with the team.
Jason O'Halloran: "It was an incredible weekend at Thruxton for us from start to finish, pole position and three race wins was about as good as it gets! They were really enjoyable races; in the first race on Saturday I just got to the front and paced the race out and managed to win. I didn't do an amazing lap time in the race as I was thinking about winning the race and managing the tyre, so the lap time didn't really come into play, but that meant that I started on row three for race two which made things a little bit more tricky and difficult.
"I really had to think about the races a lot, be patient and manage the tyre, the way I was opening the gas and accelerating, and just being aware of what was happening with the rear tyre – how much I was using and reading the race too. I had to read the race ahead of me, who was at the front and who was spinning or moving around too much, and just trying to assess and take it all in whilst racing around at 150mph!
"All three races were difficult in their own way but I felt really comfortable and in control. The bike was working fantastic and we managed to nail it, so it was a really important weekend overall. It wasn't something I really thought about before the weekend, but afterwards I got something like 50 points back on Tommy, which was great. After Brands Hatch we thought 'wow we are nearly 100 points behind now in the championship', so to bring that back to 50 in one weekend is great for us all and everyone in the McAMS Yamaha team."
O'Halloran's deficit reduced to 50.5 points after Thruxton, with Cadwell Park marking the last round of the Main Season before the points are raised over the final three rounds as all riders remain in with a shot of the title.
"Now we look forward to Cadwell Park and try to take this momentum forward," said O'Halloran. "It is a track that I love, a home track for me in the UK; I love everything about it. But it is difficult – it is a tough track and it is always a tough race there. A lot of riders go fast there so I expect another competitive weekend.
"Obviously, I haven't ridden there since the race last year, so I am looking forward to getting up to speed and get the feeling with the track to get into a rhythm ready for the races.
"We have to get on the front foot and attack now and take every race as it comes to us. But more than anything, enjoy it and try to win some more races – that's my life and that is what gives me the buzz. At Thruxton I won my 26th BSB race and my 25th for Yamaha which is again a stat that is fairly incredible, so hopefully now we can build on this for the rest of the year and get ourselves right back in the championship fight."
Steve Rodgers – Team Principal: "After a stunning weekend at Thruxton, we need to look at carrying that momentum forward. We talk about having a bad start to the year, but we've never been far away, often in the top five and fighting for the podium and with the points recovered at Thruxton we are now back in the hunt. On top of that, we believe we have now identified and resolved an issue that was perhaps holding us back a little in the first half of the season, Jason was pretty confident this improvement contributed to the Thruxton success and in theory should make us that little bit more competitive for the rest of the year!
"We'll be purely focusing on Jason this weekend as we look to close down that gap to the front. Tito showed a lot of promise at Snetterton, but BSB poses a very unique challenge and Brands Hatch and Thruxton were tough weekends for him at tracks where the bike worked well so we've mutually agreed not to extend our three-round agreement."
Tommy Bridewell and Glenn Irwin
After a tough weekend at the previous round, BeerMonster Ducati riders Tommy Bridewell and Glenn Irwin are aiming to bounce back in style when round eight of the 2023 Bennetts British Superbike Championship takes place at Cadwell Park this bank holiday weekend.

Despite the disappointment of Thruxton, Paul Bird's riders still occupy first and second in the standings heading into the final four rounds with Bridewell holding a 26.5-point advantage over teammate Irwin, who in turn is 24 points ahead of third placed Jason O'Halloran.
Bridewell, from Devizes in Wiltshire, has won six races so far this season which he's backed up with seven additional podiums whereas Irwin, from Carrickfergus in County Antrim, has four victories to his name as well as six podiums for the Lake District-based team.
In contrast to the wide-open sweeps of Thruxton, the undulating nature of Cadwell Park is expected to suit the BeerMonster Ducatis better in front of what is expected to be the biggest crowd of the season at the Lincolnshire venue whereby Tommy and Glenn will be aiming to reassert their authority.
Bridewell has a great record at Cadwell Park which includes a win and ten podiums, seven of which have come in his last eight Cadwell Park races aboard Ducati machinery. Irwin, meanwhile, who celebrates his 200th Bennetts BSB start in Sunday's opening BikeSocial sprint race, has race-winning pedigree in the Supersport class at Cadwell so will be looking to grab that first BSB win around the 2.18-mile track. 
Tommy Bridewell: "Cadwell Park has been a happy hunting ground for me in the past and I've had some really good results over recent years on a Ducati, so the plan is to continue that run. I know for a fact the bike is really strong around there and I'm looking forward to getting back to the circuits I know we'll be competitive at, starting this weekend. I love Cadwell Park as it's so unique and it suits my riding style also, plus it's the polar opposite to Thruxton and you have to be pin-perfect everywhere. We need to get back to the sharp end where I know we should be, and this weekend is the perfect opportunity to bounce back."
Glenn Irwin: "I know Cadwell Park really well as I've done a lot of testing there over the years when I rode for Honda and it's a round I always look forward to. I had pole position there in 2021 and led the race but was riding injured so couldn't wrap the victory up. This year with the Ducati, it's a challenge I'm particularly relishing as I know how good Tommy has been in recent years on the older-spec bike. We know the 2023 bike will work well and after the disappointment of Thruxton, it's vitally important we get back to being competitive and for me to keep chipping away at the lead and keep the pressure on Tommy."    
Franco Bourne and Tom Neave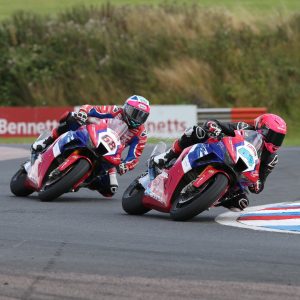 This August Bank Holiday weekend, the Honda Racing team heads just around the corner to its home circuit; Cadwell Park; for round eight of the Bennetts British Superbike Championship.
With its tight, twisty and undulating layout set in beautiful woodland, Cadwell Park's unique nature produces some of the most spectacular racing and is arguably one of the most exciting circuits on the calendar for fans and riders alike. Few locations can compare to sitting on the bank and watching a Superbike fly through the air over The Mountain.
Fresh from his first points-scoring ride in BSB, Franco Bourne remains with the team for another round and benefits from recent testing outings at the 2.18-mile Lincolnshire circuit. A Friday evening test on the 25th will also provide Franco with precious track time to build confidence and feeling. Full-time rider Andrew Irwin continues his recovery to full fitness and targets a return to riding before the end of the year.
2021 Superstock Champion and Lincolnshire local, Tom Neave, heads into his home round eager to score solid results at the same venue where he previously raced to victory aboard his Superstock CBR1000RR-R Fireblade SP. He will be hoping that the local support and home crowd atmosphere boost his progression towards the top ten positions.
Also returning for this round is the Omologato Superpole qualifying format, whereby the top fifteen seeded riders are granted just a solitary flying lap to set their quickest time and secure their grid slot for the Bennetts BikeSocial Sprint Race.
Round eight kickstarts on Saturday with two Free Practice Sessions, with the first race of the weekend scheduled for 17:00 on Sunday 27th. The two 18-lap feature races are then slated for 13:15 and 16:15 on Monday 28th.
Franco Bourne: "I love Cadwell Park and I have always said that it is an awesome circuit, when I raced here in British Talent Cup and Junior Superstock it was always a track that I enjoyed coming to. On the big bike, it is going to be really important to get confidence because they can be a bit of an animal to muscle around here on the narrow track. I had a small test at the circuit when I first joined the team and we have the test planned for Friday night which is good to give me the extra track time. The step we made at Thruxton will definitely benefit me heading into this round as we managed to get the bike into a really good window and built some confidence to push. My goal is to continue progressing without making too many mistakes and build on what we have already achieved."
Tom Neave: "I am hoping that Cadwell Park can offer a fresh start for me, it's an opportunity to bounce back and get things back on track. It's a circuit that I love and in every class that I have ever been in, be it club racing or when I joined the BSB paddock in Stock 600, it has been a good circuit for me. I have wins and lap records here so it has been a happy hunting ground. You always gain that slight advantage when you race in front of your home crowd, that extra drive and motivation. So I am hoping I can use that to my advantage and thrive from it. It's a four-day event with an extra test session on Friday night, so it will be an advantage for us with the extra track time. I am really looking forward to it."
Charlie Nesbitt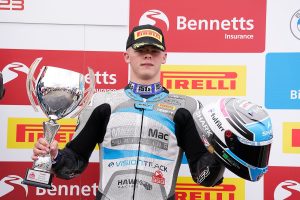 Charlie Nesbitt leads the Bennetts British Superbike Championship rookies as the season reaches the eighth round at Cadwell Park this weekend, with the MasterMac Honda by Hawk Racing rider bidding to add to his podium tally.
Nesbitt claimed a debut podium finish at Thruxton, following it up to make it a hat trick of top three finishes and now he is eager to carry the momentum into the Cadwell Park weekend, the circuit where he was victorious in the Pirelli National Superstock Championship race last season.
Nesbitt said: "Thruxton was amazing and flowed really well for me and the team. They have done an amazing job and I am really looking forward to Cadwell Park as I did really well there last year on the Superstock bike. I think if we can find the flow and a good setting then we can be battling again where we were at Thruxton and I can't wait to get going."