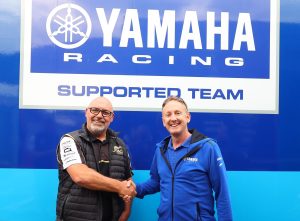 Yamaha Motor UK has announced OMG Racing will become their official 'Supported Team' in the Bennetts British Superbike Championship from 2024.
They will take over the mantle from Raceways Motorcycles, who have represented Yamaha Motor UK in the British Championship since 2017 under the McAMS Yamaha banner, as team boss Steve Rodgers opts to take a step back from racing.
The new, multi-year deal will see OMG Racing receive technical support from Yamaha Motor Racing Europe and the team listed as Yamaha's official 'Supported Team' in Bennetts BSB.
Cannock-based OMG Racing first moved to the Yamaha R1 for the 2022 season, working closely with the McAMS Yamaha team. The year would become one of Yamaha's strongest seasons to date, with McAMS and OMG sharing 20 victories from just 33 outings.
It was the OMG team who ultimately tasted the champagne with Bradley Ray winning the championship in what was Yamaha's first back-to-back BSB titles since Niall Mackenzie took the Cadbury's Boost Yamaha to three consecutive championship wins between 1996 and 1998.
Continuing to represent the Yamaha brand competing with the R1 in 2023, OMG have enjoyed a strong first half of the season with Kyle Ryde winning four races and team-mate Ryan Vickers also taking to the top step of the podium in the most recent Brands Hatch round.
For 2024, OMG will lead the charge with the R1 in Bennetts BSB and will confirm their rider line-up in due course.
Mar-Train Racing, who stepped up to the Superbike class in 2023 after much success with Yamaha in the Supersport category, will continue in Superbike in 2024 running a single bike team with technical support from OMG and Yamaha Motor UK after an impressive first half to their debut Bennetts BSB season.
Alan Gardner, OMG Racing Team Owner said: "I feel honoured that OMG Racing have been chosen by Yamaha to be their supported team in the Bennetts British Superbike Championship, and I would like publicly thank them for showing their faith in us. Winning the Championship in our very first year with Yamaha in 2022 was a dream come true for both me and every member of OMG- a dream that we all hope to replicate very soon.
"The hard work and dedication of every member of OMG Racing is what makes us who we are, and to see that ethos being recognised by Yamaha is verification that we are doing things right. Our first ever race as a team in 2018 seems like only yesterday! From such humble beginnings, such a short time ago, to now be carrying the flag for Yamaha so to speak, makes me so proud of what my team have achieved.
"Steve Rodgers, Raceways Yamaha and McAMS have set the bar high, and we intend to keep it that way. On behalf of myself and everyone at OMG along with, I'm sure, the entire Yamaha family, we would like to wish Steve Rodgers a wonderful retirement from racing, but sincerely hope to see him at many races in the future."
Matt Taylerson, Divisional Manager, Marketing, Yamaha Motor UK commented: "When Steve Rodgers informed us that he wanted to take a step back at the end of the 2023 season, OMG Racing were the obvious successor given their performance since switching to the R1 in 2022.
"We need to thank Steve and everyone at McAMS Yamaha for what they've done for the Yamaha brand over the last seven years, they've done a tremendous job at taking the R1 to the top and laying the foundations for OMG to take on the baton as the official team.
"Alan and Paul at OMG run a professional effort and have represented Yamaha incredibly well over the last two seasons, so we look forward to what we can achieve together as they become the official blue team for 2024 and beyond."