We always look forward to the high speed straights and flowing corners layout at Snetterton. Coming off the back of some encouraging performances by Max at Knockhill and with Lee making progress on finalising his preferred chassis set up, were keen to get going.
Max had a few track day laps on his superstock training bike the previous week. He was keen to get a feel for the track on a fast bike to avoid wasting valuable time with familiarisation laps in free practice one. The plan worked as Max was immediately feeling confident and by the end of the first 40-minute session on Friday afternoon he'd completed 15 laps with a best of 1.50.6 on his final lap for P16, just 1.5 slower than Iddon's fastest time. Lee's experience allowed him to tick off 14 laps with a 1.49.7 – seventh fastest and only 0.7 off Iddon. As usual, very close times and over a three mile lap.
Lee ran last year's Suter swing-arm in FP1 before a switch over to the factory world superbike swing-arm in FP2 for a direct comparison. It was a faster session as the riders got fully up to speed. Lee improved his lap time by just over a second putting him P7 in the classification. After a through debrief Lee confirmed he wanted to stick with the factory swing-arm. We are allowed to use three pairs of slick tyres on each bike during Friday's practice sessions. Our approach is to use one set in FP1 and two in FP2. As the top 12 times are seeded through to the final qualifying session, we use the second set for two or three flying laps at the end. Max improved his lap time on his first set of tyres before he and Lee rolled up pitlane together on the second sets of tyres, Max following Lee by agreement for a fast 'tow'. The plan certainly worked as Max recorded an impressive 1.48.9 – 1.7 faster than in FP1 – for P11 and Lee 1.48.6 for P7 – both straight through to Q2! Good afternoon's work.
20 minutes free practice on Saturday morning using the tyres from the final FP2 runs. Lee was in the mid-48s while Max recorded a low 1.49 time. Both still working on minor suspension set up changes to optimise the feel of their Cheshire Mouldings ZX-10RR Kawasakis.
Qualifying
Just 12 minutes and one set of tyres to set a grid position time. Lots of riding round slowly looking for a 'tow' always seems a waste of time in such a short session and isn't really the safest way to go about the job. Lee just got on with it and set an early fast lap while Max extracted himself from a gaggle of riders and set off behind Haslam and Kent which was perfect for him. Both were well positioned but as more fast laps popped up, they both eased off to go again. Max found himself behind Lee again and posted a very impressive 1.48.3 for P10 with five minutes to go, just ahead of Lee. Finding a gap in the traffic for a final attack didn't happen for Lee who finished a frustrated P13. With seconds to go, Max was still P10 before Buchan and Iddon just managed to better his time in the final seconds, so P12 – only 0.25 slower than Haslam in P6. O'Halloran's impressive pole lap in 1.47.1 was almost 0.3 faster than Irwin's P2 time.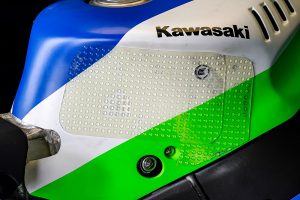 Sprint Race
Only 12 laps so no time so hang about! Max going from row four with Lee right behind heading off row five. Two decent starts, no places lost, and both in a sort out with Kennedy. The race settled down with Lee P12 and Max P13. On lap three Haslam retired and Buchan crashed gifting us two places. By now a leading group had gapped the chasing group made up of former Moto2 world champion Tito Rabat, Nesbitt, Kennedy, Lee and Max. With two laps to go Lee had worked his way to the front, P7, while Max battled with Rabat. The group crossed the line covered by two seconds with Max just 0.027 behind Rabat at the line, P11 and frustrated he couldn't make a pass stick. Great race by Max, really growing in confidence, and good news from Lee who is now getting the feel he needs from the new chassis set up.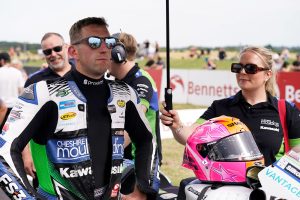 Race Day
10-minute warm up run on used tyres. Just time for six laps. With a minute or two to go, Max is P1! As the chequered flag came out Max was P6, 0.4 slower than Bridewell and just ahead of Lee, both on the same 1.48.8 lap time. Encouraging but having raced in a group in the sprint race, neither of the boys got a clear lap for a decent time for grid positions in race two. Lee P10 and Max P14. Good starts and aggressive first couple of laps would be needed to stay with the front runners.
Race Two
Red Fag! Six laps in the race is stopped to attend to Danny Buchan after a nasty looking crash. Restart over eight laps. Max got boxed at turn one, Riches, on the first start and had fallen down the order so he was happy to have another go from P13. Lee had a decent start and was running well in P6 before being pushed wide by Iddon in an aggressive move so he was happy to have another go from P9 this time.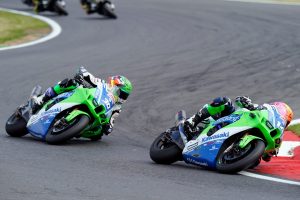 Better start from Max who settled into another battle with the usual suspects, Rabat and Nesbitt. He held position until a recovering Vickers passed him. P14 at the line for more points and only two seconds behind Lee in P7 who was less than 0.1 behind Kent – nine riders covered by two seconds and five seconds back from Bridewell's dominant Ducati.
Race Three
Hoping for a clean 16 lap race this time. Lee going from P7 and Max P12. Two reasonable starts again with Max slotting into the same group of riders he'd been battling with all weekend. Max really does have the speed but not yet the experience to put clean passes on the fast riders he's now racing. Proof enough of his speed was setting fastest lap of the race so far on lap four – a 1.48 dead, only 0.35 slower than the ultimate fastest lap. Good effort. Despite that, Max was a bit stuck at the back of his group crossing the line P13 and three or four seconds behind championship front runner Ryde after half an hour of racing. Max's fastest lap would have put him P7 on the grid if there'd been a fourth race!
Lee got involved in a race long battle for P6 with O'Halloran, crossing the line 0.3 behind in P7 and only 3 seconds behind race winner Bridewell. Strongest performance of the season so far and clear evidence that Lee and his crew have now sorted out how best to set up our new factory parts. Roll on Brands Hatch.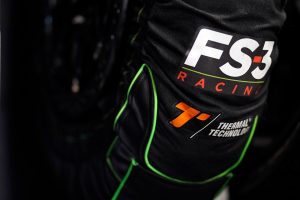 Championship Standings
Lee's three P7 finishes means he maintains his P7 in the championship points table with a total of 124. Comfortably ahead of Iddon and just behind O'Halloran. Max has now clocked up 23 points but more importantly he is maintaining his leadership of the Rookies Cup with 196 points, 18 clear of his local Swindon rival Charlie Nesbitt.
Next Time
Lots of positives to take away from Snetterton. Now we're looking forward to round six at many riders' and fans' favourite circuit, the Brands Hatch Grand Prix layout. Brilliant track. Max has made another step in getting up to full speed on his Cheshire Mouldings Kawasaki. He's got some track day time at Brands later this week to get him dialed in for his first ride there on a superbike. Lee goes well at Brands and now we've optimized the set up of his bike he'll be very keen to join the fight at the front.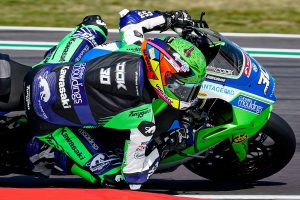 See you at Brands Hatch.
Regards
Nigel. Team Principal.