With Lee Johnston continuing to recover from his May crash at the North West 200, Nathan Harrison will take his place on the iconic machine, which was famously ridden at the TT by Irish road racing legends Joey Dunlop and Phillip McCallen, and Scotsman Jim Moodie.
Onchan man Harrison won the Senior and Junior races at the Manx Grand Prix in 2019 and last year clinched an impressive runner-up result in the Classic Superbike race at the festival on the Greenhall Kawasaki ZXR750 behind team-mate Rob Hodson.
Harrison, who tested the RC45 at Cadwell Park, said on Johnston's latest YouTube vlog: "I had my first run on the bike and it's absolutely amazing.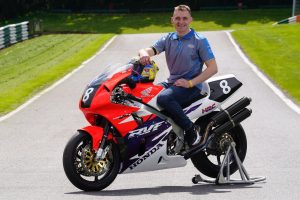 "It's an iconic bike and riding around out there hearing the noise and sound of it… I think with the amount of effort that's been put into it; it will be a proper weapon."
Johnston, who spent three days on a ventilator after his crash at the North West and needed a blood transfusion on the golf course in Portstewart before being airlifted to hospital, said he was pleased to give the 24-year-old the opportunity.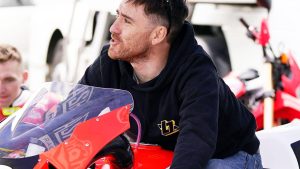 "He's a good kid and as much as it upsets me watching someone else ride the bike, I'm happy that there's a good lad on the bike who will do it justice," he said.
"I'm really excited to go, and I'm actually going to the Classic TT with the team to try and help out as much as possible, and I'm doing some work for the guys at the TT, so I'm looking forward to that as well."
The four-lap RST Classic Superbike Race is scheduled to take place at 14:15 BST on Monday, August 28.
This year is the centenary meeting of the Manx Grand Prix on the Isle of Man, with a number of special events planned to mark the occasion.