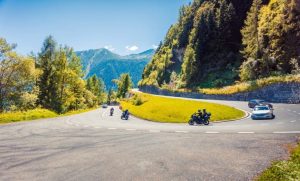 If you're looking to take your bike on an extended ride out for a couple of days, or maybe even a couple of weeks abroad, take a look at our advice and tips below to have a fun, safe and enjoyable trip.
Service your Bike
Whether you do this yourself, or take it to a workshop, make sure your bike is up to the trip and running smoothly. Tyres, the chain and brakes should be checked before any long trip, and if you've been putting off that oil change, or ignoring a rattle, now is the best time to get it sorted.
Insurance
Check with your insurance if it covers you abroad and also what happens if you have an accident, or your bike gets stolen while you are away. You may need to pay a little more for the duration of your trip, but it's best to have the cover you need just in case.
MOT and Tax
Make sure your MOT is not due while you are away. You can get an MOT up to a month (minus a day) before it runs out and keep the same renewal date. If your MOT runs out on 15 May, the earliest you can get an MOT to keep the same renewal date for next year is 16 April. Having an expired MOT and tax will mean your insurance will not be valid.
Driving Licence
Make sure you have your licence with you on your trip at all times.
Breakdown Cover
Breaking down is never fun, even more so if you're miles away from home, so check with your breakdown provider to make sure you are covered if travelling outside the UK. Like with your insurance, you may have to pay a little bit more to cover you for your trip.
Parts and Tools
A small tool kit can be very valuable for little fixes while on your trip. Take spare bulbs, cable ties, jubilee clips, fuses, a puncture repair kit, tape, bottle of oil and a warning triangle.
Spare Keys
Sod's law is you lose your bike keys while on your trip, so make sure to take a spare set. Pack them in a separate location, or give to your pillion or one of your mates to look after.
Packing Panniers
Things you will need to hand on your trip, for example, your parts and tools, should be packed on the nearside of your bike, so you're back is not exposed to traffic while unpacking.
Extras
For long journeys, ear plugs are a must. It's also wise to pack high vis clothing for riding in bad weather and low light.
Maps and Sat Nav
It's a good idea to have a traditional paper map of your trip, just in case your phone or sat nav is out of signal range.
Rest Stops
Plan your rest and fuel stops along your route. It's important to stay alert and hydrated, especially when on the road for hours at a time.
Security
Locks and Chains
Make sure you take your bike lock and a good chain with you. Then when you stop somewhere you can secure your bike to something solid.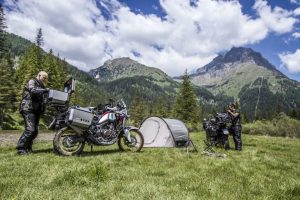 Parking Overnight
Pick hotels that have secure car parks, ones with garages are even better, and use your lock and chain. If you are camping, make sure your bike is chained up, ideally right outside your tent.
Important Documents
Do not leave your passport, licence, travel documents or bank cards with your bike. Keep them with you at all times. If travelling abroad this will also include your V5 document.
Travel Insurance
It's advisable to have a European Health Insurance Card in addition to travel insurance if travelling abroad. The forms are available at most post offices and you can apply on the NHS website here. Make sure you are covered on your travel insurance for travelling abroad. While it can be expensive as you're riding a motorcycle which is seen as a big risk to insurers, hopefully you won't need it, but it's best to have it.
One more thing…
Our Tank Grips will help reduce fatigue on long journeys and reduce the pressure on your arms and wrists while riding, keeping you in position and comfortable.
Enjoy your trip!