Friday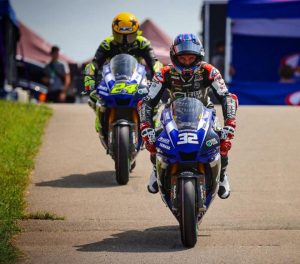 For the second straight race weekend, Jake Gagne had a different teammate under the Fresh N' Lean Attack Performance Yamaha awning with the arrival of Toni Elias as a fill-in rider for Josh Herrin. No biggie. Unfazed as always, Gagne went about the business of again being the fastest of the HONOS Superbike men on a hot and sunny Friday at Pittsburgh International Race Complex.
Gagne, who was joined in the team by JD Beach at the last round at Brainerd International Raceway, lapped at a best of 1:41.129 on his second lap of Q1. The Californian spent more time on hot pit than normal during Q1 as he and the team tried some different suspension tweaks. With rain forecast for this evening, it all may be for naught, however, Gagne said.
"We made some suspension changes after the first one (session)," Gagne said. "I liked the forks, but we needed to go stiffer with the springs because we were bottoming it out a little this morning. We changed the shock too, but we ended up going back to the shock we used this morning. Just some suspension tweaks and some electronic stuff too, trying to dial in engine braking… just little things. I think we are now in a really good spot. We will look at the data and make a decision on the two shocks we tried. The rain will wash the rubber off again and the track will change again. The track was different for sure than even this morning."
Gagne bested Westby Racing Mathew Scholtz by .726 of a second with the South African putting in his best lap on his 13th go-around. Warhorse HSBK Racing Ducati New York's Loris Baz was third, just a tick quicker than M4 ECSTAR Suzuki's Cameron Petersen.
Then came Elias in his first day on the bike he's battled with for his entire MotoAmerica career – the factory YZF-R1. Elias was fast from the get-go on the bike, ending the first session third. He dropped down to eighth early in the session when some chassis changes didn't work, but he bounced back to fifth when the changes were reversed.
Panera Bread Ducati's Kyle Wyman was sixth with M4 ECSTAR Suzuki's Bobby Fong seventh. Scheibe Racing BMW's Hector Barbera, Superbike Cupper Jake Lewis on the Altus Motorsports Suzuki, and Travis Wyman Racing BMW's Travis Wyman rounded out the top 10 on opening day.
Gagne's 1:41.129 is off Cameron Beaubier's lap record at Pitt Race with the five-time MotoAmerica Superbike Champion ripping off a 1:39.472 during Superpole in 2019. Beaubier also holds the race lap record with a 1:40.550 set in race two in 2020.
Saturday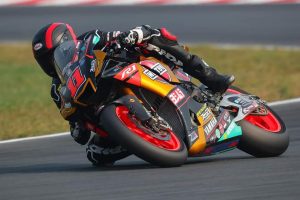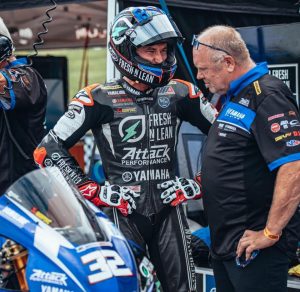 Fresh N' Lean Attack Performance Yamaha's Jake Gagne continues his record-setting season of MotoAmerica HONOS Superbike racing as he made it an even dozen today at Pittsburgh International Race Complex with his 12th straight victory of the year.
As is the norm for the runaway championship points leader, Gagne hit the front from pole position, was never headed, and ended up crossing the finish line 11.3 seconds over second place.
"It went really smooth for me," Gagne said. "I could tell there was a bit of drama behind me. There were those laps where my pit board would grow all of a sudden. After yesterday, we had a lot of weird weather and I think we all were kind of caught by surprise at how hot the track was. When these Dunlops get that hot, they almost don't last quite as long as you think. I had a couple moments there. I was trying everything I could to try to break that gap. If I got off the first lap in first, I had to try to go because I know these guys are coming. I knew they were going to be close in the race, looking at times. I had just a couple tenths here and there, really, but come race time anything can change. So, I had to be ready for these guys to be right on my neck. But it was a smooth race. I saw, like I said, there was some drama behind me, and I could kind of just inch away a little bit. Half second here, half second there. But this is the type of track, even though I had a nice lead right there, not too far in the beginning, you can't lollygag around. You can't let up, because that's when something bad happens, especially this place. It is tricky. It can catch you out. So, I just tried to keep my zone and focus and at the same time kind of try to think what we can do a little bit better tomorrow, because these boys are going to be coming. They don't want to finish second or third. Hopefully, we'll keep the progress going. Hats off to this team because Yamaha 1, 2, 3 is amazing. It shows how awesome these boys are rolling."
It takes a lot for someone to overshadow 12 wins in a row, but on a sunny Saturday at Pitt Race, Toni Elias came pretty close to doing just that. In just his second race of the year and his first-ever outing on a Yamaha YZF-R1, Elias came off the couch to finish second on Josh Herrin's Fresh N' Lean Attack Performance Yamaha. Elias, who first threw his leg over the Yamaha on Friday, slotted in behind his temporary teammate Gagne and finished there.
"Honestly, I don't know," Elias said when asked how he did what he did. "It's been a strange year because I really wanted to race this year since the first race, but I was fighting for an option. I put everything on the table to make it happen. In December, they said they didn't want me, so I've been a little pissed off for months. At the end, Kyle Wyman gave me the opportunity to come back. I just wanted to have fun, to ride the bike, to ride in Laguna, and that motivates me. After that, I told my wife I want to race again. I'm angry. I need to fight again for wins and fight for the championship, but I need an opportunity. So, now arrive. The opportunity is here. Last year was difficult. Many people doubted about me. This is the confirmation I'm still competitive. I received this phone call from Attack Yamaha. I said yes in the second one. I didn't ask for anything. Just yes, I want to come, I want to ride, I want to try it. It's been amazing. I arrive here, I feel at home. The bike gave me a super good feeling. I felt safe. I felt I could push since lap one. This bike has a big potential. Just right now I'm not used to it yet. I think with more opportunities or more time I could be much better. I couldn't think the first race I would be on the podium, so it's amazing. I cannot ask for more. Congratulations to Jake. He is one step closer to close this championship. Thanks to the team. They treat me so good and all the sponsors who support me, my family during this time. Tomorrow we will have another one, enjoy, and that's it. After this race, we will see. Josh Herrin will come back, so looking forward to the future. I want to continue racing. I'll be ready."
Elias ended up some three seconds ahead of Westby Racing's Mathew Scholtz. The South African had survived a hectic first lap with nemesis Loris Baz, the Warhorse HSBK Racing Ducati New York-backed Frenchman slamming into Scholtz at least twice in the first handful of corners. Baz would come under attack from M4 ECSTAR Suzuki's Cameron Petersen straight away with France clashing with South Africa for a third time in three corners. On the third lap, Baz was gone after crashing out of third place.
From there, Petersen held the spot for a few laps before being passed by Scholtz, who would hold on to third for the rest of the race with Petersen finishing fourth.
"I got off to a pretty decent start," Scholtz said. "I was behind Jake (Gagne). I was thinking about diving him, but in corner one the outside of the track comes up quickly. So, if you kind of over-try to slide there, you'll end up running off. So, I was a little bit worried about that. I was going to try to maybe slipstream Jake and get him up into corner three, but Toni (Elias) passed us, and I had to check up slightly. I kind of just thought from there, let me tag onto these boys. They had a pretty decent pace. Going from corner three into corner four, (Loris) Baz T-boned me. We both lost time. Out of the seat going down into corner five again I broke so late. Got to the apex, knee on the floor. The guy just kind of T-boned me a little bit. Kind of shuffled me back. I kind of caught up to Cameron (Petersen) and chilled with him for a couple of laps then managed to pass Cam, I forget which corner. I could see Toni was a couple seconds up, and I really thought I was going to catch him, but it just seemed that if I pushed harder, I just kept on getting kicked out of the seat, almost losing the front. We have to go back and try to figure out why I wasn't able to drop down to those practice times. Otherwise, I'm pretty happy to be back up here. It's nice to obviously gain points in the championship over the guys in third, which is positive for us, but I'm not really too happy because we weren't doing times that we should have, and it was just a difficult race. But overall, I'm taking the positives and looking forward to the second race."
With Petersen fourth, fifth place went to a lonely Scheibe Racing BMW's Hector Barbera with the Spaniard 17.9 seconds behind Petersen and eight seconds ahead of Panera Bread Ducati's Kyle Wyman in sixth. FLY Racing ADR Motorsports' Bradley Ward was seventh and M4 ECSTAR Bobby Fong was eighth after starting the race on pit lane and finishing lap one in 26th place.
Ninth place went to Altus Motorsports' Jake Lewis, the Kentuckian winning the Superbike Cup race in the process as the top finishing Stock 1000. Hayden Gillim, in his first Superbike race of the year on the Franklin Armory/Disrupt Racing Suzuki, was 10th overall and second in the Superbike Cup.
Gagne now has an even 300 points after his 12th win of the year and that puts him 88 points clear of Scholtz, 300-212. Petersen is third with 174 points, 25 more than Fong. The absent Josh Herrin, who is missing his second consecutive race weekend due to COVID-19, drops to fifth in the title chase.
Superbike Race One
Eazi-Grip supported Jake Gagne (Yamaha)
Eazi-Grip supported Toni Elias (Yamaha)
Eazi-Grip supported Mathew Scholtz (Yamaha)
Cameron Petersen (Suzuki)
Hector Barbera (BMW)
Kyle Wyman (Ducati)
Bradley Ward (Suzuki)
Bobby Fong (Suzuki)
Jake Lewis (Suzuki)
Hayden Gillim (Suzuki)
Sunday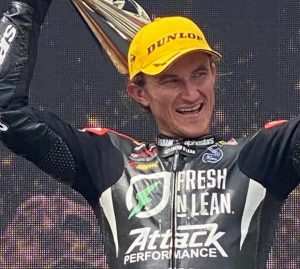 Call it what you will: Lucky 13 or a baker's dozen. It matters not. What matters is that Fresh N' Lean Attack Performance Yamaha's Jake Gagne continued his complete and utter domination of the 2021 MotoAmerica HONOS Superbike Series with his 13th successive win today at Pittsburgh International Race Complex.
But this one was closer. After besting his teammate-for-the-weekend Toni Elias on Saturday by 11.3 seconds, things got a bit tighter on Sunday for Gagne as Westby Racing's Mathew Scholtz cut that gap in half, ending up 5.7 seconds behind the runaway championship leader.
"Yesterday, I know there was a lot of drama behind me, and I got through a lot faster than I should have compared to the pace that these guys had," Gagne said after win number 13. "I knew it was going to be closer today. I got off to another good start. Put my head down for a couple laps. I think it was when Mat (Scholtz) finally got into second place, there were two laps or three laps where my pit board was dropping. I was like, 'Oh, man. He's pushing me. I got to go.' I had to drop the times back and drop off a couple 10ths. When I had two or three seconds, it's still enough to where I can't do anything crazy, can't make any mistakes, just hit my marks. I had fun. I love this track, so I'm happy we came out of here with some great results. I had a lot of fun. We had a good turnout. These boys don't make it easy. We have a little bit of a cushion, and it looks easy, but it's not easy. One little mishap and we could be off, and these boys could be right there with us. I know we've only got two rounds left, six races, so it will be battle royale. I know these guys want to win. I know we want to win, too. So, I'm looking forward to battling it out. I know we've been really fortunate this year to have a lot of wins. It's pretty surreal. It will be a hard-fought last six races and these guys know. I know they're ready for the fight. I think we're all looking forward to it."
Scholtz, who had made some tweaks to his Yamaha after Saturday's third-place finish, started strong and was behind Elias until making a pass on the Spaniard and then doing his best to set off after the always fast-starting Gagne.
"We made a decent TC change and just one or two torque changes to try to get it out of the corner better," Scholtz said. "Yesterday, I was just spinning up way too much, so we kind of just softened it slightly and made one or two TC changes to try to let it hook up better. I felt like it definitely was. It felt pretty cool doing mid 41s during the morning warmup. I kind of knew that I had a decent pace but sliding off. We were doing 40s, which was a little bit of a surprise to me. I kind of followed Toni (Elias) for a couple laps, got past him and Jake (Gagne) was only maybe three or four seconds up. I put in a couple heater laps and I closed in on Jake slightly, but then he obviously noticed that the gap on his board was getting smaller and he turned it back up. So, kudos to him. Overall, really happy just to kind of ride my own pace, my own rhythm and show that we can be up there challenging. We just need to try to get with Jake for those first couple laps and we might be able to do something at the end, but right now Jake is riding incredibly well. Well done to Bob (Fong). I feel like both of us should have been winning this year, but it seems like things weren't really working out for us. It seems like we're kind of finding our way back to where we should be. So, overall, I'm just happy to be back up here. I've got to give a huge thanks to the Westby Racing team. There's a three-week break now. I get to go and see my wife who I haven't seen in six or seven months, so I'm really happy about that. It's going to really make me feel better going to Jersey and to Barber having that time with your special person. It's kind of been a difficult year staying by myself with no family and stuff."
Third place went to M4 ECSTAR Suzuki's Bobby Fong, the three-time HONOS Superbike winner a year ago earning just his third podium of what has been a difficult season for the Californian.
"It was weird in the beginning," Fong said. "I haven't gone that fast all weekend in the beginning of the race, and this morning I didn't put on new tires. I had a few heat-cycled tires on the rear, and I just wanted to work on electronics at the end of the race. So, at the beginning of the race I'm like, 'We're going fast!' I could actually open the throttle. I felt like I was actually losing a lot in the beginning of the race, but then as soon as the tire went off, I'm like, 'Okay. I know the feel now.' I just kind of sat behind Toni (Elias) and Mat (Scholtz) most of the race. I was just kind of sizing them up. There were places where Mat was stronger than me, and there were some places where I could get him. The last two laps, I felt like I was starting to gain on him, so I was trying to give it more throttle, which on these Superbikes you can't do. You just spin in one spot. The electronics gets way too active. It just doesn't work that way. So, I've got to work on being a little smoother at the end of the race. But, again, I'm happy to be back up here. Looking forward to New Jersey. Hopefully, it's dry because we definitely should not go there if it's raining."
After finishing second in his Yamaha debut on Saturday, Elias slipped to fourth on Sunday, capping off a highly successful weekend in just his second weekend of racing in 2021. Elias ended up some nine seconds behind Fong and five seconds in front of Warhorse HSBK Racing Ducati New York's Loris Baz, the Frenchman rebounding from a crash in Saturday's race to finish fifth.
M4 ECSTAR Suzuki's Cameron Petersen was a lonely sixth, well clear of Scheibe Racing BMW's Hector Barbera with the Spaniard beating Panera Bread Ducati's Kyle Wyman on the last lap dash to the flag by just .117 of a second.
Altus Motorsports' Jake Lewis was ninth and the first of the Superbike Cup riders, the Kentuckian beating his neighbor Hayden Gillim by two seconds with Gillim rounding out the top 10 in his first Stock 1000 race of the year.
Gagne's 13th career HONOS Superbike victory puts him in a tie for 15th on the all-time AMA Superbike win list with Blake Young and Doug Polen. The win also gives him a 93-point lead over Scholtz in the championship point standings, 325-232. Petersen is third with 184 points, 19 ahead of his teammate Fong. Baz rounds out the top five with 149, just four points more than the absent Josh Herrin.
Superbike Race 2
Eazi-Grip supported Jake Gagne (Yamaha)
Eazi-Grip supported Mathew Scholtz (Yamaha)
Bobby Fong (Suzuki)
Eazi-Grip supported Toni Elias (Yamaha)
Loris Baz (Ducati)
Cameron Petersen (Suzuki)
Hector Barbera (BMW)
Kyle Wyman (Ducati)
Jake Lewis (Suzuki)
Hayden Gillim (Suzuki)