Qualifying
Fresh N' Lean Attack Performance Yamaha's Jake Gagne had a normal Jake Gagne day on Friday at WeatherTech Raceway Laguna Seca. Go fast, earn provisional pole, get ready for the HONOS Superbike races in the MotoAmerica GEICO Motorcycle Superbike Speedfest at Monterey.
Eazi-Grip supported Gagne lapped at 1:24.371 in Qualifying 1 and that put him .338 of a second ahead of Warhorse HSBK Racing Ducati New York's Loris Baz, the Frenchman turning his best lap of 1:24.709 after a low-side crash in the Corkscrew.
"We had a good day today," Gagne said. "In the first session we took the bike off the truck, and it was actually one of the toughest first sessions we've had. I wasn't too happy with the bike with just a couple of little tweaks, the electronics mostly. We managed to run both tires and I liked the green tire better. We made some changes in between sessions and made the bike feel a lot better right away in the second session. So, we went out and did a 13-or 14-lap run to get a good feel for the tires, and we had a really good run out here. Obviously, we are just trying to do the work for the race. We're just seeing how these Dunlops are going to be in the second half of the race because that's when we want to be strong."
M4 ECSTAR Suzuki's Cameron Petersen ended a sunny and warm afternoon on the Monterey Peninsula third fastest by virtue of his 1:24.831 on his 17th lap and that put the South African ahead of countryman Westby Racing's Mathew Scholtz by just .002 of a second. Scholtz suffered two crashes in the session.
Gagne's teammate Josh Herrin completed the day in fifth place with his 1:25.139, which put him ahead of Scheibe Racing BMW's Hector Barbera, M4 ECSTAR Suzuki's Bobby Fong and the returning Toni Elias on Kyle Wyman's Panera Bread Ducati rounding out the top eight.
M4 ECSTAR Suzuki's Sean Dylan Kelly topped his rival Richie Escalante, on the HONOS HVMC Racing Kawasaki, by just .130 of a second in Supersport Q1. North East Cycle Outlet Racing's Benjamin Smith, CV28 Racing's Cory Ventura and Altus Motorsports' Kevin Olmedo rounded out the top five.
Scott Powersports/KTM's Tyler Scott was the fastest of the SportbikeTrackGear.com Junior Cup racers as he led his championship rival Ben Gloddy by 1.4 seconds. Max Van ended the day third fastest, 1.7 seconds behind Scott.
BPR Tuning's Bryce Prince made his first day back in the MotoAmerica Series count as he led the way in Stock 1000 Q1, besting Ridge Motorsports Park/DiBrino Racing's Andy DiBrino and Jones Honda's Ashton Yates.
Mission Foods S&S Cycle Indian Challenger's Tyler O'Hara and his 1:33.058 led the Mission King Of The Baggers Q1, besting H-D Screamin' Eagle's Travis Wyman, DTF Performance/Hoban Brothers Racing's Michael Barnes and championship points leader Kyle Wyman and his H-D Screamin' Eagle Road Glide.
Righteous Racing's Jody Barry led Twins Cup Q1 over Robem Engineering teammates Toby Khamsouk and Kaleb De Keyrel.
Superbike Q1
Eazi-Grip supported Jake Gagne (Yamaha) 1:24.371
Loris Baz (Ducati) 1:24.709
Cameron Petersen (Suzuki) 1:24.831
Eazi-Grip supported Mathew Scholtz (Yamaha) 1:24.833
Eazi-Grip supported Josh Herrin (Yamaha) 1:25.139
Hector Barbera (BMW) 1:25.885
Bobby Fong (Suzuki) 1:26.143
Toni Elias (Ducati) 1:26.199
Jayson Uribe (Suzuki) 1:26.971
David Anthony (Suzuki) 1:27.107
Race 1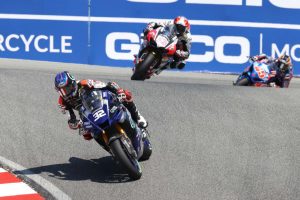 Fresh N' Lean Attack Performance Yamaha's Jake Gagne won his eighth straight MotoAmerica HONOS Superbike race today at WeatherTech Raceway Laguna Seca, but this one was different. This one was close.
How close? Just a tick over a second and that was the biggest lead of the race as Warhorse HSBK Racing Ducati New York's Loris Baz finished just 1.173 seconds behind Gagne after applying relentless pressure for the duration of the red-flag interrupted race.
"To see less than a second, you know if you run a little wide here, a little wide there, they're going to be right on you," Gagne said. "I'm lucky I got a couple great starts again. We managed to go down in turn two and not see anybody, which was nice. Like Loris (Baz) and Cam (Petersen) said, after that red flag with the heat cycle on those tires we were all sliding around pretty good, I think more than we had all weekend. So, when that happens you kind of run into some new issues. The bike feels a little bit different. I was pushing hard, though. I kept watching that pit board. I saw those guys were right there within a second, so I had nothing to do but go and go. That race went by quick. It's been a while since we had a red flag, so I think after 15 laps it flies by so quick. Hats off to the Fresh N' Lean Attack Yamaha team. These guys are working hard. I know we got to do some work tomorrow because everybody is going to be going faster. I think we can try some things in the morning warmup and see if we can't get it rolling a little better. It's going to be exciting."
Baz was all smiles after having his best race of the season thus far in keeping Gagne.
"I think both starts sucked," Baz said. "The others just did a normal start in the second. That's the main thing we have to improve at the moment. I felt like we struggled to launch our bike. I managed to put some clean moves and nice moves on the corkscrew on Josh (Herrin) and Cam (Petersen). It didn't cost me a lot. I think it's not the start that cost me the win. Maybe the red flag cost me I believe more, because I had the soft rear and that tire, every time even in the session if we restart, I never have the same feeling. I was struggling with the rear grip from the beginning in the second half of the race. But also, they were riding super-fast. I was really surprised in the first part to see Josh (Herrin) so close to me because he was pretty far in the qualifying. Also, in the second part, I was pretty surprised to see Cam keeping the gap so close. I was just trying to keep the pressure as much as I could on Jake (Gagne), trying to come back without making any mistakes. He didn't do any mistakes. He was just a little bit too fast again, but we're closing. I think he won in Virginia with nearly 20 seconds. I could not see him after lap two. Now I could see him until the checkered flag, so that's a big improvement. I'm happy. I want to thank the whole team because we didn't have any weekends with any problems at the moment. We always have some bad luck happening, but luckily this weekend it didn't happen in race time. It happened on Friday. So, I'm really happy and I want to thank them, the whole Ducati team because they do an amazing job for the first season."
Third place went to M4 ECSTAR Suzuki's Cameron Petersen, 3.6 seconds behind Baz, and that meant the podium consisted of three different manufacturers (Yamaha, Ducati and Suzuki) and three different nationalities (American, French and South African).
Baz had put a pass on Petersen early in the race in the Corkscrew that left an impression on the Suzuki rider.
"I don't know how often you see somebody pass you on the right going into the Corkscrew up there," Petersen said. "When I saw Loris (Baz) come up on the outside of me, at that point he had a lot of speed. I knew I couldn't just let go of the brakes and try to hold it underneath him. It definitely caught me off guard. It was honestly just an unreal move. When he came by me and he got the thing slowed down and pulled it back to the apex, I was like, 'You know what? You deserve that one.' It was pretty damn impressive. It was a fun race though, nonetheless."
Fourth went to another South African in the form of Westby Racing's Mathew Scholtz, the Yamaha rider ending up 1.3 seconds adrift of his countryman Petersen and over 12 seconds ahead of Fresh N' Lean Attack Performance Yamaha's Josh Herrin.
Some four seconds behind Herrin came Scheibe Racing's Hector Barbera, the Spaniard beating M4 ECSTAR Suzuki's Bobby Fong. The returning Toni Elias ended up eighth on Kyle Wyman's Panera Bread Ducati.
Altus Motorsports' Jake Lewis finished ninth over Travis Wyman Racing's Travis Wyman and won the Superbike Cup in the process.
Superbike Race 1
Eazi-Grip supported Jake Gagne (Yamaha)
Loris Baz (Ducati)
Cameron Petersen (Suzuki)
Eazi-Grip supported Mathew Scholtz (Yamaha)
Eazi-Grip supported Josh Herrin (Yamaha)
Hector Barbera (BMW)
Bobby Fong (Suzuki)
Toni Elias (Ducati)
Jake Lewis (Suzuki)
Travis Wyman (BMW)
Race 2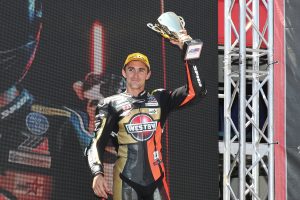 Newsflash: Jake Gagne got passed today at WeatherTech Raceway Laguna Seca in the second of two HONOS Superbike races in the MotoAmerica Superbike Speedfest at Monterey.
But it only lasted two corners.
Fresh N' Lean Attack Performance Yamaha's Gagne ran off the track on the run from turn five to turn six on the opening lap and the mistake allowed Warhorse HSBK Racing Ducati New York's Loris Baz to pass him. What followed was a frenzied 20 or so seconds as Gagne, Baz and Westby Racing's Mathew Scholtz rubbed elbows and motorcycles through the Corkscrew and Rainey Curve. When the dust settled, Gagne was back in front.
And that was all she wrote. Despite constant pressure from Baz for the duration, Gagne was able to maintain his composure to beat the Frenchman by 1.789 seconds and win his ninth straight HONOS Superbike race. The win also increased his championship points lead to 65 points over Scholtz, 225-160.
"That turn five, when you get out there on a Superbike you start sliding," Gagne explained when asked about his off-track excursion. "That curb comes back. If you get out on the curb, it's almost tough to get back off it. I just slid out there a little too much. It was one of those things. I thought I was going to save it, and then the rear tire kind of hopped back off. Then all of a sudden, I was in the dirt. But I kind of dropped the throttle. The Yamaha still hooked up good in the dirt with the slicks on, so I just got back up on the curb. Loris (Baz) came by, then Mat (Scholtz) came by the Corkscrew. They both kind of ran wide in the Corkscrew, so I was able to just dive up tight on the Corkscrew and around the side of Rainey (Curve). I managed to kind of get that back and I knew I got to go. Obviously, I was keeping an eye on my pit board. I knew Loris was there. I knew Mat was there. They didn't give me any issues to go. I saw a couple .2, .3, and then they'd pull a tenth back, they'd grab a 10th, they'd pull a couple tenths back… So, it was kind of back and forth."
Gagne had been challenged all weekend by Baz and admitted that Sunday was the biggest challenge he'd faced all year.
"That was a tough race for me," Gagne said. "I made a couple little mistakes. All these races, I've been in a pretty comfortable spot. I don't have to push too many brake markers and stuff. But this time I ran wide here and there, I dropped it off the curb here and there. But we made some improvements. We made the bike easier to ride today from yesterday. It was fun racing with these guys. It's been a little lonely up front, but this weekend it was a lot more exciting. We all banged some elbows today. Bent my front brake lever down going up to the Corkscrew. We got a little action today and it's good. Hats off to the Fresh N' Lean Attack Yamaha. This thing shows we can bring it anywhere and it's a beast. We'll just try to keep it up. I know these guys are coming and people want to get those wins, for sure. So, we'll roll onto Brainerd."
For Baz and his Ducati team it was a solid weekend where they made big improvements to the Panigale V4 R.
"I did a good start," Baz said. "I think it's the first one of the season, so I was pretty happy with that. Jake (Gagne) ran wide in turn five. There were a lot of stones. I'm really happy he didn't crash because it would have been scary. I was really close to him. All the stones hit me like when you race motocross. Then I managed to overtake him, but I went wide in the next turn. Then he came back on the inside. We were elbow to elbow. We made the Corkscrew. His elbow was stuck in my wing. Then on the next corner, Josh (Herrin) came (by), and we went elbow to elbow all the straight. I really didn't want to lose the rear wheel from Jake because I didn't expect anyone to be able to follow us at the beginning, so I was surprised to see the next 10 laps plus zero. I was trying to keep the same gap to Jake, so I had pressure. He did a couple of mistakes, but not enough for me to go through. After 12, 13 (laps) I started to have a lot of chatter in the front, much more than yesterday. I had a few moments on the front. At that time, it took two tenths of a lap in the last section mainly. I was not able to be any faster. Again, another podium and another P2. I'm much closer to Jake. We put pressure on him. We had a fun race. So, I'm happy. I go home happy all the season, the closer we are. Big thanks to Ducati, all the team are doing an amazing job to improve the bike each weekend. The way we work in the team is getting better and better every weekend, more professional. We can only improve every week from now."
With Gagne beating Baz for the second straight day, it was Scholtz finishing third on Sunday. The South African ended up 7.8 seconds behind Baz after keeping the two in front of him in sight for most of the race.
"Yesterday was good," Scholtz said. "Obviously, only finishing, I think, it was 4.8 off of Jake (Gagne) is the closest that we've been to him. It wasn't a real race, per se, because we had the red flag come out and shortened laps and the tire doesn't have as much grip after the heat cycle of coming in and going back out. So, it definitely helps us with the pace being slowed down. Last night we made some changes and it definitely helped today. The last two rounds have been difficult, so we came here and just reset everything, from the setup and just a ton of things. We kind of figured that we have just gone too far one way and just have been struggling. So, kind of reset so we were able to work our way up slowly Friday, Saturday, Sunday and just got quicker and quicker. I think I hung onto Baz and Jake for the first 12 laps, or something like that. I didn't think it would be possible running low to mid 24s for most of the race. I got a nice surprise for myself there. Just a huge thank you to the Westby team. This was difficult times and we kind of persevered and managed to work our way back up to the podium here. We definitely have our work cut out for us to catch these two. I feel like the bike is sort of going somewhere where I feel comfortable riding. I have had to change how I'm going to attempt corners, slightly. I feel like if we carry on working in the direction that we are now, we should be able to hopefully catch them soon."
M4 ECSTAR Suzuki's Cameron Petersen was fourth on Sunday, a day after finishing third. He ended up some six seconds ahead of Gagne's Fresh N' Lean Attack Performance Yamaha's teammate Josh Herrin, who in turn was seven seconds ahead of Petersen's teammate Bobby Fong.
Panera Bread Ducati's Toni Elias got the better of Scheibe Racing BMW's Hector Barbera after a race-long duel to finish seventh. Elias was riding the Ducati in place of the injured Kyle Wyman at Laguna Seca, but Wyman will return to the HONOS Superbike class in three weeks at Brainerd International Raceway.
Travis Wyman Racing's Travis Wyman and BPR Tuning's Bryce Prince rounded out the top 10 finishers while also finishing first and second in the Superbike Cup.
Superbike Race 2
Eazi-Grip supported Jake Gagne (Yamaha)
Loris Baz (Ducati)
Eazi-Grip supported Mathew Scholtz (Yamaha)
Cameron Petersen (Suzuki)
Eazi-Grip supported Josh Herrin (Yamaha)
Bobby Fong (Suzuki)
Toni Elias (Ducati)
Hector Barbera (BMW)
Travis Wyman (BMW)
Bryce Prince (Yamaha)