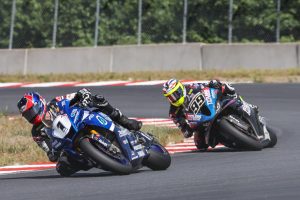 If this was 2021 or 2022 and Jake Gagne had a 68-point lead you could basically go ahead and hand him the number-one plate right now. But this is different. There are more dogs in the MotoAmerica Medallia Superbike fight and a bad day at the office could result in a fifth or a sixth. Or worse. Finishing second or third on a bad day isn't necessarily a thing anymore.
But still 68 points is 68 points and Jake Gagne is Jake Gagne. Catching him isn't going to be easy. After all, he could DNF twice and still lead the championship so he is nestled into a cosy spot at the top of the standings as he aims for a third-straight Medallia Superbike Championship.
Although his 17- and 12-win seasons of 2021 and 2022 likely won't be repeated, based on the amount of fast and consistent competition in the class, Gagne still has six wins on his scorecard and – more importantly – only one DNF. And that DNF at Road America was the only time the Fresh N Lean Progressive Yamaha Racing teamster has finished off the podium. In addition to the class-leading six wins, Gagne has four second-place finishes and two thirds. It all adds up to 262 points and a substantial 68-point lead as the series heads to Pittsburgh International Race Complex, August 18-20, for Superbikes At Pittsburgh Presented By Steel Commander, round seven's triple-header Superbike weekend.
Warhorse HSBK Racing Ducati's Josh Herrin is the rider who is the closest to Gagne even though the 2013 AMA Superbike Champion suffered his first DNF of the season a few weeks ago at Brainerd International Raceway in race two. The DNF came just a day after Herrin had put his Panigale V4 R on the podium for the ninth time in the first 12 races.
Tytlers Cycle Racing's Cameron Beaubier's hopes for a sixth MotoAmerica Superbike crown took a big hit at Brainerd with a DNF and a non-start in the two Minnesota races. Beaubier's woes started in race one when a huge highside in the early laps left him bruised and battered. It also left him concussed and that put him on the sidelines for race two, leaving him 79 points behind Gagne in the series after his third and fourth non-point scoring races of the year.
While Beaubier's weekend in Minnesota was one he'd like to put behind him, it's also a weekend that his teammate PJ Jacobsen will never forget. Jacobsen earned his first MotoAmerica Superbike win on Sunday in Brainerd a day after he finished a close second to Gagne. That all added up to a 45-point weekend for the New Yorker as he moved to fourth in the title chase and an even 100 points behind Gagne.
Vision Wheel M4 ECSTAR Suzuki's Richie Escalante is the only rider in the top five in the championship to score points in every round and that level of consistency has him fifth in the title chase – 15 points behind Jacobsen and 12 ahead of Westby Racing's Mathew Scholtz.
Scholtz's weekend in Minnesota was up and down with an unlucky DNF in race one followed by a third-place finish in race two that ended a five-race streak without a podium for the Westby Racing rider.
Tytlers Cycle Racing's Corey Alexander is seventh in the championship after a dreadful weekend without a point scored in Brainerd. Alexander will be hopeful of getting back to the level he had climbed to prior to his misery in Minnesota.
Disrupt Racing's Hayden Gillim, like Escalante, has a blemish-less 2023 season going for him as far as finishing each and every race, and Brainerd featured a season-high sixth-place finish in race two.
Gagne's out-with-injury teammate Cameron Petersen is still in the top 10 and 16 points ahead of 10th-ranked Ashton Yates and his Aftercare Scheibe Racing BMW.
Pre-Pitt Race Superbike Notes
This weekend's MotoAmerica racing at Pittsburgh International Race Complex will feature three Medallia Superbike races and that means there are 75 points available for three wins. Pitt Race joins WeatherTech Raceway Laguna Seca in playing host to three Superbike races in 2023. The first of the three will be held at 3:10 p.m. on Saturday with race two and race three scheduled for 12 p.m. and 3:10 p.m. on Sunday, respectively.
Defending two-time MotoAmerica Medallia Superbike Champion Jake Gagne swept both wins in the class last year en route to his second-straight championship. Gagne beat Danilo Petrucci and Mathew Scholtz in race one before besting Scholtz and Petrucci in race two.
Jake Gagne earned pole position last year at Pitt Race with his 1:39.344, which finally broke Cameron Beaubier's lap record from 2019. Beaubier, meanwhile, still holds the race lap record of 1:40.550 from his race-two victory in 2020.
History Lesson: Cameron Beaubier won the first MotoAmerica Superbike race held at Pitt Race in 2017 with his win in race one over Toni Elias and Roger Hayden. In race two, Beaubier suffered a shoulder injury that kept him out of the rest of the 2017 season. The race-two victory went to Hayden with Elias second and Josh Hayes third.
MotoAmerica's weekend at Pittsburgh International Race Complex will be the series' seventh straight year after making its debut at the circuit in 2017. The 2.78-mile, 19-turn track, which was built in 2002, is a favorite of the riders, teams, and fans.
Six riders have won the 12 MotoAmerica Superbike races held at Pitt Race: Jake Gagne (4), Cameron Beaubier (3), Toni Elias (2), Roger Hayden (1), Josh Herrin (1) and Garrett Gerloff (1).
JD Beach will fill in for Cameron Peterson this weekend
Fresh N Lean Progressive Yamaha Racing brings aboard JD Beach to race the MotoAmerica Superbike triple-header at the Pittsburgh International Race Complex on August 18-20. The flat track racer returns to the paddock to fill in for Cameron Petersen, who is focusing on returning to full fitness from a wrist injury that has sidelined him from the remaining rounds of the season.
Over the past five seasons, Beach has been battling for top honors in the American Flat Track Mission SuperTwins Championship with the Estenson Racing team aboard their Yamaha MT-07s. The multi-time road race champion with dirt track roots has enjoyed success with Yamaha in both disciplines and also has a history with Attack Performance. Beach raced for the team during his debut Superbike season in 2011 and also during the 2019 MotoAmerica Superbike season when he raced both MotoAmerica and AFT premier classes, scoring his first SuperTwins and Superbike victory on back-to-back weekends.
In addition to the PIRC round, Beach will head straight from the American Flat Track Sturgis Half-Mile to ride the Fresh N Lean Progressive Yamaha Racing R1 at the Circuit of the Americas (COTA) test on August 7-8. Josh Hayes, who rode Petersen's bike this past weekend at Round 6 of the championship in Brainerd, Minnesota, will also ride the team's R1 during the morning sessions on the first day of the COTA test. The fill-in rider for the final two rounds will be announced at a later date.
Richard Stanboli – Fresh N Lean Progressive Yamaha Racing Team Manager
"It will be a pleasure to work with JD again. He is always motivated and positive. We have some history together and good communication, so it will be very easy for him to jump right in and get to work. He last rode our R1 in 2021 at BIR as a last-minute fill-in rider. It will be interesting to get his reaction to our 2023 R1 and how it may compare to Josh Hayes' comments, who will also be at our test next week. It should be good fun and a learning experience for everyone."
JD Beach – Estenson Racing 
"First off, I want to thank the Estenson Racing team for allowing me to do this. I'd also like to thank Yamaha and Attack for thinking of me to fill this role. I know I've got some big shoes to fill because Cam has been fast the last year and a half, as well as Hayes last weekend at Brainerd. I know this is going to be tough coming in as a fill-in rider, but I'm up for the challenge. I'm excited to get some seat time on a factory Superbike. I'm not sure that I will get the opportunity again, so I want to give it all I got. I want to do the best I can for the team and help them with the points, but I am also still focused on the final AFT rounds too."