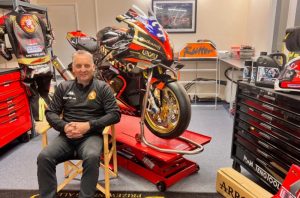 With road racing back on the calendar, Bathams Racing will be competing at the International Northwest 200 and Isle of Man TT races with Michael Rutter on the BMW M1000RR.
14 time Northwest 200 race winner Rutter will compete in the Superbike and Superstock 1000 classes, to start his 84th race at the famous "Triangle" course on the Northern Irish north coast, hoping to add to his 34 podiums.
Then it's off to the Isle of Man 28 years after Rutter made his TT debut where this year, he will start his 73rd TT race with the iconic start number 3 in the Superbike, Superstock 1000 and Senior TT races.
Plans for the rest of the race season will be announced after the TT.
Rutter: "Like a lot of people, I'm so happy that road racing is back on the agenda for 2022. It seems like a lifetime since we've been able to race on the roads, and like everyone else I can't wait to get back out there. Road racing has always been a big part of Bathams Racing, and the whole team have really missed it, so we've decided to initially focus all our time and effort on the Northwest 200 and Isle of Man TT races for 2022.
I'm 50 years old now, so really should know better, but my love for road racing is the same today as it ever was, so giving it a miss after the two year break never entered my mind. The only thought I had was getting back out there again. The challenge of the roads is unique, especially the TT, so we've hit pause on competing in the British Championship so the team can focus 100% on me at the Northwest 200 and TT."
Posted on Wednesday, April 27th, 2022 in News