Rory was born into a motorcycling family up in Scotland and started riding at 7 years old. He won 'Novice of the Year' in the 2008 Scottish championships.
More mini moto titles were claimed in the FAB Racing British Championship in 2010, and in 2012 he progressed to the British Mini GP 70cc, which he went on to win too!
His talent was recognised by the Scottish Auto Cycle Union, who granted Rory special dispensation to ride in the Formula 125 class at the age of 11, rather than 12. Riding against older and more experienced riders on 125cc bikes Rory on his GP80 machine remarkably ended the season with a further three titles to his name.
After turning 12 in September, Rory was invited to compete at the final Aprilia Superteen challenge race of the season at Donington Park. Riding a borrowed Aprilia RS125 on a track he had never previously ridden on, Rory went on to top the podium in one of his four races, becoming the youngest ever race winner in this competitive and highly prestigious series.
In 2014, Rory entered the Superteen series full-time. After a fantastic season Rory won the Superteens championship on his 13th birthday, adding his name to this prestigious winner's trophy.
In October 2014 Rory was invited to attend the Red Bull MotoGP Rookies Cup three day selection event.  From over 1000 applicants from around the world, 108 riders were invited to Guadix circuit in Spain. Over the course of three days a panel of experts selected 12 of the best young riders from around the world to join the 2015 Red Bull MotoGP Rookies Cup… and Rory was one of them.
In 2015, with the backing of Racing Steps Foundation, Rory joined Team KRP run by Mark Keen and entered the international stage with the Spanish RFME CEV National Championship. Following his 14th birthday in September, he then also dipped his toe into the FIM CEV Repsol Moto3 Junior World Championship. Running alongside his RSF campaign, Rory was also competing throughout Europe in the prestigious Red Bull MotoGP Rookies Cup (support race series to MotoGP through which both of 2015's Moto3 and Moto2 champions graduated).
In 2016, Rory continued his education on the KRP-run FTR KTM in the Junior World Championship, as well as in the Red Bull Rookies, where he would go on to score podium finishes at Aragon and Assen on his way to sixth in the final standings. The following year opened with the now 15-year-old Rory winning the first race of the Rookies Cup, at Jerez, while the Junior World Championship brought best finishes of fifth place, now on a KTM RC250R (M36) run by KRP.
With Racing Steps Foundation winding up its operation at the end of the 2017 season, Rory found himself without a ride for 2018. Dorna kindly stepped in, offering a place in the inaugural British Talent Cup. With four wins, Rory convincingly won the title.
In 2019 Rory remained on a Kawasaki. Running a largely standard, privately run, ZX-6R supplied by British Superbike legend Chris Walker, 17-year-old Rory once again followed in the tyre tracks of Crutchlow and Lowes by competing in the British Supersport Championship. Rory ended the year as the top ranked Kawasaki rider and best rookie – taking a podium at Donington Park on his way to seventh in the final standings.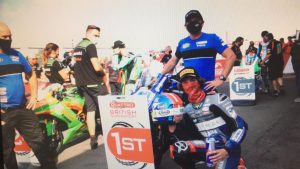 The performances did not go unnoticed and for 2020 Rory has been picked up by the Team Appleyard Macadam Racing/Tysers Yamaha squad, Yamaha Motor UK's officially supported team in the British Supersport Championship.
Eazi-Grip have supported Rory for 3 years now, and look forward to continuing this support in what promises to be an amazing career in racing.