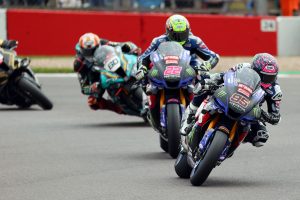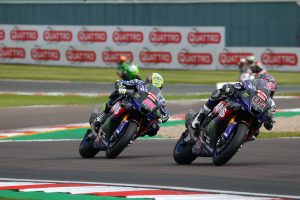 Bennetts British Superbike championship leaders McAMS Yamaha are ready for battle as the series heads into its final stages with the penultimate round at Donington Park this weekend.
Tarran Mackenzie heads the championship standings for McAMS Yamaha by just two points from team-mate Jason O'Halloran after a rollercoaster weekend at Oulton Park. The duo are in turn just a handful of points ahead of double winner at Oulton, Tommy Bridewell, meaning it's all to play for over the final six races.
Having been dominant through most of the 2021 campaign, McAMS Yamaha's lead in the teams' championship is already unassailable for their rivals, but Mackenzie and O'Halloran know that winning as many of the final six races as possible is the key to winning the overall 2021 Bennetts BSB crown.
Both Mackenzie and O'Halloran have won at the Donington Park circuit already this year with the duo taking a victory each on the National circuit back in August, while both celebrated podium success on the Grand Prix track last year.
Just a stone's throw away from his Ashby de la Zouch home, Donington is a special round for Mackenzie and a circuit he enjoys. Having already notched up a career best six victories so far in 2021, he'll be looking to increase that tally at home this weekend.
After a tough weekend at Oulton Park saw Jason O'Halloran lose his championship lead, the Aussie is fired up and ready to bounce back this weekend with the title situation now more simple than ever with just nine points covering the top three.
Ian Hutchinson will return to action on the Edwards 1902 Yamaha in the National Superstock class as he looks to make further strides towards the podium finish that has eluded him thus far in 2021.
Tarran Mackenzie
Championship: 1st (1093)
"Out of the three showdown tracks, Oulton Park is probably the worst for me on paper so to have come away from there leading the championship as we head to two tracks which I really enjoy is a nice position to be in. I won on the Donington Grand Prix track last year and we took a win on the national layout there earlier this year too. The championship gap is now pretty much nothing, so it's all to play for over the final six races."
Jason O'Halloran
Championship: 2nd (1091 points)
"There's no escaping the fact Oulton Park wasn't an ideal weekend for us. The championship lead we had is now gone and we are now pretty much level on points with two other riders and everyone else has closed up a bit too so we've got a six race fight for the title. We've been working hard over the last few days to reset and go again, both with the bike and myself. In many ways the championship situation is now a lot more simple – with everyone so close the only option is to win as many races as you can and ultimately whoever does that is going to be champion at the end. We've won more races than anyone else this year, so we know we can do it."
Ian Hutchinson
Edwards 1902 Yamaha National Superstock 
"Oulton Park was a little frustrating as I felt we could have achieved a bit more but for whatever reason it didn't quite come together for us. Next up we head to Donington, which is a track I had a good result at earlier in the year so fingers crossed with the progress we've made since then we can have a good weekend."
Steve Rodgers
Team Principal
"It really is game on as we head to Donington Park this weekend as a tougher weekend than normal saw us lose our buffer in the championship standings to the other riders. Tarran and Jason are split by just two points now with Tommy right on their tails, meaning it's all to play for over the next six races. In many ways it makes it more simple, as the best man over the next six races is going to be the one who wins the title. Between them, Tarran and Jason have won 17 races so far this year so we know they can win, it's just about making that happen when it matters. Tommy is very strong at the minute and there will no doubt be other contenders too, so it's not going to be easy but we'll certainly do our best."