Friday Practice – O'Halloran leads the way with quickest ever lap of Silverstone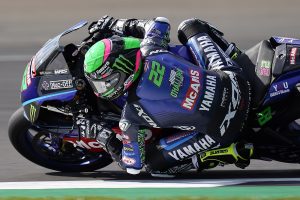 Jason O'Halloran led the way as the 2022 Bennetts British Superbike Championship got underway at Silverstone. The Australian rider topped both of Friday's free practice sessions for the McAMS Yamaha Team as he set a new outright lap record of the Silverstone National circuit.
In the Pirelli National Superstock class, Edwards 1902 McAMS Yamaha's Tim Neave topped the timesheets, lapping the Silverstone circuit quicker than he has ever before.
Flying the flag solo this weekend with team-mate Tarran Mackenzie out through injury, O'Halloran built up his pace in both sessions as he searched to refine his race set-up with the 2022 R1 and new crew chief Les Pearson.
A time of 53'358 saw him lead the opening session by over a tenth, which is quite the gap on such a short circuit. Things were a bit closer in the second session though, with O'Halloran leading OMG Yamaha's Kyle Ryde by just 0.040 seconds as he lapped under his 2021 pole position with a time of 53'107.
After a strong pre-season test programme, Edwards 1902 McAMS Yamaha's Tim Neave was feeling strong ahead of the opening round. Sixth in the morning's opening session, he'd go on to take the top spot in FP2 with a time of 54.380.
Saturday marks the opening race for both the Superbike and Superstock classes with lights out in the Stock class at 14:50 ahead of the opening Bennetts BSB race at 16:15.
Bennetts British Superbike Championship, Silverstone, SUPERPICKS 12:
Jason O'Halloran (McAMS Yamaha) 53.107s
Kyle Ryde (Rich Energy OMG Racing Yamaha) +0.040s
Lee Jackson (FS-3 Racing Kawasaki) +0.097s
Bradley Ray (Rich Energy OMG Racing Yamaha) +0.108s
Christian Iddon (Buildbase Suzuki) +0.192s
Rory Skinner (FS-3 Racing Kawasaki) +0.236s
Ryan Vickers (FHO Racing BMW) +0.356s
Tommy Bridewell (Oxford Products Racing Ducati) +0.363s
Danny Buchan (SYNETIQ BMW) +0.365s
Andrew Irwin (SYNETIQ BMW) +0.378s
Josh Brookes (MCE Ducati) +0.383s
Dan Linfoot (iForce BMW) +0.404s
Jason O'Halloran
Pos: 1st              Time: 53'107
"It was a good first day for us, it was good to get some laps in after the test last week was a bit of a waste with the weather. Conditions have been perfect today. We are still working through some things and have some things to improve but, overall it's been a really positive day and we are looking forward to getting racing tomorrow."
Tim Neave
Edwards 1902 Superstock 
Pos: 1st              Time: 54'382
"It's been a good day, we started FP1 with the wrong gearing really as it was geared for the test last week when there was a bit of a headwind, but once we'd sorted that the bike felt mega. That's quicker than I've ever been here, so I'm pretty happy going into tomorrow."
Steve Rodgers
Team Principal
"Overall we've had a really positive opening day with both Jason and Tim leading the way for the team in their respective classes. Jason topping both sessions was great as he was working through quite a few different options for the races and he's still got a few things he'd like to improve, so it's always encouraging to be fast when in that position. Tim continues to impress us and is looking really strong on the R1, we are really looking forward to seeing what he can do in the race tomorrow."
Saturday – Tim Neave takes historic win for Edwards 1902 Yamaha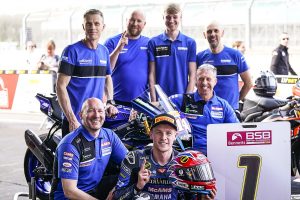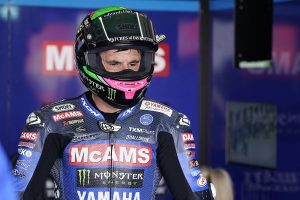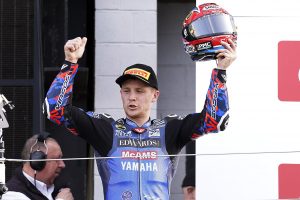 Tim Neave took a historic victory in the opening race of the 2022 Pirelli National Superstock championship on his Edwards 1902 McAMS Yamaha at Silverstone. Jason O'Halloran took his McAMS Yamaha to fifth in the Superbike class.
After qualifying fourth, Neave made a strong start in the opening race but an early red flag halted proceedings. On the restart, Neave settled comfortably into third, biding his time all too aware of the length of the race.
Preparing to launch is attack on the leading duo in the closing stages of the race, things were made a bit easier for the Lincolnshireman when the pair collided and went down leaving him with a 1.5 second lead over the rest of the pack. As well as taking Yamaha's first race win in the National Superstock championship since 2009, Neave also set the fastest lap of the race to secure pole position for tomorrow.
It was a solid start to the season for Jason O'Halloran, who took his McAMS Yamaha to fifth in the opening race as they continue to refine the 2022 R1. Having qualified sixth, O'Halloran got a strong start in the early laps before settling into fifth. He was briefly passed by the Suzuki of Christian Iddon but soon re-gained the position and looked to chase down the leading group.
The fastest man on track in the closing stages, the gap was just too much for the Aussie but he ends the day feeling positive about the direction in which they are going with the 2022 R1. He'll start tomorrow's second race from sixth on the grid.
Tim Neave
Qual: 4th                Race: 1st 
"That was mega! We have known we had the pace and knew our potential but actually turning that into a result is never certain, so to win the first race is incredible. I need to thank Richard, Steve and the whole team for giving me this opportunity. Let's see what we can do from pole position tomorrow."
Jason O'Halloran
Qual: 6th         Race: 5th 
"Obviously fifth isn't where we want to be but it's a solid start. We have said since the start of the year that we wanted to lift our ceiling and step forward this year and the changes to the bike are positive – that race was the longest run we've done on this new bike so it's all valuable data and we were quick at the end, so that is promising. We just need to keep working with it and the progress will come. I feel like I'm riding really well and I'm happy with the result."
Steve Rodgers
Team Principal
"What a ride from Tim Neave! We knew he had it in him and pre-season has obviously been very positive, but when it comes to racing there are just so many different factors, but he kept a cool head, did what he does best and the result came to him. It was a good start to the year for Jason in fifth, obviously we'd like to be higher up but the bike is quite different this year and we are still working through those changes, which should make us stronger in the long run. Towards the end of the race Jason was as strong, if not stronger than the leaders, so we just need to find something for those early stages."
Sunday – Tim Neave does the double and O'Halloran makes progress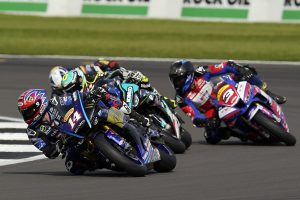 After taking Yamaha's first victory in the National Superstock 1000 championship in over 13 years on Saturday, Tim Neave doubled up on Sunday with a commanding ride to the top step at Silverstone National. Jason O'Halloran took solid points as he continued to make progress with the 2022 R1.
Neave's win on Saturday was made a little easier by the riders in front of him colliding before he could launch an attack, but on Sunday the Lincolnshire rider showed he had the pace with a superb victory in the full-distance outing aboard the Edwards 1902 McAMS Yamaha. Biding his time after sitting in second following a strong start, he made his move and pulled enough of a gap to control his lead to the flag.
In the Superbike class, Jason O'Halloran brought home valuable points for McAMS Yamaha with further sixth and fifth place finishes in Sunday's two races. The Australian has been working hard to understand the new-for-2022 package, and clear progress throughout the weekend showed that perseverance is paying off.
The team will now head to Oulton Park for a test on Thursday before the second round of the championship commences at the Cheshire circuit between 30th April and 2nd May.
Tim Neave
Race 1: 1st            Race 2: 1st 
"That was an awesome weekend! We've had a pole position, two wins and got the lap record, it couldn't have gone much better. I'm feeling so good on the bike, if we had another race to go and do today I wouldn't change a thing. I knew I had the pace on Saturday but when people crash in front of you, you do always feel it was a little bit gifted so to go out and do it without that on Sunday felt really nice. It's early days and it's a long season, but I am very much looking forward to getting to Oulton Park."
Jason O'Halloran
Race 1: 5th            Race 2: 6th               Race 3: 5th
"It's not been the most simple of weekends. The package we've got for 2022 is very new to us, the list of changes for this year is as long as my arm and it takes time to get used to that, but you have to stick with it. The final race of the weekend was the first time I felt like I was in the race and we figured out the areas we need to improve. We're not a million miles away with the chassis settings, the more I ride it the more I know it and although the result isn't a win or a podium, I'm actually really happy with the work we've done this weekend as I know it will pay off in the long run."
Steve Rodgers 
Team Principal
"It's been an interesting first weekend for sure! Tim has ridden incredibly in his first weekend with the team, we knew he had the potential but to see him win both races was really special for us. It's been a tough weekend for Jason, most people do not realise but in 2021, our bike was essentially 2020-spec whereas for this year, we are on full 2022 spec so it's almost like two years of new parts in one go which is a lot of change when you have been riding the same bike for two years straight. We are confident the steps we are making will pay off in the long run. They worked really hard this weekend and the progress they made was clear."