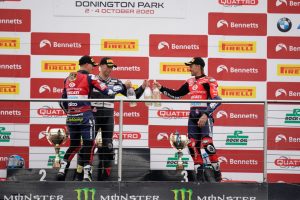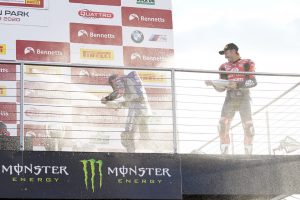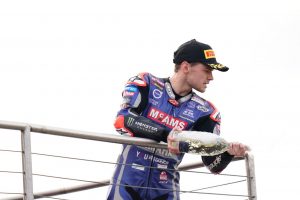 Tarran Mackenzie became the third different rider to top the Bennetts British Superbike Championship podium at Donington Park this afternoon, grabbing the lead with four laps to go to give McAMS Yamaha the final victory of the weekend.
The final race of the weekend got underway with Josh Brookes leading the pack into Redgate for the first time ahead of Jason O'Halloran, but Tommy Bridewell was instantly on the attack and grabbed second on the Oxford Products Racing Ducati.
Glenn Irwin was making a move up the order, edging into third with a move on lap four, before the Honda Racing rider snatched second two laps later from Bridewell.
Bridewell's race ended in disappointment when he retired with a technical problem on lap seven, but at the front Brookes was leading Glenn Irwin with Mackenzie piling on the pressure in third place.
On the ninth lap, there was drama for O'Halloran, when the McAMS Yamaha rider collided with Christian Iddon as the pair battled for fourth place and the collision with jammed his clutch in his lever guard, which dropped him down to eighth place by the finish.
By the tenth lap Glenn Irwin had grabbed the lead with Mackenzie in second and Brookes in third, but the McAMS Yamaha rider made his move at the Fogarty Esses and was able to hold off his Honda Racing rival.
Brookes completed the podium and his biggest points haul overhaul from the three races meant he was crowned the Monster Energy King of Donington; the VisionTrack Ducati rider leads the standings by 16-points into the final three rounds.
Christian Iddon was fourth fastest on the second of the VisionTrack Ducatis, and he heads into the final rounds in second place in the standings, with Gino Rea completing his best weekend of the season in fifth place for Buildbase Suzuki.
Lee Jackson led the Rapid Fulfillment FS-3 Kawasaki charge in sixth place, ahead of Round 13 winner Andrew Irwin and O'Halloran whilst Luke Mossey and Joe Francis completed the top ten.
Bennetts British Superbike Championship, Donington Park, Round 15 result:
Tarran Mackenzie (McAMS Yamaha)
Glenn Irwin (Honda Racing) +1.223s
Josh Brookes (VisionTrack Ducati) +3.951s
Christian Iddon (VisionTrack Ducati) +6.742s
Gino Rea (Buildbase Suzuki) +7.441s
Lee Jackson (Rapid Fulfillment FS-3 Kawasaki) +7.685s
Andrew Irwin (Honda Racing) +8.090s
Jason O'Halloran (McAMS Yamaha) +9.274s
Luke Mossey (Rich Energy OMG Racing BMW) +10.383s
Joe Francis (Lloyd & Bowker BMW Motorrad) +10.860s
Bennetts British Superbike Championship standings after Round 15:
Josh Brookes (VisionTrack Ducati) 225
Christian Iddon (VisionTrack Ducati) 209
Glenn Irwin (Honda Racing) 207
Jason O'Halloran (McAMS Yamaha) 206
Tarran Mackenzie (McAMS Yamaha) 179
Tommy Bridewell (Oxford Products Racing Ducati) 146
Andrew Irwin (Honda Racing) 139
Lee Jackson (Rapid Fulfillment FS-3 Kawasaki) 131
Kyle Ryde (Buildbase Suzuki) 130
Danny Buchan (Rapid Fulfillment FS-3 Kawasaki) 101