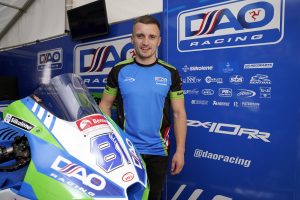 DAO Racing has announced Luke Stapleford will join the team for the forthcoming Bennetts British Superbike Championship round at Cadwell Park this August Bank Holiday weekend (August 26/27/28).
The former Quattro Group British Supersport champion brings a wealth of experience to the DAO Racing Kawasaki team, replacing Dean Harrison who will be appearing at the Manx Grand Prix.
Stapleford appeared earlier in the season with the LAMI OMG Racing Yamaha team and has experience in the class alongside competing most in the Quattro Group British Supersport Championship where he currently holds third place in the standings.
Stapleford said: "I'm really excited for Cadwell Park after getting a little run out recently on the bike. It gave me a chance to familiarise myself with a few bits so we can start as comfortable as possible on the race weekend.
"It'll be a challenge with the level that BSB is currently at, but I'm under no pressure from the team and hopefully we can build over the weekend and get some positive results.
"I'd like to thank the team for thinking of me and giving me the opportunity to stand in. I'm really looking forward to meeting and working with the whole team next weekend."
Team Manager Jonny Bagnall commented: "It's an exciting time for the team. Luke's ridden a few Superbikes in his time and has already jumped on one this year, so it's going to be good to see where the bike is in accordance with what other people are doing. It's going to be good to get some feedback from him.
"He has had a good showing in the past on both Superstock and Superbikes, so he knows what he is doing on a big bike. With the small test we ran with him, we had lots of positive feedback, which is good to hear. So we're looking forward to getting him on it. Cadwell Park is a good opportunity from both sides, so we're really looking forward to it."
Posted on Thursday, August 17th, 2023 in News