The LKR team will be looking to move on quickly from Knockhill Circuit after an extremely tough weekend for Danny and Kieran Kent.
Bennetts British Superbikes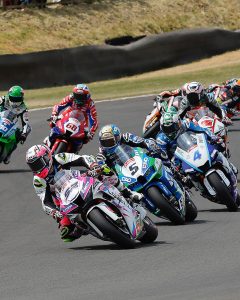 Danny struggled on Friday during practice to find a set-up he was comfortable with for the tight and twisty Knockhill track. The team made some good changes overnight and he made some huge improvements in FP3 and was eager to get a good qualifying session. However Danny had a fuel pump issue and was unable to complete a fast lap.
This put him at the back of the grid for the opening race on Saturday. He worked hard through the race and made good progress finishing just outside the points in 17th place. This elevated him to 13th on the grid for the second race, he got a good start and was locked in a battle for a top ten position. He tucked the front on lap 6 crashing out heavily and damaging his shoulder in the process. This forced him out of the final race of the weekend.
Danny – "That was a tough weekend, we were slightly short staffed which made things a little more difficult. I was struggling with set-up but felt good on Saturday morning. We were just hampered with a bit of bad luck at Knockhill.
The crash was big and thought it was best to sit out the final race and get myself healed for the next round at Snetterton. We will re-group and look forward to the next round, I'll have some physio and get myself fully fit."
Pirelli National Junior Superstock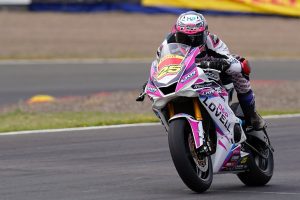 Kieran Kent had never been to Knockhill before, so he had to learn the track in a few sessions in an extremely competitive class. He made huge improvements throughout the weekend and the results did not justify the effort put in. He secured 28th in race one and was forced to retire from race two with a gear box issue.
Kieran – "It's been a difficult weekend at Knockhill. It was tough not only learning the track but also some bike issues.
 I was happy during practice and qualifying but the pace of the race was so fast. I learnt a lot there and the results didn't show how we'd improved.
 We were unlucky in the race on Sunday to suffer a gearbox problem. I will be moving onwards and looking forward to Snetterton now.
 Thank you to all the team for their hard work this weekend."
Stu Millen – Team Manager – "It was a difficult weekend for the team all round. I can't fault the team for their work, they did a fantastic job. We showed signs of promise during in FP3 and we were keen to get into qualifying, however a fuel pump issue on the opening lap saw us start from the back of the grid which was always going to be a difficult task.
Danny worked hard in race one and moved up to 13th for race two, sadly he made a small mistake and crashed out heavily. Although Danny was declared fit to ride, we decided to sit out race three as we didn't wish to further aggravate Danny's shoulder injury.
We were missing our crew chief Lee this weekend due to a family issue; our thoughts are with him, and his family and we look forward to welcoming him back soon.
Kieran made good improvements over the weekend in all the sessions but struggled in the opening race to match the pace. It was always going to be difficult to get results and learn the circuit in one weekend for him.
We move onwards and upwards and look forward to getting to Snetterton in a few weeks' time."