Saturday
Jason O'Halloran denied win by 0.038 seconds in Donington thriller
Jason O'Halloran returned to the sharp end in a thrilling opening Bennetts British Superbike race at Donington Park, narrowly missing out on a first victory of the season as Yamaha took their first ever podium lockout.
Having shown pace all weekend, the Aussie set the quickest ever two-wheeled lap of Donington Park in FP3 before going even quicker in Qualifying with a 1'05.289 to take pole position for the opening race.
From pole he got a strong start to lead the early stages, but the OMG Racing Yamahas and FS3 Racing Kawasakis put up a fight. Dropping back to fourth at one stage, O'Halloran kept his cool, fighting off attacks from behind before moving through and setting chase after the two OMG bikes, who had pulled a slight gap.
Setting a new lap record as he charged towards his fellow Yamaha riders, O'Halloran reeled them in with three to go, making his move on series leader Bradley Ray instantly. Just half a second then sat between him and race leader Kyle Ryde and with another lap record on the penultimate lap, he sat on the rear of the leading R1 on the final lap. Attempting a move at the Old Hairpin, he couldn't quite make it stick leaving only the last corner to make an attack. Lunging up the inside, he made it through but lost drive onto the main straight allowing Ryde to nick the win by 0.038 seconds.
O'Halloran joined race winner Kyle Ryde and Bradley Ray (third) on a historic podium for Yamaha Racing as they locked out the rostrum with the R1 taking first, second and third places. The Aussie's lap record will see him start the second race from pole position.
Reigning champion Tarran Mackenzie lined up on the grid for his first Bennetts BSB race since he took the crown at Brands Hatch last October. Still held back by the injured ankle and struggling with arm-pump after not riding for so long, Mackenzie impressed as he progressed from Q1 to Q2, which would have been impressive in itself until the Scotsman set his fastest ever lap of Donington National to qualify an incredible eighth place.
Starting well but keen to stay out of trouble, Mackenzie set about the race action in a cool and collected way, bringing it home in a strong tenth place to open his 2022 account with valuable points.
There was cause for celebration in the Pirelli National Superstock Championship too as Tim Neave took a strong second place despite a red flag intervention making things a little trickier than he had hoped. In the first ten laps of the 20 lap race, Neave sat a strong second and was looking to make a move on race leader Davey Todd in the second half when the red flags came out. An eight lap sprint would restart shortly after and Neave was a little beaten up in the opening stages, dropping back to fifth. Remaining calm, it took a few laps to break through to fourth but when he did he wasted no time, moving up to second and then making an attack for the win on the final lap. Unfortunately, in a move later mirrored by team-mate O'Halloran, Neave would gain the lead at the chicane on the final lap before being dragged to the line by his rival. Nonetheless, he maintains his championship lead and is feeling confident for tomorrow.
Bennetts British Superbike Championship, Donington Park, eBay Sprint Race result:
Kyle Ryde (Rich Energy OMG Racing Yamaha)
Jason O'Halloran (McAMS Yamaha) +0.038s
Bradley Ray (Rich Energy OMG Racing Yamaha) +1.143s
Lee Jackson (Cheshire Mouldings FS-3 Kawasaki) +2.306s
Glenn Irwin (Honda Racing UK) +5.908s
Christian Iddon (Buildbase Suzuki) +6.246s
Rory Skinner (Cheshire Mouldings FS-3 Kawasaki) +7.401s
Tommy Bridewell (Oxford Products Racing Ducati) +8.152s
Peter Hickman (FHO Racing BMW) +8.278s
Tarran Mackenzie (McAMS Yamaha) +10.659s
Jason O'Halloran
Qualifying: 1st     
Race 1: 2nd 
Championship: 6th (80 points)
"It has been a really, really good day for us. We took pole with the fastest ever lap here, finished second in the race and set a new lap record. I was feeling really good on the bike, I got onto Kyle with a lap to go and wanted to try and win but we just missed out. I think we're in a really strong place for tomorrow and I think the longer races tomorrow will suit us, we had great pace at the end and the others seemed to be dropping off a bit. I'm sure we'll make some small improvements with the information from the race so I'm looking forward to tomorrow."
Tarran Mackenzie
Qualifying: 8th
Race 1: 10th
Championship: 18th (6 points)
"I'm happy with that, I haven't done too many laps in practice with my ankle and I've been struggling a bit with arm pump after not riding for so long. That's probably the most amount of laps we've done since Brands Hatch, so it was always going to be tough but I'm happy with my race. At mid-race distance I was lapping at a decent pace and then from there on I tailed off the group a bit, but I was happy to be riding with the likes of Bridewell, Hicky and Iddon. I couldn't quite challenge them but I could ride with them which is good. I'm struggling a bit as I can't use my ankle or my foot properly which means I'm over-compensating with my arm which is causing arm-pump which is a bit of an issue but it's to be expected after hardly riding all winter. I've got to be happy, each time I go out I have a better feeling and we are making steps forward."
Tim Neave
Qualifying: 2nd
Race 1: 2nd
"I'm absolutely buzzing with that. Of course it would've been nice to win and I think with another lap I could've made it stick, but a second place is a great result. In the first race, I was planning my attack but then the red flag came out. The restart wasn't quite as straightforward, but once I got through I was feeling strong and could make passes so I thought I'd give it a go. We just missed out, but there's another race tomorrow and I'm looking forward to getting stuck in."
Steve Rodgers
Team Principal
"That's more like it! Jason rode incredibly today, we've known he had pace all weekend but it was nice to get to the race and see it in action. This weekend almost feels like round one for us, we've learned a lot about the bike in the first two rounds and he showed that it has paid off today. He was unlucky not to win but fortunately we have two more chances tomorrow. Tarran was heroic, he's lapped quicker than he has ever been around here and it's his first race back, he scored some important points so that's a great start to the season. Again, Tim was brilliant! It was a shame to see him miss out on the win, but like with Jason, he's got another go tomorrow!"
Sunday
Jason O'Halloran does the double while Tim Neave takes Superstock glory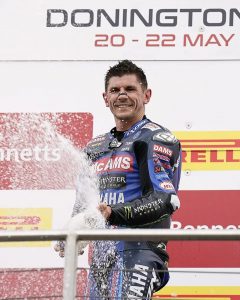 Jason O'Halloran stormed to a dominant Sunday double at Round 3 of the 2022 Bennetts British Superbike Championship at Donington Park, catapulting himself into second in the championship standings with a commanding display that left his rivals with no answer. Tarran Mackenzie made a heroic return to action taking a best result of sixth in the second race.
There was further success for the team as Tim Neave made it three wins from three for the Raceways Motorcycles effort on Sunday with a clever ride to victory in the Pirelli National Superstock championship on his Edwards 1902 Yamaha R1.
After taking pole position on Saturday, O'Halloran narrowly missed out on victory in the weekend's first race by 0.038 seconds, but the signs were promising for a successful Sunday and O'Halloran made it count.
Starting from pole position for the second race, the O'Show settled into third in the early stages as the OMG Yamaha's tried to build a gap. Biding his time, the Aussie began to chase the duo down. A crash for Kyle Ryde elevated him to second and he set about closing the gap to race leader Bradley Ray, soon catching up, he made his move with six laps to go and while Ray held on for a while, O'Halloran went on to take his first win since Silverstone last year by two seconds.
Sixth on the grid for the final race, O'Halloran remained sixth in the early stages before picking off his rivals. Moving into third relatively early, he then looked to chase down the OMG riders once again. Closing down a 1.5 second gap to Bradley Ray, he made an aggressive move at Coppice on lap 17 and didn't look back from there, cruising to a dominant double.
His 2-1-1 scorecard elevates him to second in the championship, 28 points behind series leader Ray and third in the podium points table.
After a strong tenth place in the opening race, champion Tarran Mackenzie put in his performance of the weekend in the second encounter. Battling for fourth until the closing stages despite struggling with his injuries, he crossed the line in a heroic sixth place. Having put everything he had into race two, it was a challenging final outing for Mackenzie who crossed the line eleventh to round out a successful points haul on his first weekend back. He now sits 15th in the championship with 137 points.
After narrowly missing out on victory on Saturday, Tim Neave made amends on Sunday with a clever ride in the National Superstock categoty. Starting sixth on the grid, the Lincolnshire rider was fifth in the opening stages before picking off his rivals one by one until he was in second place. Choosing his place to pass wisely, he took the lead on the final lap and held off rival Davey Todd to take his third win of the year. He now leads the championship standings by 19 points.
The season now takes a short break with the championship resuming at Knockhill between 17-19 June, but the team have a two-day test at the Scottish venue over the Jubilee Bank Holiday.
Bennetts British Superbike Championship, Donington Park, Race 2 result:
Jason O'Halloran (McAMS Yamaha)
Bradley Ray (Rich Energy OMG Racing Yamaha) +2.563s
Lee Jackson (Cheshire Mouldings FS-3 Kawasaki) +6.398s
Peter Hickman (FHO Racing BMW) +13.913s
Leon Haslam (VisionTrack Kawasaki) +14.141s
Tarran Mackenzie (McAMS Yamaha) +15.846s
Christian Iddon (Buildbase Suzuki) +16.288s
Rory Skinner (Cheshire Mouldings FS-3 Kawasaki) +16.774s
Ryan Vickers (FHO Racing BMW) +17.492s
Josh Brookes (MCE Ducati) +18.929s
Bennetts British Superbike Championship, Donington Park, race three result:
Jason O'Halloran (McAMS Yamaha)
Bradley Ray (Rich Energy OMG Racing Yamaha) +1.713s
Lee Jackson (Cheshire Mouldings FS-3 Kawasaki) +3.187s
Rory Skinner (Cheshire Mouldings FS-3 Kawasaki) +5.448s
Kyle Ryde (Rich Energy OMG Racing Yamaha) +5.482s
Christian Iddon (Buildbase Suzuki) +7.985s
Tom Sykes (MCE Ducati) +12.492s
Josh Brookes (MCE Ducati) +13.514s
Danny Buchan (SYNETIQ BMW) +13.653
11. Tarran Mackenzie (McAMS Yamaha)
Bennetts British Superbike Championship standings:
Bradley Ray (Rich Energy OMG Racing Yamaha) 158
Jason O'Halloran (McAMS Yamaha) 130
Lee Jackson (Cheshire Mouldings FS-3 Kawasaki) 125
Kyle Ryde (Rich Energy OMG Racing Yamaha) 117
Rory Skinner (Cheshire Mouldings FS-3 Kawasaki) 116
Glenn Irwin (Honda Racing UK) 107
Christian Iddon (Buildbase Suzuki) 68
Peter Hickman (FHO Racing BMW) 67
15. Tarran Mackenzie (McAMS Yamaha) 21
Jason O'Halloran   
Race 1: 2nd
Race 2: 1st
Race 3: 1st
Championship: 2nd (130 points)
"It's been an amazing weekend, we nearly won yesterday, it was so close and then to take a double win today is excellent. Two pole positions, two wins and a second shows that all the hard work is paying off. I want to say a massive thanks to everyone from the team, when you are working through things and testing things when you are racing it's never easy but this weekend things have really started to come together. That was probably the best I've ever felt on this bike, the way I could come through the pack, get to the front and pull away everything just worked. You have to enjoy these days as they don't come around all the time, I'm super pleased with it so I can't wait to get a test under our belt now ahead of the next few rounds."
Tarran Mackenzie
Race 1: 10th
Race 2: 6th
Race 3: 11th
Championship: 15th (21 points)
"I had no expectations coming into this weekend so I didn't know where I was going to be in terms of bike fitness. To do my fastest ever lap around here in qualifying was great, it wasn't really something I was expecting. I was quite happy with tenth yesterday but being sixth in the second race was great, a couple of people fell off but I had a lot better pace and was riding with some good riders. The last race was a bit tricky as I used everything I had in the second race. I had a good first few laps but I had nothing left after the safety car, so I wanted to get around and score some points and that's what I did. I had nothing left, but to have a handful of points is something to build on so bring on Knockhill."
Tim Neave
Race 1: 2nd
Race 2: 1st
Championship: 1st (105 points)
"After missing out on the win yesterday I was pretty determined to take it today. I tried to use my head as I knew my pace was good, and the race sort of came to me. That was exactly what I was planning on Saturday, so to execute that plan today and take the win was a nice feeling. A second and a win is a very good weekend, we extend our championship lead and things are in a really good place. I can't wait to get to Knockhill, it's a track I enjoy so I'm really looking forward to it."
Steve Rodgers
Team Principal
"We're back in the game! It's been a strange start to the year for us as Jason and his side of the garage have been trying to understand the developments we've made with the bike and this weekend just shows that the hard work they've done has paid off. Jason rode superbly in all three races and to come away with those results just shows how far we've come. It was so, so nice to have Tarran back in the garage – it's never quite the same when you don't have the full team together so to have him back this weekend was great and he rode three heroic races, we couldn't have asked for more. Tim continues to impress, that was a very clever ride today and he's extended his championship lead so again – an excellent job."