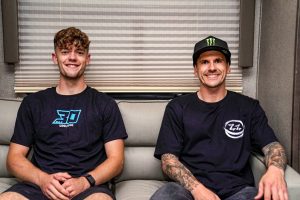 Cheshire Mouldings Kawasaki has become the latest team to announce their line-up for the 2024 Bennetts British Superbike Championship, signing 26-time race winner Jason O'Halloran who will join Team Green alongside Max Cook onboard the Ninja ZX-10RR.
O'Halloran brings a wealth of experience and knowledge to the Coventry-based Cheshire Mouldings Kawasaki team, having challenged for the Bennetts British Superbike Championship title over the past few seasons, finishing runner-up in 2020 and currently holding fourth place in the 2023 standings.
The team's highly regarded rookie, Cook, will remain with the team for 2024 for a second season after making his debut in the ultra-competitive superbike class this year. The 20-year-old young gun has already impressed, particularly at Thruxton, where he missed out on his first podium by just 0.013s.
Kawasaki UK also thanked Lee Jackson for his contribution to developing Cheshire Mouldings Kawasaki into podium contenders, as he departs the team on good terms after six years.
O'Halloran said: ''To have a 2024 contract signed in August is a great feeling, but it's an even better feeling knowing I will be joining FS-3 Racing and Kawasaki. With my current team coming to a close at the end of 2023, it was always going to mean finding a new home for next season.
''When I first met with Nigel, Darren and the team at FS-3, I immediately had a good feeling. I already knew from the years competing against them of the level they operate at, but once I visited the team workshop and sat down with the guys, I knew that it was a place I could continue to push myself and further my career in BSB. With the support of Alan Boyden from AJN Steelstock, we are all going to be in a position to push onto a new level and chase success in the 2024 BSB championship.
"I'd like to thank Nigel and Darren from FS-3, Ross from Kawasaki UK and Alan from AJN Steelstock for making this possible. I'm excited about the future."
Cook added: ''I'm so happy to be staying with the team for 2024. This year has been a huge learning curve for me, but I think I've adapted well, and things have really come together over the past few rounds.
"I'm confident that I will be up at the sharp end next year and being alongside Jason is a great incentive. I think I've shocked some people this year, including myself, as to how quickly I've learnt to ride a superbike. I can't thank Nigel enough for always having faith in me and I'm already looking forward to next year."
Nigel Snook, Team Owner, Cheshire Mouldings Kawasaki commented: "We are excited to have Jason joining us for the 2024 season and must thank Alan Boyden from AJN Steelstock for his help in supporting Jason's move to our team.
"We all know that Jason is one of the strongest and most successful riders on the grid. We believe the combination of Jason and a further improved Ninja ZX-10RR will put us in a strong position to be fighting for race wins and the British Superbike Championship crown.
"Of course, while we are looking forward to Jason joining us, it does mean that sadly we are parting company with Lee Jackson. Lee has been part of the FS-3 family for six years, and we have shared many high points together, from Superstock podiums and wins through to his first BSB wins at Oulton Park last year. We wish Lee all the best for 2024 and beyond and will be giving him our full support until the final chequered flag falls at Brands Hatch in October."
Ross Burridge, Head of Marketing & Racing Department, Kawasaki UK concluded: "It is fantastic to be welcoming a rider of Jason's calibre to the Team Green family. His credentials and success in BSB speak for themselves. The combination of Jason with the proven Ninja ZX-10RR gives us real confidence that the Cheshire Mouldings Kawasaki team will be battling for race wins from the start of the season!
''It's also great to be continuing with Max, who has already proven himself to be a star of tomorrow. Sharing a garage with Jason next year will only help him to take the next step and regularly challenge for podiums."