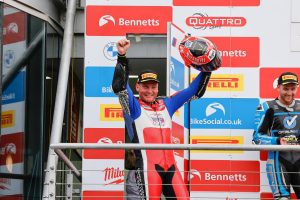 C&L Fairburn Properties/Jackson Racing will return to the Pirelli National Superstock Championship this season, expanding their line-up to two riders with Billy McConnell returning for a second year and joined by Ulsterman Simon Reid.
Chris Fairburn's team finished runner-up in last year's title chase as McConnell campaigned the Jackson Racing prepared CBR1000RR Honda Fireblade, celebrating four victories and a total of 11 podiums, to finish just 13 points adrift of eventual Champion Davey Todd. The Australian also finished second in the 2021 standings and is now bidding to add the Superstock title to his previous British Supersport tile victory.
Reid makes the step up to the class after several years in the Pirelli National Junior Superstock series where he took a best finish of ninth overall in 2020. Son of former World Formula Two Champion Brian Reid, injuries sustained towards the end of 2021 meant he missed the majority of last season.
McConnell said: "I'm super happy to be continuing with the C&L Fairburn/Jackson Racing Honda for my second year with the team. Everything was last minute last year with putting the whole team together on the CBR1000RR Honda Fireblade, which we know now after a full season is a fantastic bike. The team is fantastic too and with it being my second year working with the guys, I believe that things can only get better.
"We finished second last year but hope to go one step better in 2023 where hopefully a bit of lady luck will be on our side. There'll hopefully be a few other races in between to look forward to as well which will be something new for myself so keep an eye out for that. As far as the Superstock Championship goes though, I can't wait to get started again with my team and I'm really looking forward to it so let's go!"
Reid said: "Signing for the C&L Fairburn/Jackson Racing Honda team is like a dream come true for me and after joining forces with them for the Sunflower races last year; we had a great weekend and some decent results. We all clicked so it is nice to continue that into this season and fantastic to be part of such a great team, especially on the back of the success they had last year with Billy.
"Hopefully I can learn a lot from him as he's been in the paddock for a long time and moving on to the larger machinery is a big step for me but with the team's knowledge, it should be a bit easier for me and I'm very much looking forward to being back in the British Championship paddock. I'd like to thank the team for such a big opportunity, as well as my sponsors, and I can't wait to go testing in a few weeks' time. This year is going to be a big challenge but it's something I'm very excited about."
Chris Fairburn, Team Owner concluded: "We're really excited about the year ahead and we're delighted to retain Billy after the season we had together in 2022. We've also expanded our Superstock effort to two riders, bringing young Simon into the fold so it should be a very interesting year. With increased riders and machinery, there's a bit more commitment from all of us but I'm sure we'll get through it all and the aim is to end the year with the Superstock title."