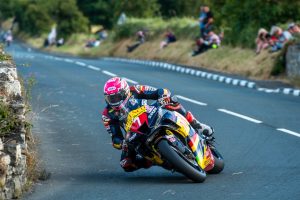 Following a moderate delay, as Organisers dealt with the aftermath of an incident on the last lap of the Solo Founders race, the IOM Steam Packet Company Senior race got underway 36 minutes behind schedule at 12:16 PM.
Eager to make amends for narrowly missing out on S&S Motors Supersport race victory, Davey Todd was in a determined mood, surging quickly to the front.
A nip and tuck opening lap between him and DAO Racing's Harrison, saw the pair separated by only 0.287 as lap two beckoned.
Laps two and three saw no changes amongst the front running pack which still strongly included 21 times TT winner Michael Dunlop, who was looking much more at home with the Buildbase Suzuki.
Lap four would see Harrison break the existing outright lap record, lapping at 116.150 mph.
Just 0.072 in arrears to Todd, he soon grabbed the race lead during early stages of lap five.
By lap five's conclusion he led Todd by 0.597 plus was confirmed to have set another new outright lap record, lapping at 116.452 mph.
Despite Harrison's heroics, he couldn't shake off the attentions of Padgetts Todd, who remained within striking distance of first, as the seventh and final lap began.
Encountering slower competitors across lap seven, the race for first intensified.
Todd soon made a decisive move into Stadium, getting the better of triple TT winner Harrison.
Just about and I mean literally just about maintaining P1, Todd went onto edge Harrison for victory by only 0.032 of a second!
Taking third ten seconds behind Todd, Harrison was former Colas Billown course lap record holder Dunlop, who's front running challenge faded after encountering a fuel pump problem.
Nathan Harrison produced another strong display on route to fourth whilst Jamie Coward made up for a challenging start, by moving back up to fifth.
Concluding the top ten finishers from the latest Southern 100 classic was Michael Sweeney, Paul Jordan, Marcus Simpson, Jamie Williams and Ryan Kneen.