This week we took delivery of the panels from Dean Harrison's and Brayden Elliott's Kawasaki ZX-10RRs to produce Motorcycle Paint Protection Kits.
How are the Motorcycle Paint Protection Kits made?
The process starts with assessing the panels and seeing how best to trace them. We produce our kits in sections, to make them easy to fit, so we see where the panels crease or have a gap to follow their lines. This ensures a good fit, and it also makes sure that the kit looks good with no gaps going right across a panel.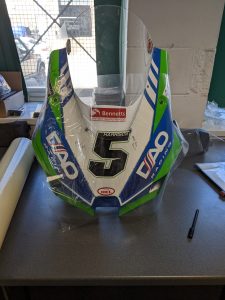 The nose of the ZX-10RR superbike was up first. The trace film was laid and Kerry our Designer, drew the shapes needed to cover the paint work. This was then repeated for all the other panels.
The tracings are then scanned and opened up in Illustrator, where Kerry creates the digital drawings.
Once all the pieces are scanned and drawn, a test kit is set up. This is usually one side of the bike and any central pieces, such as the tail top and nose cone. This is cut from our self-healing Paint Protection Film (PPF) on our digital plotter.
Kerry fits the test kit to see if the pieces line up against each other and to ensure they are easy to apply. If they are too difficult, for example if the panel has an extreme curve, Kerry will amend the piece, sometimes splitting it so it's easier to install, but still ensures maximum coverage of the panel. The amends are noted including any overlaps or additions.
The amended pieces are recut and refitted to make sure they fit and the kit is all correct.
Once everything is right, the Paint Protection Kits are nested and ready to cut. The fitting instructions are created, and in the case of regular bikes, they are listed on the website and available to order.
How does the Motorcycle Paint Protection Kit look when fitted to the bike?
We fitted the left hand side of the nose on Dean Harrison's bike. As you can see, once fitted, it's very subtle and you have to get really, really close to see where the film is.
The Paint Protection Film (PPF) self cleans, and has the remarkable ability to self heal. If it gets scratched or marked, apply a little heat and rub the film and it will be as good as new. We have to make sure we remove the excess on the kits within a certain time, as it starts to self heal the cuts!
Our Paint Protection Kits will ensure DAO Racing's Kawasakis are shielded from debris at the British Superbikes, IOM TT and the NW200.
How can I get a Paint Protection Kit for my motorcycle?
If you would like a Paint Protection Kit, you can order one here https://www.eazi-grip.com/cat/eazi-guard/