Testing a new or used motorcycle is exciting, which means your heart can sometimes get in the way of your head. Here we look at some advice and tips to get the best from your test ride to make sure you end up with the right bike.
Compare like-for-like
If you're looking at a newer bike than your current one that is due its service or new tyres, it's going to instantly feel so much better. It's natural to compare any bike you ride to yours, the best thing to do is to ride a couple of bikes around the same age and condition for a fair comparison. For example, if you're testing a brand new Fireblade, then take a brand new R1 for a spin too, or if you're trying out the Triumph Street Triple, take the MT-07 or Brutale out too.
Motorcycle test ride duration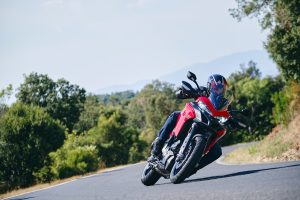 Most dealerships now will let you take a bike out for a few hours, rather than just a quick 20 minute ride. Some even let you have the bike for a weekend. We recommend taking a test ride for as long as the dealer will let you. This will give you chance to try different roads, try all the different riding modes, explore all the features and even see how it looks and fits in your garage.
Ride on a variety of roads
There's no point sticking to one road type as the danger is after you've bought it, the bike could shake you to bits on the motorway, feel cumbersome and top heavy on the twisties, or be too large to filter on your morning commute. It's a good idea to pre-plan a route before you go. If the dealership is in an unfamiliar area, plan a route on a smartphone app and attach your phone to the bike on your test ride.
What will the bike be used for?
If you're using the bike for touring, you're going to need a few hours to test comfort and the bike's (and maybe your) stamina. Are the pegs the right height? Are you stopping for fuel too often? Does the bike make you ache after a decent ride?
If the motorcycle is going to be your main form of commuting, can it filter easily? Does it feel nimble in town? Is it easy to handle?
Most importantly, does the bike make you smile?
Can you move it?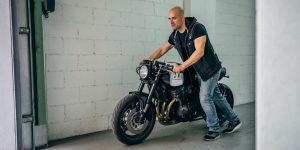 Try pushing the bike around like you would do at home to get it in and out of your garage, and try putting it on the centre stand. Don't buy a big heavy bike if you can't push it out of a garage or move it out of a parking bay.
Different types of bikes carry their weight differently, a 220kg bike with low down weight will feel a lot lighter than a top heavy 220kg bike.
Also, the bike you are testing may not have a full tank of fuel and any luggage you want on it, so take that into consideration too.
Power
Power is important for a touring bike, in the sense it needs good torque in every gear through the low to mid rev range. For a supersport track bike, you want instant power and for it to keep pulling at high revs before changing up the gears.
Explore the whole range of gears to see how the bike behaves and reacts, and keep an eye on fuel economy if that's important to you.
Comfort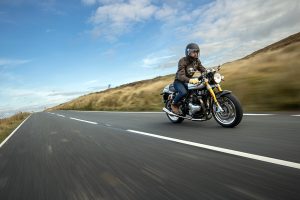 This is one of the main reasons to get a long a test ride as you can.
Do you have enough legroom, or are you folded in two? Does the screen protect you from the wind? Is the ride as hard as nails? Yes, you can soften the suspension, buy a custom seat, lower the pegs etc. but this is all an additional expense and hassle, and do you want that on top of the price of the bike?
The layout
Are the controls easy to follow and use? Is everything easy to find and to hand? Or do you feel you will need a YouTube tutorial every time you want to use the cruise control? Most of it you will learn over time, but with some bikes, everything just feels like it's on the wrong place.
Check the features
If you are using the bike for touring, does it come with sat nav? Has it got heated grips? For a sports bike, does it come with an upgraded exhaust? For a commuter, does it come with the luggage space you need? If not, these are all extra costs to consider.
Financial commitment
It sounds obvious, but can you afford the bike and to run it? Research the insurance, fuel economy, servicing costs and the cost of parts.
There are many finance options to consider when buying the bike itself. Have a look at our article explaining these here https://www.eazi-grip.com/motorcycle-finance-options-explained/
Don't buy a bike straight after the (first) test ride
Go home and do some more research, watch reviews from leading bike journalists and read owner reviews.
Don't let the sales person get to you with scare tactics either. "We have had loads of interest in this bike and it won't be here tomorrow." If it goes, it goes, there are that many bike dealers around, somewhere else will have a similar bike, if not the same, with as good a deal if it turns out that's the bike you want.
Go for another test ride
This time it'll feel different, so take your chosen bike out again. The novelty will have worn off and you will have done more research, so you'll be much more practical than on your first ride. You might have forgot to look at something the first time around, maybe scrolling through the menus or testing the bike around town. The dealer will see your serious about the bike too, so may let you take it out for longer.
So to summarise…
Don't let the excitement of testing a new bike cloud your judgement.
Despite saying not to get caught up in the moment, you will do – so book a second test ride to trial the motorcycle again!
Negotiate longer test rides – a full day or even a weekend. And test on a variety of road types. Simulate the normal use of your riding habits.
Test ride the motorcycle in real-world settings. Does it do what you need it to do? It needs to be practical.
Comfort is key – don't compromise.
Check competitor models – and don't be afraid to tell the salesperson that you're taking another motorcycle out for a test ride elsewhere.
Research owner reviews.
Be realistic with the dimensions of the bike. If it's too heavy or too tall for you, it will always be too heavy and too tall for you. Move on.
Does it make sense financially when you add on the insurance and servicing costs?
Are you comfortable with the menus, gadgets, rider modes, and ancillary capabilities?