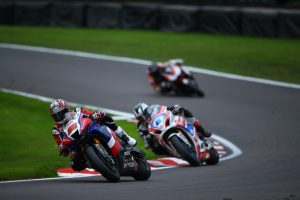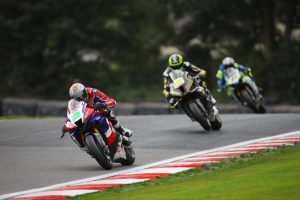 Strong start for Irwin and Neave at Oulton Park on Saturday
The Honda Racing UK team has got Round 9 of the Bennetts British Superbike Championship off to a strong start in today's opening races at Oulton Park, with solid points scored across both the Superbike and Pirelli National Superstock races.
Tom Neave was Honda's top point-scorer aboard the CBR1000RR-R Fireblade SP, finishing sixth in the Superstock race as he defends his championship lead. Qualifying back in 11th, Tom once again had some work to do during the 14-lap race, but showing great pace he fought hard and made his way through to fourth at one point. Eventually crossing the line sixth, he adds 10 points to his tally ahead of tomorrow's second Superstock race.
Meanwhile, Showdown 'title fighter' Glenn Irwin finished eighth in today's opening Superbike race collecting a handful of points towards the all-important standings. Having wrapped up Friday's practice sessions ninth overall, Glenn proceeded straight into today's Q2 qualifying session, where he was ninth fastest and lined up on the third row of the grid for Race 1. Enjoying some battles on track with Peter Hickman and Danny Buchan, Glenn crossed the line eighth.
Teammate Ryo Mizuno made his way into Q2 once again after finishing sixth in the initial qualifying session. Still learning the technical Oulton layout, he qualified 17th and despite getting up to 16th during the race, he came home 18th. Takumi Takahashi wrapped up qualifying 21st after failing to make the Q2 cut. At one point during the 14-lap race he was up in 18th place, but dropped back to finish 20th.
Glenn Irwin
"I was happy enough qualifying ninth and I felt like in those conditions we maybe had the pace for a second row start, which is important. We're learning more about the Fireblade all the time and know we like to race with a bit of a clear track, so being ninth it was important to have got a good start. The race itself wasn't horrendous, but there was a bit of drama on the first lap with Ryan's [Vickers] crash, but once we got going, I felt good. I don't like to be happy with eighth, but I am happy as I feel that was a really strong race on the Honda. We learnt a lot as we got to ride with the likes of Hickman [Peter] and Buchan [Danny], who both have very good track records at this circuit, so I got to see where we were strong and also where we need to improve by following them. It's a race where we learnt a lot, we're in the Showdown and it's some more points we can carry into tomorrow's races. "
Ryo Mizuno
"I wanted to set a good trend from the previous race at Silverstone, but in yesterday's free practice I had some issues and could not progress, so I was a step behind. In Race 1, I was lagging behind from yesterday and I was able to lap at my best in the beginning of the race, but in the later stages, it was very tough to maintain the pace physically and I had to slow down. Despite this, I was able to feel our progress from Round 1 here, so I will continue to work to do my best tomorrow!"
Takumi Takahashi
"I couldn't keep the good feeling I had in the wet in FP3 and I wasn't able to improve my laptime in qualifying. In Race 1 I overtook two riders in front of me but then I went off the track. I will try to get a good flow and a good result tomorrow."
Tom Neave
"I made today's race difficult for myself qualifying in 11th, but it's good to know that it didn't really reflect where we were, as my ideal times would have put me further up the grid. Qualifying was a similar circumstance to Silverstone and once again we proved we can come through the pack. At one point during the race, I was up to fourth, which was amazing really. We did have a few bike set-up issues, which we're going to work on for tomorrow, we have good understanding of where we need to be for the second race and hopefully I can convert that into a podium result."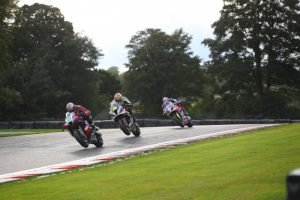 Fantastic fourth keeps Neave in Superstock title contention on Sunday
The Honda Racing UK team are leaving Oulton Park after a weekend of solid results across the Superbike and Superstock classes with Tom Neave still in championship contention aboard his Superstock CBR1000RR-R Fireblade SP machine. 
For the second Pirelli National Superstock Championship race of the weekend Tom Neave lined up seventh on the grid for the 12-lap race. Having made some set-up changes to the Fireblade overnight, Tom was determined to have a good result at the Cheshire circuit. Moving into fourth place on the seventh lap, Tom had his sights set on the final podium spot and set about tracking down Fraser Rogers. Unable to bridge the gap to third, Tom crossed the line fourth adding 13 points to his championship tally, where he's now 20 points ahead of title rival Alex Olsen. 
Meanwhile for the teams' Superbike riders Glenn Irwin, Ryo Mizuno and Takumi Takahashi it's been a mixed day. After an issue in morning warm up, and with a tight schedule for the day Glenn just missed the grid cut off for the second Bennetts British Superbike Championship race. Having to start from the back of the grid, Glenn had already made up five places at the end of the first lap. Showing superb pace aboard the Fireblade, Glenn was making up places lap by lap, but disaster struck on the sixth lap when he crashed out, unhurt, at Hizzy's. 
Having scored the second fastest lap before he crashed, Glenn started the final race of the weekend from the first row of the grid in second place. Running wide into the first corner and dropping back some places, Glenn showed the pace of his Fireblade machine and enjoyed some on-track battles before crossing the line in seventh place. After the weekend Glenn is sitting eighth in the Showdown standings, 12 points from Danny Buchan in seventh place. 
Meanwhile Ryo Mizuno showed progress with his lap times, and although crashing out of the second race, he finished just outside the points in the final race in 16th position, having suffered from arm pump. The physical nature of the track also took its toll on Takumi Takahashi who finished today's races 17th and 19th, after he too suffered from issues with arm pump. 
The Honda Racing UK team now have a few days to prepare for the penultimate round of the championship, which takes place next weekend on 1-3 October at Donington Park. 
Glenn Irwin
"Physically for me it's been a really tough day, the crash in Race 2 was a little knock to the shoulder and I didn't think it was too bad until I put my leathers on for the third race. I'm pleased with our pace this weekend, it's one of our weaker tracks, but we've definitely made progress and learnt this weekend. I'm pleased with it all, the crash was frustrating but we had a good pace in the race and backed that up in the final race. The fight with my brother was good, it was good fun and I enjoyed the last few laps. It wasn't about how fast I could go, but it was about how defensive I could be to stop one of the most aggressive riders in the paddock getting past me. Thanks to all the boys for their hard work this weekend."
Ryo Mizuno
"I had a good feeling in the warm up and I was ready for the race, but I crashed on the second lap and had to leave the race early. Luckily I wasn't hurt too badly and my bike was OK, so I was able to refocus and go for race three. I started from the back of the grid with no time and it took me a while to pass in the first part of the race but I was able to do the best I could and set my best time. Oulton Park is one of the toughest tracks in BSB and I had a lot of problems with my arm pump throughout the weekend. It's a problem that needs to be solved as soon as possible and we can try to solve it from various points of view, so we will focus on that and try to get a top-ten result at the next round in Donington Park!"
Takumi Takahashi
"This weekend's ride and results were almost far from ideal, due to the physical nature of the circuit I did suffer a lot with arm pump, which stopped some progress. We have some areas to improve, so we will prepare as much as we can for the next round at Donington, where I hope we can have a good result."
Tom Neave
"That was the best fourth place I've ever had racing! We lost some points yesterday, so to pull some back at this stage in the championship, and at one of my tricky tracks is just such a good result. We got the Fireblade working better and better across the weekend, and I honestly felt like I had good pace and could have fought for the podium if I hadn't have mucked up the middle part of the race. Overall, I'm really happy with today's result and we're now going to my favourite circuit next weekend, so happy days!"