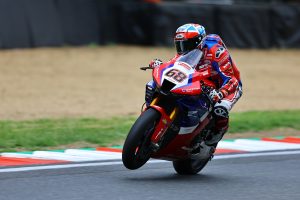 As the Honda Racing UK team passes the halfway mark of the 2023 season, it turns its attention to round seven of the Bennetts British Superbike Championship and the fastest circuit on the calendar; Thruxton.
A popular circuit with riders, the high-speed 2.3-mile Hampshire Circuit with its abrasive track surface routinely sees some of the closest racing of the year, as tyre wear is often critical. Given that tyre management is a strength of the current model CBR1000RR-R Fireblade SP the Honda Racing team has often performed well at this circuit, with notable podium finishes achieved here in both Superbike and Superstock trim.
Tom Neave aims to reignite his top-ten finishing ambitions as he looks to regain his confidence once more and put together a more competitive weekend. A podium finish at the circuit in his Superstock championship-winning year the clear highlight of previous outings for the Honda Racing team at this venue.
And having previously finished just over a second away from scoring his first British Superbike Championship point with his best finish to date, Franco Bourne has his sights firmly set on the point-scoring positions this time out. He will be looking to get further mileage and full race distances under his belt as he enters his third race weekend with the team.
Track activity for the Honda team begins with Friday's Free Practice sessions, scheduled for 12.45-13.25 & 15.55 – 16.35 on Friday 11th August, ahead of the weekend's racing action.
#68 Tom Neave
Thruxton is a fresh opportunity to draw a line under the previous two rounds and offload some pressure. I am heading there to enjoy riding my motorbike and I'm going into the weekend with a smile on my face. It's a funny little track Thruxton, it's not your typical whoever can go fast will win because it is all about tyre conservation, and there are a lot of factors that go into it. So it's a bit of an oddball circuit, where anything can really happen and there will be some good racing. We had a good private test at Cadwell recently where I could get some good mileage under my belt and get some good bike time in. I'm really looking forward to getting back on my Fireblade and getting stuck in, strip it back to basics and go have some fun!
#54 Franco Bourne
I'm excited to head to Thruxton with the team and just continue to build on what we have learnt so far. I feel really settled now and I'm really happy with the progress. I go best when I am happy, chilled out and when I feel like I am going racing with my mates & having a good time, and I am definitely starting to feel like that. We had a good test recently at Cadwell and I managed to get some decent bike time in and build some more confidence with the bike. I also managed to put a race simulation run together in the wet, which was a good learning experience. Thruxton really suits my style with its high-speed nature and fast-flowing corners, it's a bit like Silverstone, which was very good for me at the start of the year on the Superstock 1000, with lots of fast entry and fast exit corners. So I'm looking forward to seeing what we can do. I have to admit, I am getting a bit sick of being at the back now so this time out I really want to get my head down and get cracking on. I've had two rounds, I've had a test, and now it's time to push on a bit. Somewhere near to the top ten is my target and I really believe that is totally achievable for me.