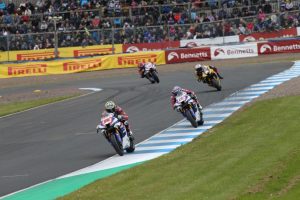 The Honda Racing UK team is ready to get back to business this weekend (22-24 July), as the 2022 Bennetts British Superbike Championship returns after a five-week hiatus, with the fifth round of the series taking place at Brands Hatch, on the GP circuit.
Heading into the weekend, the Honda squad will be keen to pick up where they left off, having enjoyed a strong outing last time out at Knockhill, with points scored across the board for Glenn Irwin, Ryo Mizuno, Takumi Takahashi, and Tom Neave aboard the CBR1000RR-R Fireblade SP.
Glenn will be looking for a strong weekend across the three races to up his points tally for the all-important Showdown top eight, where he's currently sitting sixth in the overall standings with 134 points – 82 points behind current leader Brad Ray.
For BSB rookie Tom, the Brands Hatch GP circuit is another track to learn aboard the Fireblade Superbike, and this weekend will be the first time he returns to the track where he was crowed the 2021 Pirelli National Superstock Champion.
During the break between rounds, Ryo and Takumi have been busy testing at Suzuka for Team HRC, ready for the legendary Suzuka 8 Hours, which takes place on Saturday 8 August. Takumi will be riding for Team HRC, where he'll be looking to claim his fourth eight-hour win. BSB teammate Ryo will be a reserve, but has been a valuable rider for the team during testing.
Superbike first practice gets underway on Friday (22 July) at 13.00, with Race 1 on Saturday (23 July). Race 2 and 3 will take place on Sunday (24 July).
#2 Glenn Irwin
"Well, the summer break has been and gone, I was looking forward to it after a bit of a hectic schedule with BSB and the Roads. I managed to get away with the family and we also had two productive tests, which as a team we came away from excited with the improvements made and something we hope we can continue to work with and improve at every circuit across the second half of the season. I'm excited with the gain we made and looking forward to taking it to a different circuit this weekend. I was at Donington for WorldSBK last weekend and enjoyed being there and on the other side of the fence, but there's no better feeling than racing my Fireblade, so I can't wait to get going at Brands Hatch."
#88 Ryo Mizuno
"I'm happy to be back racing in BSB after a gap since the last time at Knockhill. We did some testing during the break and made a lot of progress on the machine side, and were able to improve the pace a lot. I'm really looking forward to this weekend as I think it will work positively at Brands this time. I think we've had a good run of form over the last few rounds, so I'm looking forward to continuing to push at our own pace and aiming for the front!"
#13 Takumi Takahashi
"We've had a small gap between rounds, so I am looking forward to getting back to BSB this weekend. We got back into the points last time out at Knockhill and last year Brands was one of the tracks where I was also in the points, so I will try to do better this year and aim to be closer to the top 12."
#68 Tom Neave
"The little gap between rounds has done me the world of good, I've been riding a lot of MX and started to enjoy riding again, which is what this is all about. The break has been a complete reset where I've finally put my concussion to bed, and I'm ready to start again and get back on track for the rest of the season. We had a good round at Knockhill getting back in the points, so the aim now is to dip into the top 10-12, my best result this season has been a 12th place, then I've been around the 13th-15th mark, so the goal now is to get back to the top 12 and start breaking into the top 10. We've got some good rounds coming up and I'm hoping that I'm starting to get to grips with the Superbike, so it's time to get my head down and crack on!"