Saturday – Glenn Irwin wins Race 1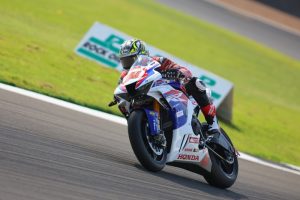 Honda Racing UK has had a sensational start to the 2022 Bennetts British Superbike Championship today at Silverstone, with Glenn Irwin storming to victory in the opening race of the season, after claiming pole position in Qualifying aboard the Honda CBR1000RR-R Fireblade SP.
Kicking off the season in style, in what is the 30th Anniversary year of the iconic Fireblade, Glenn led the race from start to finish and managed to hold off challenges from OMG Racing teammates Kyle Ryde and Bradley Ray, taking the Race 1 victory and his fifth win in the British Championship.
Meanwhile teammate and BSB rookie Tom Neave had a strong first outing on the Superbike battling in a group with experienced riders including two-time BSB champion Josh Brookes, and 2013 WSBK champion Tom Sykes. Starting from 24th on the grid Tom rode a careful race and it wasn't long before he started to move up the field to eventually come home 15th, collecting one championship point.
New for the 2022 season is the Cataclean Speed League, where Takumi Takahashi recorded the fastest top speed across the board in Race 1 (176.6mph) and crossed the line 16th. Showing strong pace across the sessions, Ryo Mizuno's race unfortunately ended early with an electrical issue while running in 23rd place.
Heading into Sunday's races as the current championship leaders, the Honda Racing UK team will be back in action tomorrow with Race 2 and Race 3.
#2 Glenn Irwin
Today it started to come good! It is the first time I did a race run this year with everything that has gone on – the closest to that was I did get a spell on my Motocross bike in February before I got hurt! I felt good then, so I had to breathe a little bit in that one, Seeley told me a few things like breath on the straights! You can't make predictions in this Championship. Tomorrow we need to make a good start again; I know Kyle (Ryde) and Brad (Ray) will be here as the Yamaha lads are always at this track! I expect other riders to respond tomorrow, some people won't be so happy, but it is down to us to continue the good work that we have done today."
#88 Ryo Mizuno
Today was a day that did not go well. I finished yesterday in good shape and was looking forward to the first race of the season, but in the race I had an electrical issue and had to retire. I don't feel good but I'll work with the team to get back on track and be ready for the two races tomorrow. Also, a well-deserved season-opening win for my teammate Glenn. Everyone in the team has been working hard and it's great to see him show it in the results, so congratulations to Glenn! Tomorrow we will work as a team again and try to achieve a good result as a whole team.
#13 Takumi Takahashi
I had a good feeling during today's Qualifying and I was happy to make it through into Q2. During the race I didn't have the same feeling that I had earlier in the day, so tomorrow we will try to improve on that and work towards getting closer to the front group.
#68 Tom Neave
Qualifying didn't quite go to plan today and being a realist if I could gain four or five places in the race then it would be a good result, as I hadn't been below 19th in any practice. So to finish 15th and improve my fastest lap time here and to hunt down a BSB and WSBK champ I was buzzing. I learnt a lot in that race and I feel that a lot of pressure is now off my back, and we can start setting some realistic goals, while having a better understanding of the Fireblade. Overall I'm enjoying the BSB experience and working with my new crew and long may it continue!
Sunday – Glenn wins Races 2 and 3 too!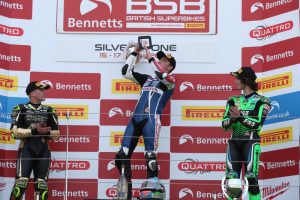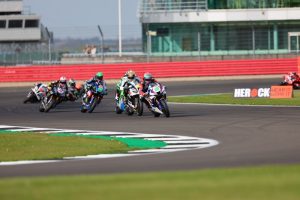 The opening round of the 2022 Bennetts British Superbike Championship has been a dream start to the season for Honda Racing UK, with Glenn Irwin dominating the weekend and winning all three races at Silverstone's National Circuit aboard the Honda CBR1000RR-R Fireblade SP. 
Claiming victory in yesterday's first race of the weekend in superb style leading from start to finish, Glenn started today's second race from the second row of the grid in fourth place. Moving through the pack and making up places with just ten laps to go Glenn was second and fast closing the gap to race leader Bradley Ray, who just two laps later crashed out of the lead. With a clear track ahead, and a chasing Superbike field behind, Glenn crossed the line making it a double win. 
The final race of the weekend Glenn lined up fifth, but once the race started he quickly made his way into second place. On the fourth lap, the Honda-man made his move on Rory Skinner to take over the lead, where again he dominated proceedings to cross the line picking up his first treble victory. After the success of the weekend the Honda Racing squad head into the next round at Oulton Park leading the BSB championship with 75 points. 
Meanwhile teammate and BSB rookie Tom Neave had a solid point scoring weekend finishing today's races 14th and 12th respectively. Throughout all races Tom was battling in groups with experienced riders including Josh Brookes, Tom Sykes as well as Leon Haslam. Learning so much this weekend off and on-track, Tom leaves Round 1 13th overall in the championship. 
After yesterday's disappointment in Race 1 where he was forced to retire from the running, Ryo Mizuno enjoyed two race finishes today in 17th and 20th, while teammate Takumi Takahashi finished just outside the points in 16th and 17th places. 
The team will now look forward to the second round of the Bennetts British Superbike Championship at Oulton Park across the May Bank Holiday weekend 30 April – 2 May.
#2 Glenn Irwin
Three doesn't come often for anyone and it's a first time for me! In one sense in racing when you get success you keep your head down, Ben Wilson told me after the Race 1 victory, 'put it away now and tomorrow is a new day'. I had a good chat with him this morning again and it's a little bit of that approach as we have Oulton on our mind, but three don't come a lot and we're going to enjoy this. I hope everyone on the team celebrates and enjoys these wins, I don't think people on the outside know what went on inside this garage this weekend – but the boys had such a challenge, not just with my bike but with all the bikes. Those three wins were for the team, there's no 'my' team in this, I love all my teammates and I want all of Honda Racing to enjoy today.
#88 Ryo Mizuno
It was a difficult weekend for me and I'm sorry to the team that I couldn't bring out the best in both races today. I am very honoured that my teammate Glenn has won three races in a row. Congratulations to Glenn. The only way to break through is to keep going, so we'll just keep trying to make progress.
#13 Takumi Takahashi
First of all, I'd like to thank everyone in the team who helped me complete my bike in the short time between Race 2 and Race 3. In the second race, I lost position after the start and I couldn't make a good pace and it was difficult. In the final race, of course, it's still not enough, including the results, but I had a bit of a feeling I could race in BSB for the first time. I felt that last year's experience was not in vain. I want to improve on what I'm missing for the next race.
#68 Tom Neave
I really don't know where to start, it's been an unbelievable weekend, I've hit all my goals and expectations I had of Superbike racing, I've actually exceeded them a little. Sitting behind Josh [Brookes], Tom [Sykes] and Leon [Haslam] for some laps, not only did I learn so much from them, but also in myself and where I can be stronger than them. I followed them in Race 2 and wasn't able to pass, but to be able to pick them off one by one in Race 3 just felt unbelievable with their experience and career history, it really boosted my confidence. The Honda team has been amazing and I absolutely love the new team environment and working with all the guys.