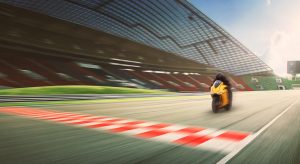 Set a budget
You're going to want to set a budget for your racing motorcycle early on. Otherwise, you could be stretched beyond your means and be left with less money to spend on what you actually got the motorcycle for: motorcycle racing.
What's more, you're going to be using more motorcycle consumables when riding. To name a few, here are some motorcycle consumables you'll be switching more regularly:
Brake pads
Brake fluids
Chain and chain links
Tires
Oil filters
Air filters
Race fairings
Replacement parts (frame sliders, brake levers, & foot-pegs to name a few)
Therefore, be sure to factor motorcycle consumables into your racing motorcycle budget, too.
Get the right motorcycle
To get started in motorcycle racing, you're obviously going to need a motorcycle. However, not any old motorcycle will do.
There are a number of considerations you'll need to make when choosing your racing bike. If you've got the right one already, you're good to go! If you're in the market, there are a few things to take into account.
It's important that you ride a motorcycle that makes you feel both safe and comfortable.
While licensed motorcycle racing and track days allow you to test yourself in a controlled, motorcycle-friendly environment – and in the correct motorcycle gear – you still shouldn't take motorcycle safety lightly. Riding a motorcycle that doesn't match your ability and comfort levels could lead to severe damages to your motorcycle and, more importantly, cause you injuries that could keep you off the circuit. Make sure to ride a motorcycle that will allow you to focus on improving your skills, rather than managing the bike.
Then, there's your own comfort. Motorcycle racing is grueling. Therefore, you need to ensure you're in the correct motorcycle riding position when you dig into those corners and when you're leaning in a sportbike riding posture.
It's recommended that you brush up on your technique with some lessons, but in addition, it's also paramount that you have the right bike for racing.
No matter what your skill level, the next step is to get comfortable with your own motorcycle. How long does it take to get comfortable on a motorcycle? Well, that depends on a few factors:
Your level of riding experience
How frequently you ride
Your motorcycle model
Only you will really know when you're really completely comfortable. That being said, while it can take a weekend to learn how to ride a motorcycle, to get objectively good at riding can take one to two years.
The main takeaway here is to take your time. When it comes to getting comfortable on your own motorcycle, slow and steady wins the race (but make sure you drop that mantra by the time you hit the track).
Join a club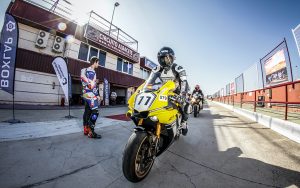 You can't get a racing licence without being a member of a racing club that's affiliated to the Auto-Cycle Union (ACU)
The good news is there are hundreds of racing clubs around the UK and they're spread right across the country.
There's no way around this and you will need a club official to sign your licence application however they will normally do this as soon as you apply to join their club.
Auto-Cycle Union (ACU) licence
Once you've got a club membership you can apply for an ACU licence, arguably the most important aspect of getting into racing.
The ACU is the UK's governing body for motorcycle sport and is recognised by the Federation Internationale Motorcyclisme (FIM) – the organisation responsible for MotoGP.
It's remit is to oversee motorbike racing in the UK and provide members with the opportunity to get involved in motorbike racing, regardless of ability and without discrimination.
ACU – training assessments
For anyone wishing to gain an ACU licence, you need to complete a Competitor Training Course (CTC), which is classroom based, and an ACU Basic Rider Assessment, a practical assessment of rider ability.
Once you have finished your CTC and Basic Rider Assessment, you can send your application for a Road Race licence to the ACU.
You will also need to include an eyesight report and a unique code from your riding club.
After you have secured this you will receive a Novice or Intermediate Novice licence.
ACU licence options
Novice – This is the first level of licence and does not require a motorbike licence however you are restricted to 600cc bikes. You must wear an orange bib with a novice licence.
Then it gets complicated. You need to complete at least one race, at 10 different meetings on three or more different circuits.
Once you have done that you can then upgrade your licence.
Intermediate Novice – For this licence you need a full motorbike licence and you can ride any capacity motorbike.
You need to wear an orange bib again and the qualifying period to complete before moving to up to Clubman is the same as for the Novice licence.
Once you have completed the qualifying period and races, you can move up to a Clubman licence.
Clubman – To achieve a Clubman licence you need to have completed 10 races at three or more race circuits.
On completion of each of the ten races you must obtain a signature to say you have completed each race. You can then ditch the orange bib (yay!).
National – It is much more difficult to gain national status as it measures performance as well as completing laps.
You must finish within 110 per cent of the time of the first placed motorbike in your class in 10 more races. You also need to race at four circuits, rather than just 10.
Age limits – As there is no requirement for a motorbike road licence to move up the racing licence ladder, there are a wide range of ages among motorbike racers however 11 is as young as it gets for an ACU licence.
Pick a class
There are lots of different classes and engine sizes that you are able to race in, ranging from 125ccs all the way to 1200cc beasts.
If you have an Unrestricted A Motorbike Licence, you can ride in any class, dependent on your ACU licence.
But even without a full Unrestricted A licence you can get a Road Race licence, however your age then comes into it.
Entering a race
The club you have joined will send you updates on the meetings and racings they are holding.
This correspondence should include entry-forms that you will need to fill in and return before the closing date.
Once you've done all that you can get in the saddle and pit yourself and your bike against others.
But there's one final thing we'd suggest before you do…
Practice
This doesn't mean practice screaming around suburban roads with the throttle maxed out, it means track days.
Try to do a few at least before you get on the start grid!
Motorcycle track days allow you to improve your technical riding skills in a controlled environment. Furthermore, you can gain real racing track experience, take classes with other motorcycle enthusiasts, and not have to worry about cars or speed limits!
Well-trained control riders are on hand to offer advice on how to improve your racing skills. Here are some of the skills you'll learn or be able to master throughout the day at an official track day school:
Cornering precision
Cornering line selection
Body positioning
Braking techniques
Gear shifting timing and techniques
Track days are becoming increasingly popular amongst riders. As a result, there are many organizations running different events, and finding a motorcycle track day is pretty straightforward. If you're not too fussed about where and when, simply Google track days near me and take it from there.
However, if you're a new rider, look for motorcycle track days for beginners that have the best resources for your unique needs. For example, look for events that include training and coaching options.  A lot of organizations will offer discounts and training for new riders. So, even if it's not displayed on the event details, don't be afraid to ask!
PRO TIP: If you want to really improve your riding technique and hit the racing track sooner, you should consider taking additional coaching lessons – whether in a group on a track day or privately.