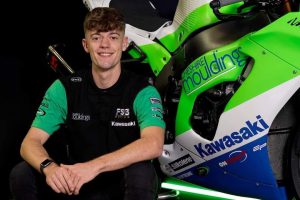 The Official Kawasaki-supported Bennetts British Superbike Championship team, Cheshire Mouldings Kawasaki, has confirmed its full rider line up for the 2023 season, with reigning Junior Superstock Champion Max Cook joining Lee Jackson on the proven Ninja ZX-10RR Superbike.
The move into the premier class means the 19-year-old will become one of the youngest riders in the highly competitive series. However, the Cheshire Mouldings Kawasaki team have a proven pedigree in helping young riders take the next step in their career, as they proved with Rory Skinner in recent years.
The team has created a comprehensive winter testing programme designed to help Cook get to grips with the powerful 1,000cc Ninja ZX-10RR.
The UK's largest manufacturer of wood mouldings and stair parts, Cheshire Mouldings, is returning as title sponsor for the team. First collaborating with the FS-3 Racing team last year, Cheshire Mouldings are a recognised name within the world of motorcycling racing, sponsoring the Kawasaki Racing Team in World Superbikes and various riders and teams within the British Superbike paddock.
Cook said: "This is a dream come true for me. Firstly, I would like to thank Nigel and Darren for supporting me for six years and now, to finally be their rider is so surreal! Nigel has supported me throughout my years at Red Bull Rookies Cup, Moto3 Junior World Championship and most recently, winning the Junior Superstock 600 championship, so he knows what I can do on a bike.
"Of course, this is a big step for me, but I feel like I am totally ready for the challenge and looking forward to showing people what I can do. To have Lee Jackson as my teammate is amazing. We all know he is very fast, and he is someone that I have always looked up to, so I can't wait to soak up his knowledge. I have already had a taste for the superbike in early October, and I'm very excited to give it the beans in a proper run out in winter testing!"
Nigel Snook, Team Manager of Cheshire Mouldings Kawasaki commented: "We've been supporting Max for six years and have been really impressed with his progress. He's served his apprenticeship winning the BSB Moto 3 championship in 2017, then progressing through the British Talent Cup, Red Bull Rookies and the Junior World Championship. His talent really shone through this year as he dominated the Junior Superstock Championship and made a very impressive Supersport debut at the final round at Brands Hatch.
"As a team, we pride ourselves on actively supporting young talented riders, so the decision to promote Max to ride alongside Lee Jackson fitted perfectly with our philosophy. As a front-running BSB team, it's easy to overlook a long-term development plan in return for instant results. We believe every team in the paddock has the responsibility to nurture young talent to keep British riders at the forefront of world racing and show everyone that the British Superbike Championship is the strongest domestic championship in the world.
"Just coming up to his 20th birthday, Max will certainly have his work cut out getting used to the raw power of a superbike, but we've got a full testing plan in place for him over the winter, and he's very excited to get going. Based on his previous experience, we don't think it will be too long before he surprises a few people.''
Ross Burridge, Head of Marketing & Racing Department at Kawasaki UK concluded: "Nigel and Darren are very much in line with the Team Green philosophy, and we are excited to see what they and Max can do in 2023. After successfully developing Rory Skinner with him ultimately ending up in Moto 2 next year, we know they have the credentials to work with young riders. Max is a supreme talent, we have all seen that already, but now it's time for him to make his biggest step yet. We are confident for an exciting and strong season."