All back together after a month off. What better place to return to – the iconic Brands Hatch Grand Prix layout – 2.4 miles of tarmac rising and falling through Kent woodland and into the valley which provides the amphitheatre feel of the Indy circuit section. A real favourite with riders and spectators alike. Of particular interest for the teams was the new surface around most of the infield section and in areas out in the country section. We know that Brands isn't really a 'Kawasaki circuit', favouring instead the steering characteristics of the Yamahas and the outright power of the Ducatis. Still, we knew we should be there or thereabouts.
Big news since our full on and rather successful weekend at Knockhill is that the American Racing Team have invited Rory to make 'wildcard' rides with them in the Moto2 class at both the British and Austrian Grand Prix. Big opportunity for Rory who is being very sensible about his prospects against fully up to speed world class riders. We have also had enquiries about FS-3 riders substituting for world superbike riders, it seems we're being noticed!
Free Practice
Back at Brands Hatch, the effects of the recent heatwave were very apparent with the grass on the spectator banks baked to a golden brown. Cue spots of rain! 15 minutes before the start of the first free practice session, scheduled for 1pm on Friday afternoon, the weather radar showed a big shower headed our way. By the time the green light came on the track was wet. A few ventured out, including Rory for two laps, but a mixture of patchy wet areas and the new tarmac meant most teams sat it out to see if the track would dry before the end of the 45-minute session. It did and the final 10 minutes were hectic as everyone wanted to set a time in case it rained for FP2. Remember, the top 12 from Friday practice are seeded through to the second part of qualifying.
Our Cheshire Mouldings ZX-10RR Kawasaki's were straight on the pace. With a minute to go Lee was P1, Rory P2 – in the dying seconds Ray and Hickman put in faster laps pushing Lee and Rory back to P2 and P4. Good start to the weekend, especially as both riders were happy with the set-up of their bikes.
Spots of rain again for the start of FP2. Lee went out on the tyre from FP1 and ran another 13 laps at a strong pace, putting a race distance of 20 laps on his rear Pirelli slick tyre. Short new tyres run at the end of the session and Lee didn't get an opportunity to exploit the new rubber. He ended up P12, just avoiding having to run in Q1 on Saturday as only the fastest 12 riders go straight through to Q2. Rory also went out on new tyres after getting up to speed on his FP1 scrubs. He didn't fare much better than Lee on new tyres as the track was very crowded. Tenth fastest, Rory had a poor sector on his best lap costing him 0.5 – the timing analysis revealed that his ideal lap time (adding together the best times in each of the four sectors of the lap) was fastest of the session by over 0.1. Overall, the times were as tight as ever with the top 14 times covered by just 0.8 of a second.
Saturday morning and no sign of rain, in fact a beautiful morning. Free practice three – 20-minutes. After a month off their bikes and limited running on Friday due to the weather, plus a resurfaced track to adapt to, Rory and Lee were still getting up to speed. Small but important changes were made to the chassis set up on both bikes. Lee was happy, recording his fastest ever lap at Brands GP – a 1.25.3 – setting fourth fastest time. Although the track was slightly slower due to a higher surface temperature, Lee was particularly pleased with the way his ZX-10RR hooked up to drive off the turns. Rory was less confident and thought his bike felt a bit soft, even so, he set seventh fastest time with a 1.25.6. With a 12-minute Q2 session up next, any further changes would have to be it as there would only be time for six flying laps, so no calls into the garage for adjustments.
Qualifying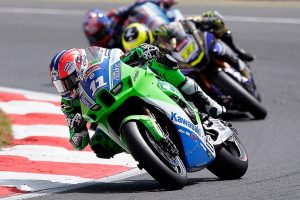 You could sense the pressure on the riders was higher than usual. Big event, approaching the halfway point of the season and essential to get good track position. Everyone would be aiming for a place on the front two rows – and then hoping for a good start.
Didn't go quite as we expected as the track temperature had gone up eight degrees to over 40, enough to change the feel of the bikes. But the main issue was that the whole field went faster than we anticipated. Ideal laps of 1.25.2 for both in free practice three was in the ballpark even though we expected the pole time to be in the region of 1.24.6 or 7 – under the lap record. In the event O'Halloran posted an impressive 1.24.4 a full 0.2 faster than Mackenzie and the next three along who just squeezed into the 1.24 bracket. Rory had an adventure. The TV cameras were tracking dust at Paddock Hill Bend – a replay showed Rory running out of road and paddling through the gravel at high speed. Thankfully he held the bike up and got back on track, with very dirty tyres. A lap to clean up the tyres and fuelled by nervous energy, Rory set his best time two laps later – P7. Lee had a less dramatic but ultimately frustrating session – P10, not ideal. Only 0.05 slower than P6 and a second-row grid slot – it really was that tight.
Race One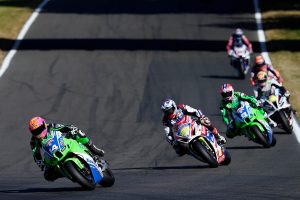 15 lap sprint race. Two good launches. Rory made up two places and slotted in behind the four Yamahas while Lee was avoiding a wheeling Irwin to hold on around the outside at Paddock, making up a place and hard on the heels of Haslam. Three laps in and Bridewell on his very fast Ducati was past Rory and off after the leading group. Five laps to go and a second Ducati, Brookes this time, finally caught and passed Rory – P7 with Lee and Haslam closing fast. Lee had been held up by Haslam in the early laps, both losing touch with the leaders, finally passing him going on to lap six. Haslam then speeded up as he used Lee as a target, so much so that when Lee set his fastest time on lap 12, Haslam followed suit. Frustratingly, a small mistake let Haslam back through with one lap to go and he even had a go at Rory going into Hawthorn on the final tour but promptly ran wide. At the line Rory was 0.6 behind Brookes, P7, then Haslam 0.6 later and Lee, 0.2 further back, P9. The race had been a clear demonstration of the importance of qualifying and track position at Brands Hatch as despite its highspeed layout, it needs a clear advantage to make a clean pass.
Although we were a bit disappointed, looking to the big picture both riders scored decent points to consolidate their championship positions. Look to Sunday's races, Lee's best lap time helps for race two as he'll line up P6 with Rory right behind him, P9. The main concern in the garage was to try and dial out the grip and steering issues that the high track temperatures had created.
Race Two
With overnight changes made, addressing Lee's and Rory's front end feel and grip issues, the hope was they would be able to commit to the turns with greater confidence. After the short morning warm up session, both reported marginal gains but more to do. We were reaching the point of trying things almost as a test as we had to accept that the four Yamahas and two of the Ducatis did have the edge on us, largely due to the nature of the track dynamics.
Both races on Sunday run for a full 20 laps, five more than Saturday's sprint race, maybe that would make a difference in our favour, we would have to wait and see. Lee never really had a chance to find out – sliding off at Stirling's, the banked left-hander, on lap two. Lee reported the bike felt good, so he had no clear idea as to what had happened. Lee suffered a poor first lap due to a tentative launch from the second row and dropped five places which added a bit more pressure, plus the track was hotter and slower, but who knows. It was Lee's first mistake on the season and damage to the bike was very light.
Better fortune for Rory who made a strong start and gained four places through the first few corners, settling in behind the Yamahas – P5. Past Ryde three laps later only to surrender the place to Bridewell five laps later after a spirited defence. Rory was losing a bit of pace as his rear tyre dropped off, which in turn gave Haslam the opportunity to whittle away at the two second gap between them. Over the next eight laps Haslam took two or three tenths out of Rory's lead. On to the last lap Haslam was right on Rory's tail but couldn't find a way past until on the final corner of the race, driving out of Clearways they were side by side but Haslam literally inched ahead and beat Rory by 0.006 over the line! All rather frustrating after a long hard race but at least Rory scored some decent points and finished less than two seconds behind Ray.
Race Three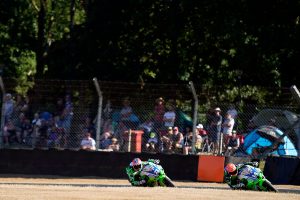 As grid positions are based on lap times in the previous race, Lee was on the backfoot again. As his crash occurred on lap two, he hadn't posted a representative time, so he was pushed back to P16 on the grid. It would be a challenge to do much from there. Rory was off the back of a decent race and would start from the second row, P6.
Lee did as much as he could on lap one, gaining four places. Rory lost a place to a fast-starting Glenn Irwin who jumped from P8 on the grid to P3 and then into the lead two laps later. Rory settled into P7 on the back of the leading group, only to fall foul of an over ambitious move by Hickman into Graham Hill Bend on lap two. Hickman collided with Rory who was pushed off the track taking avoiding action, losing five places in the process and slotting back in behind Lee, P12 with Iddon then taking advantage, P13.
As far as a serious challenge was concerned, our race was over almost as soon as it began. Rory and Lee were confined to a race long battle in the second group. Rory repassed Lee two laps from home but at least they'd made some progress – Rory P9, Lee P10. More frustration as they both had top six pace. Up front, the two McAMS Yamahas dominated again so all credit to them.
After such a strong weekend at Knockhill, it was a bit of a comedown to have a quieter weekend, as far big results were concerned. We had spent all weekend trying to work around the circuit characteristics and track temperature which together conspired to overwork the front tyres. Mind, other than Lee's small crash, we finished every race in the top ten and in race two Rory was only just pipped at the line by Haslam after 20 laps.
Championship Standings
The good news is that despite everything, Lee and Rory are still sitting at P3 and P4 in the overall standings. Lee on 187 points and Rory on 174. Ryde is four points behind Rory but the gap to Ray in second place has grown to 78 with O'Halloran another 10 points further ahead on 265.
We can't take anything for granted but with three qualifying rounds to go before the eight showdown places are decided, both Lee and Rory are in a strong position. After the challenges of Brands Hatch, we are looking forward to Thruxton, Cadwell Park and Snetterton which based on previous experience are Kawasaki friendly!
Next Time
We've got a couple of weekends off now, except for Rory who is going to be off to Silverstone for the grand prix for the first of his two Moto2 wildcard rides with the American Racing Team. Good luck!
The Cheshire Mouldings FS-3 Kawasaki crew will be rolling into the Thruxton paddock for free practice on Friday 12 August. We are looking forward to some highspeed drifting around those long, bumpy corners with the most abrasive track surface of the season. Plenty to get stuck into.
Hope to see you there.
Regards. Nigel Team Principal.