All eyes north to Rory's home circuit with expectations weighing on him for a repeat of his podium performances from last year in one of his first superbike events. Two trips north actually as we headed up for a two-day test with Rory and Lee a week or so before the main event. Decent weather and a few hundred laps to get the riders and crew dialled in for a strong showing when the real work started.
Lee was hot from his maiden superbike race win at Oulton Park and two podium finishes at Donington Park at the previous rounds and was determined to put in a strong performance at Knockhill, not a circuit he's really clicked with in the past. Rory was going to take it as it comes, despite all the expectations. After such a successful test, both were already 'up to speed' and looking forward to the challenge.
It turned out to be our most successful weekend – ever!
Free Practice
Friday morning. 30-plus degree mini-heatwave down south. Knockhill, shrouded in low cloud, heavy rain, strong wind. Rory stayed put in the garage as the weather was set to improve over the weekend. Lee did a 10 lap 'test' to try out a wet setting, with future wet running in mind. Dry for the late afternoon FP2, but very windy. With 20 minutes to go, Rory and Lee held P1 and P2. For his final run on new tyres, Rory took it steady as the swirling wind was a major factor, so he decided not to push. Lee concentrated on another of his long runs – both recording laps within a tenth of a second or two of O'Halloran's fastest time.
Saturday morning – dry again but still windy. Just a 20-minute FP3 session as the pattern for qualifying is set during Friday's two 40-minute practice runs – fastest 12 go straight through to Q2 with the rest into Q1, fighting over the remaining six Q2 places. Red flag with nine minutes to go – Rory P1 and Lee P2 a few hundredths of a second apart and both 0.3 up on the field. Heads down for the final few minutes and Glenn Irwin sneaked in behind Lee to have a target and gained 0.2 to jump up to P1. The rest of the field closed but we were more than happy to go into qualifying, comfortably running at the front. Converting practice form into front grid positions would be critical as the times pointed to the race being a train.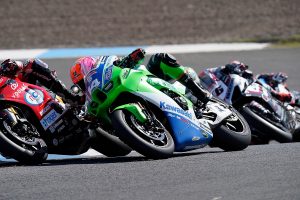 Qualifying
Bright and breezy. Q2, 12 minutes with 18 very fast riders in the confines of Knockhill's 1.2269-mile lap. Some of the lads who have not got the ultimate pace will try and hang back to follow one of the faster boys for a bit of a 'tow'. Having a target can help shave 0.2 of a lap time as we saw in FP3. The riders who get followed think this is tantamount to cheating – just ask Lee!
Rory and Lee were immediately in the mix with Rory heading the times at the end of lap two. In the top three for most of the session, Rory wound it up with a few minutes to go when he saw P4 on his pit board. A personal best 'green' sector one time came up on the timing screen but the next thing we saw was a flash of green on the TV screen and Rory trudging away through the Clark's gravel trap. He'd tucked the front of his ZX-10RR on the way in and slid off – well actually Rory launched the bike all the way to the air fence, which thankfully saved us from any serious damage. Pity, but his earlier effort was still good enough for P6 on the second row of the grid for race one. Lee kept chipping away and just missed out on a front row starting position – P4 with a lap time of 47.38, 0.1 inside the lap record. Ray would be on pole and O'Halloran P2, 0.25 faster meaning they would be the men to beat in race one. The new super soft SXC compound Pirelli rear slicks were certainly doing their bit in contributing to such fast lap times in difficult conditions.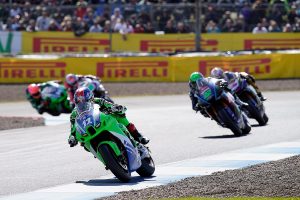 Race One
The wind had picked up again as the grid lined up. Always good to be at the sharp end – especially as we had John from Cheshire Mouldings and his family with us.
22 laps – the Saturday race is always a bit shorter than the main races on Sunday which run for 30 laps. Strong second row starts by Rory and Buchan upset Lee into turn one as the race got underway and led to an attack by Glenn Irwin and Ryde. By the end of lap two Lee was back in P7 and facing one of his renowned fight backs. Things had gone better for Rory who took P3 on lap one before passing O'Halloran for P2 a lap later.
Approaching half distance, O'Halloran put a strong move on Rory at the hairpin as he could see Ray in the lead opening a gap. He apologised at the end of the race, but it did mean Rory lost momentum which allowed Ryde through as well – P4. Meanwhile, Lee was on the way back and had passed Buchan and closed in on Rory – P5. After six frustrating laps behind Ryde, Rory passed him at Clark's which allowed Lee to make a move at the next corner – P3 and P4 running nose to tail. O'Halloran was now two seconds up the road but gradually coming back to the Cheshire Mouldings Kawasakis.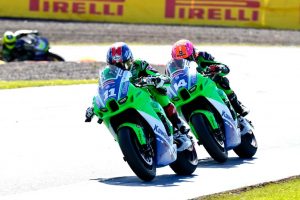 Lap 19, with three to go, Lee made a pass on Rory in the dip at McIntyre's, but a few corners later was frustrated as he attempted to lap East at the hairpin. Already passed by the leaders and with blue sign boards flashing, East was in the middle of the track and for all the world it looked as if he would turn in on Lee at the Hairpin. East finally made clear he was leaving a bit of room, but Lee had lost momentum and Rory sat behind was able to run tight and out drag Lee up the hill. And that is how we crossed the line – Rory on the podium in P3 and a frustrated Lee less than 0.1 behind, P4. Great rides from both and especially Lee for the overtakes and ground he made up – even passing Rory in the closing laps.
At the flag the gap to O'Halloran had shrunk to 0.5 with Ray a further 1.5 ahead. With 30 lap races on Sunday, the final third of each race was going to be interesting. We would certainly find out who is strongest over a longer run.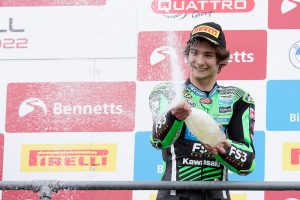 Warm up
Lovely sunny day but still a bit windy and with a chill in the air. Just 10 minutes, so time for a dozen laps. Lee was happy with his bike but there were a couple of small set up changes to try on Rory's ZX-10RR.
No dramas. Rory ended up fastest – the couple of clicks on the suspension helped, but not as much as the fact it was not as windy. Rory was able to ride his home track on muscle memory without having to anticipate or react to gusts of wind. Lee just clicked off his laps a couple of tenths slower and was perfectly happy with his bike. All ready for the day's races.
Race Two
Race one lap times from Saturday placed Lee in the middle of the front row – P2 – and Rory right behind, P5.
As usual, flying start from Rory with Lee slotting into P5 behind O'Halloran, playing it safe through the tight, twisty and undulating first half of the Knockhill lap. Conscious that he was still suffering a bit with his arms later in the race, Rory wanted to make a break and build up a lead he could defend later in the race. The result was a new lap record on lap 2 – an incredible 0.346 faster than the previous mark. With a 0.5 lead on lap eight, the flow of Rory's race was interrupted by a three-lap safety car period to clear up a mess at the Hairpin. From the restart, Rory, Ray, O'Halloran and Lee formed a highspeed train, covered by just over half a second and steadily pulling away from the field.
It all came down to the final five laps. O'Halloran had edged ahead of Ray a few laps earlier and Lee was through on lap 25. A lap later O'Halloran put a late move on Rory into the hairpin and just got through, Lee was now closing in on both of them. Through McIntyre's on lap 29, Lee passed Rory only to run very slightly wide on the exit kerb, allowing Rory to get back past. It was very tight and very fast and on the pit wall (and in the commentary box) hearts were in mouths. Both riders in podium positions but racing each other very hard – what could possibly go wrong? Final lap and Lee put the same move on Rory and this time it stuck – Lee crossed the line a couple of tenths ahead of Rory and 0.7 behind O'Halloran.
P2 and P3, our first ever double podium. No hard feelings in the winners' enclosure as Lee and Rory congratulated each other. The crew were ecstatic – all that hard work paying off.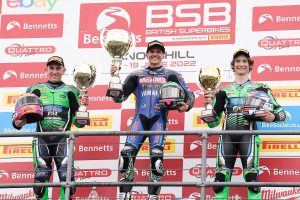 Race Three
Rory's lap record meant he would be starting the final race from pole position. Lee P5 and with some fast starters around him. No surprise that Rory went off like a scalded cat with Lee sat in P5 again, but this time behind Glenn Irwin. The wind had picked up again and sector two times were a couple of tenths slower as the wind swirled over the rise into Clark's, the scene of Rory's qualifying crash. And so it was – Rory pulling away, fastest lap of the race again on lap two and a 0.8 lead going on to lap 4, but that's as far as he got. Into Clark's a foot or so offline and at speed, a small bobble as the wind caught the bike and down he went. Guess it's better to crash out of the lead, fighting at the front, rather than stuck in a mid-field battle. The only other upside is that both Rory's crashes were so fast, the bike flew to the air fence and into safety fencing without bouncing through the gravel trap, so damage was remarkable light. Thanks Rory!!
Meanwhile, Lee was doing his thing. Unfortunately, he got a bit stuck behind Glenn Irwin for the first ten laps as Ray and O'Halloran edged away to a three second lead. Once he was past, Lee settled into his relentless race pace and set his fastest lap at half distance. Lee halved the gap and crossed the line 1.5 seconds back – if only he had not been behind Irwin for those early laps – still another podium. Funny how you get greedy for more when you are running at the sharp end.
Rory was gutted to have crashed out, but he did get a consolation prize – he was awarded the Steve Hislop 'Flying Haggis' Memorial Trophy, courtesy of his outright motorcycle lap record. After such a strong weekend at a circuit where he has never felt really comfortable, Lee's two podium finishes have sent out a warning that he is a serious championship contender.
Travelling up for the two-day test had certainly paid off for both riders and the team. Four podiums and a new lap record!
Championship Standings
Lee is now in a clear third place on 174 points, 26 ahead of Rory in fourth spot with 148, just ahead of Ryde and Irwin. O'Halloran is on 200 with Ray leading on 216.
Still only four rounds in but it is good to see Lee and Rory racking up the points. What is more, in the teams' championship standings, Cheshire Mouldings FS-3 Kawasaki hold second spot on 209 points, 60 behind our mates at Rich Energy OMG Yamaha but three ahead of the champions, McAMS Yamaha.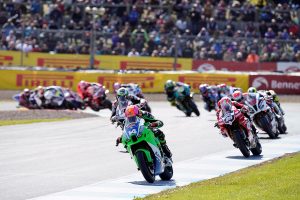 Next Time
We now have a well-earned break as it is a month until the BSB paddock assembles at Brands Hatch for a weekend on the magnificent Grand Prix circuit. We can't wait to get going again!
Hope to see you there.
Regards, Nigel. Team Principal.