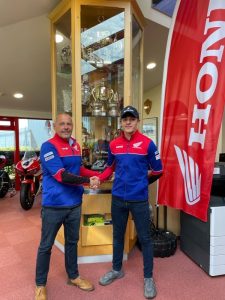 Rising star, 19-year-old Franco Bourne steps into the factory Honda Racing UK team temporarily to replace Andrew Irwin, who continues his recovery to full fitness.
Franco joins the team as a stand-in after a sensational opening four rounds in the Pirelli National Superstock Championship. Stepping up to race a 1000cc machine for the first time this year with the Marvel HCL Motorsport Team, the team with which he was runner-up in Junior Superstock in 2022, Franco immediately impressed with his raw speed and natural talent. In just the first round of the season at Silverstone National, his first time racing a Fireblade, he scored an impressive second-place finish. Not content with second, he would go on to win the next race of the meeting to become the early championship points leader.
The 2020 Honda British Talent Cup champion, continued his seamless adaptation to racing a 'big bike' at round two where he backed up his impressive early season form with another podium at the fast and technically challenging Oulton Park Circuit, cementing his credentials as a future star.
Franco attended a short Shakedown test for the team at Cadwell Park on Thursday 29th June to acquaint himself briefly with the Superbike before he makes his debut for the team at the upcoming fifth round of the Bennetts British Superbike Championship at Snetterton, 7-9th July.
Havier Beltran – Honda Racing UK Team Manager
Firstly, I want to wish Andrew a continued speedy recovery and we look forward to welcoming his return to racing in due course when he is fully fit and ready to race. In his short absence, it gives me great pleasure to welcome Franco into the team. I have kept an eye on Franco for many years and I have been impressed by his natural talent since our first introduction back in 2012 through the Bikewise initiative. Watching his progression year after year has been fantastic to witness and I am excited to see what he can achieve riding our Superbike. 
I would also like to thank Franco's current team manager Matt Bainbridge and all of the team at Marvel HCL Motorsport for helping to facilitate this opportunity. I look forward to seeing Franco showcase his potential and continue his development.
Franco Bourne 
I hope that Andrew is ok, I wish him all the best and a speedy recovery. I have to say when this chance came about I was obviously disappointed with what had happened to Andrew, but I was extremely happy to take the opportunity to jump onto such a good bike with a team as established as Honda Racing. 
I've known Harv for over ten years, since my first introduction to riding on tarmac through the Bikewise initiative, and I want to thank him for giving me this fantastic opportunity. 
I came onto the Honda Fireblade in Superstock off the back of riding a bike that I really struggled with, so the adaptation has been great. I gelled with it as a bike immediately even though everything was so new, the chassis, the brakes, the power and the slick tyres. But it's a bike that I adapted to very quickly. I think this will stand me in good stead with racing the Superbike. 
We had a small shakedown test, to adjust the riding position and give me a quick feel of things. I think the fact that riding a Superstock is so new, it will help me to adapt again as the Superbike just does everything that the Superstock bike does, but it does it that little bit better. I know there is a lot of learning to do, the bike is definitely more physical to ride too and I didn't push too much, so I'm excited to see what we can do. I come away from that small test with loads more positives than negatives. 
I want to thank Matthew Bainbridge, Pete Boast and all of the team at Marvel HCL Motorsport for getting me to where I am today, and for allowing me to grab this opportunity with both hands.