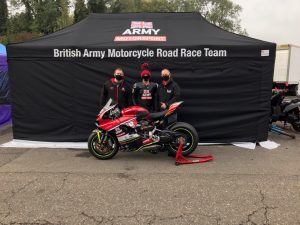 At the beginning of the season, we didn't think we would see any racing or race ourselves. Doubts of if we'd done the right thing, buying and prepping a new Ducati V2 was running around our heads.
With the restrictions in place the team at MSVR and Bennett's British Superbikes, got the season off the ground. Yes it was only a 5 round, 10 races for us in Ducati Trioptions Cup but in the current environment, this was mega. With the green light given it was then down to the Army Team Management then to get us racing, and we cannot thank all involved for the hard work behind the scenes and at the Army sports control board for getting us racing.
So the season, we've had many ups and also downs. Starting the season off at Donington Park, we were very pleased with a 12th and 14th. Scoring points in both races straight from the off. Round 2 saw us at Snetterton, one of our bogey tracks. Unfortunately Crashing out of 12th in Race 1 we rebuilt the bike over night and finished race 2 in 12th after a tough race. Silverstone was up next not one of the most exciting tracks but with the results so far we felt confident. For this round we had to use a 190 tyre instead of the standard 180, and they were for the bin after just 20 laps! Was an expensive one but we managed 14th and 15th respectively. The penultimate race weekend was at Oulton Park, One of the best tracks in UK in our eyes. Finishing in 14th and 16th. Then the finale! Brands hatch GP. We didn't finish in the points in either race, but what a great weekend racing. Some of the toughest and tightest races I've ever been in. With 0.3 seconds covered 12th – 18th over the line. Was a great way to end the season.
The pace this year has been great and having set PB's at every track we've been to this year. With the biggest jump being the final round, a massive 2.8 second dropped!
This year wouldn't have got off the ground without those previously mentioned but also to all my personal sponsors.
So what does 2021 hold? At present we aren't sure. As soon as the decisions been made we will let you all know.
Thanks again to all that have helped, offered advice, supported and sponsored us even through this difficult world we live in right now.
Time now to relax and decide what the future holds.