Our Product Designer Kerry and Operations Manager David recently visited the Yamaha Off-Road Experience in Llanidloes, Wales to meet British Enduro Champion Dylan Jones.
Dylan, his brother and fellow Enduro Champion Rowan, and their father, ten times Enduro Champion Geraint run the experience centre, so we were in very good hands.
First up was to meet the bikes. Dylan runs the Tenere World Raid, Tenere 700, WR250F, WR450F, TTR250 and TTR125 models at the Off-Road Experience, so there is a bike for all abilities. While we would have loved to have a go we had a job to do, that, and Kerry in particular is very clumsy.
The goal was to make riding the bikes easier by providing leg and knee grip where needed when riding off road, while protecting the Yamahas from stones, boots, clothing rubbing and mud with our Motorcycle Paint Protection. The Teneres also needed their large dashboard screens protecting from scratches and muddy fingers.
Kerry worked with Dylan to determine the best places for the grip material and took tracings to draw up at the office later on. As most of off-road riding involves being stood up on the pegs, the grip is needed in extra places on top of the road bikes, that isn't necessarily on the tank itself.
Once we were happy we had the grip covered for the bikes, next up was the Paint Protection and Dashboard Protectors. This is particularly important for the Tenere models with their painted panels getting scuffed by boots swinging over the tail and peppered with stones and dirt while out in the Welsh countryside. They also have particularly large dashboard screens, which while protected to a degree with the motorcycle's screen, will still pick up scratches and marks. Dylan advised on the panels which would require particular protection when off-roading and these were traced up along with the screens.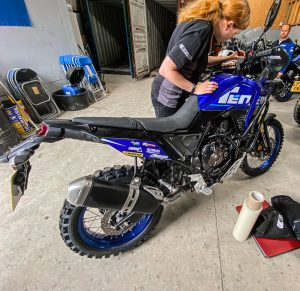 Once all the tracings were completed we left Dylan with some samples to test. Here's what he thinks…
"We have been testing for the past couple weeks on bikes. So far everything is positive. The material is staying place and at first feels a little strange to ride, but certainly gives added grip."
Thank you to Dylan and everyone at the Yamaha Off Road Experience for their expertise and advice.
The Motorcycle Paint Protection Kits, Tank Grips and Dashboard Protectors are available to order from our shop.