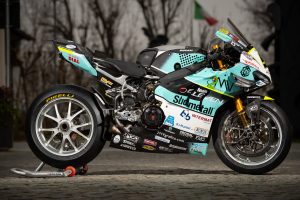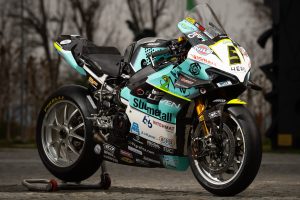 In Cherasco, the Langhe's door, a small characteristic town surrounded by UNESCO heritage hills, home to Team Go Eleven, took place the presentation of the new livery of the Ducati V4-RS with which Philipp Oettl will be on track in the 2022 WorldSBK season!
For the first time since the beginning of Covid 19, the event was able to be held in the presence, with a restricted number of guests, including sponsors, collaborators, journalists and members of the Team. A unique emotion, which marks a gradual return to normality, and throws the last two years spent "behind closed doors" into the past.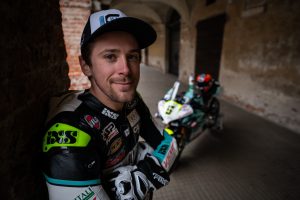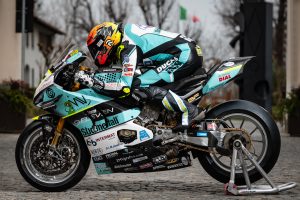 Philipp Oettl was thus able to discover his bike, his Panigale, together with the official suit, both of which have been updated in graphics compared to the 2021 season; blue, black and white, colours that distinguish and make the Go Eleven Team unique in the WorldSBK paddock, have remained central, flanked by showy fluorescent yellow details. The right mix of elegance, visibility and colours!
Beautiful in the photos and videos while standing, but now it's time to see her on the track! Next March 16th and 17th there will be the opportunity to observe the new livery in action; the team from Piedmont and the German rider Philipp Oettl will compete in a two-day test on the Misano track, with the aim of preparing for the start of the season and for the Italian WorldSBK event to be held in June!
Oettl heads into his rookie season in WorldSBK after two seasons competing in WorldSSP competing on Kawasaki machinery where he racked up 11 podiums across 38 races although did not stand on the top step of the rostrum. 2022 marks a new start for Oettl as he links up with Team GoEleven in WorldSBK, on a Ducati Panigale V4 R.
Explaining the bike that GoEleven will use in 2022, Team Manager Denis Sacchetti said: "The bike is a Ducati V4 R, WorldSBK spec. It is derived from the 2021 bike; we have updated it and brought some improvements. The development never stops and there are some very interesting tech novelties, the bike won't be new, but it will be a development one compared to 2021."
Sacchetti was also on hand to outline the challenges that Oettl will face throughout his rookie campaign following the switch to WorldSBK, such as riding style differences between the two classes, the increase in power and how Oettl will need to ride the bike in the fastest possible way as the team look to continue their recent record of podium finishes throughout the season.
Sacchetti said: "It's an important step as it brings some changes in the riding style and how the rider has to face corners, the braking, the acceleration, the rider's position… you have a lot more engine horsepower and also the electronics management and working method are more complex. It changes a lot as, on a 1000cc bike, you have to 'make' a more stop and go style, you have to stop and then restart with the bike in a 'straight' position in order to put the power down. The feeling has been very good from the first day we met, Philipp works very well and get along with everyone in the box. In our first test we focused on ergonomics, this is the base of our plan. At the Portimao test, he surprised me as he was faster than I expected."