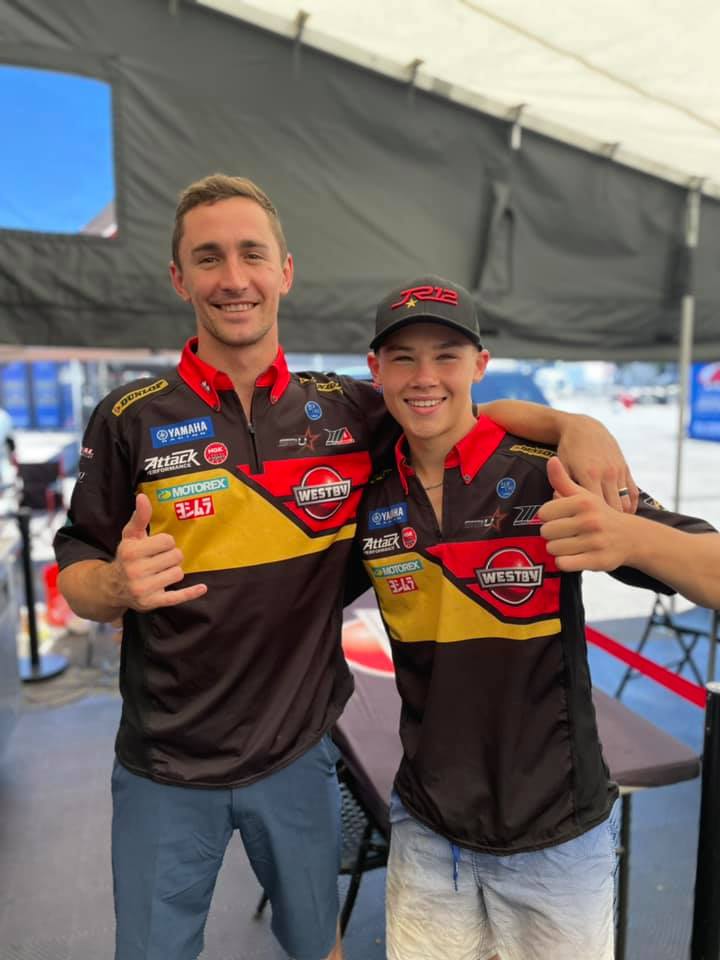 Westby Racing finishes 5th in Superbike and 12th in Junior Cup on Saturday at Ridge Motorsports Park
With air temperatures approaching 100 degrees on Saturday at Ridge Motorsports Park, the Westby Racing team battled through the extra adversity brought on by the uncharacteristic weather and, while the results were mixed for the team's two riders — Mathew Scholtz in Superbike and his teammate Jack Roach Racing in Junior Cup—both men and their crew members have their heads held high and are determined to get better results on Sunday.
Mathew maintained his second-place position in the 2021 MotoAmerica Superbike Championship with a solid fifth-place finish on Saturday. He started from the middle of the second row on the grid, and he was able to move into fourth position on the opening lap, but the rest of the race was mostly processional as he went back to fifth on lap two and remained in that position for the rest of the 17-lap race.
"All in all, today wasn't the best of days," Mathew said. "But, I think we learned a lot, and I know where I am struggling. We kind of have an idea about where we can improve tomorrow, and we always seem to improve on Sunday I know it's going to be extremely hot again tomorrow, even hotter than it was today. That's something that we're going to be looking out for, but I believe we have the potential to fight for the podium tomorrow. I'm going to give it my all, and I know the entire team will, too. I'm thankful to be racing here, and to be on this great team, and I am looking to put the Westby bike up on the podium tomorrow where it belongs."
In Saturday's Junior Cup race, Jack Roach started from the inside of the fourth row, which is pretty much mid-pack, and he knew he would have to work hard, especially in the oppressive heat, to move further up in the field. He managed his way into ninth position in the early going, but as the laps started to wind down, he started to lose positions and ultimately finished the 11-lap race in 12th place.
"That was not the race I wanted," Jack said. "I felt like I was pushing hard, but I wasn't really capitalizing on the bike's strengths. I'm not a rider to blame the bike, so I will be doing a lot of work on line choice and race strategy with my crew chief Shiloh (Salopek). She helps with everything, and without her, I would be lost. So, a big thank you to Shiloh for seeing my potential and working with me and as hard as possible. Also, a huge thanks to Westby Racing and Chuck Giacchetto for their support and for continuing to believe in me."
Westby Racing's Mathew Scholtz finishes just off the podium in Sunday's Superbike Race at Ridge Motorsports Park
After finishing fifth in Saturday's Superbike race at Ridge Motorsports Park, Westby Racing's Mathew Scholtz Racing improved in Sunday's race with a fourth-place result and maintained his second-place position in the 2021 MotoAmerica Superbike Championship.
Starting in the middle of the second row based on his fifth-place finish in Saturday's race, Mathew got a good jump off the line and moved into fourth place on the opening lap. He got shuffled back to fifth for a few laps in the middle of the race, but he fought hard in the 100-plus-degree air temperatures, moved back up to fourth place, and tenaciously held the position all the way to the checkered flag.
"We made some setup changes from Saturday to Sunday's warmup, and they seemed positive," commented Mathew. "Then, when the race came in the afternoon, it was a lot hotter, and I just seemed to suffer (in the heat) a little bit more than I did yesterday. I brought the bike home in fourth, which was obviously not what we wanted, but it is an improvement from yesterday, so we can take the positives from that.
"We've got our work cut out for us, but I really am looking forward to Laguna Seca. It's always been good to me, and with the help of Niccolò Canepa's setup from last year (when he was a fill-in rider for the team at WeatherTech Raceway Laguna Seca while Mathew recovered from injuries he sustained in a crash the round before at Indianapolis Motor Speedway), moving forward with the bike and understanding what we know now should help us try to run up front and battle for the podium there. I just want to give a big shout-out to the Westby team. It's been difficult lately, but we are all in this together, and we can definitely make our way back up to the top."
Westby Racing's Junior Cup rider Jack Roach Racing's weekend at the racetrack closest to his home in British Columbia, Canada, did not go quite as well as he had hoped, but on the bright side, his Sunday result was an improvement on Saturday. After finishing 12th in Saturday's race, he moved up three positions to finish 9th and inside the top 10 on Sunday. In addition, Jack's results at Ridge moved him up three positions in the 2021 MotoAmerica Junior Cup Championship.
Next up for Westby Racing is round six of the MotoAmerica Championship, which will take place at WeatherTech Raceway Laguna Seca in Monterey, California, on July 9 through 11.
MotoAmerica Superbike Standings
1. Eazi-Grip supported Jake Gagne – Yamaha – 175
2. Eazi-Grip supported Mathew Scholtz – Yamaha – 131
3. Eazi-Grip supported Josh Herrin – Yamaha – 123
MotoAmerica Junior Cup Standings
1. Tyler Scott – KTM – 157
2. Benjamin Gloddy – Kawasaki – 155
3. Cody Wyman – Kawasaki – 116
13. Jack Roach – Yamaha – 24