Scholtz Starts Season With Runner-Up Finish In MotoAmerica Superbike Race One At COTA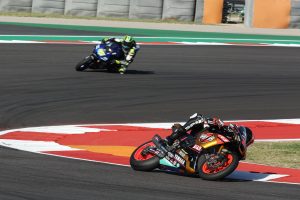 The first race of the 2022 MotoAmerica Superbike Championship got off to a great start for
Mathew Scholtz Racing
and his Westby Racing team. Held on the world stage during this weekend's Red Bull Grand Prix of The Americas at the
Circuit of The Americas
(COTA) in Austin, Texas. Mathew finished as runner-up in the 14-lap race.
Starting from second on the grid, Mathew immediately took the lead in the race, in part because polesitter Jake Gagne was unable to start due to a technical issue with his motorcycle. Pressing his advantage, The Scholtz Kid maintained the race lead for the first three laps until he was ultimately overtaken by former MotoGP rider Danilo Petrucci, who is now racing in the MotoAmerica series. Mathew made a couple of runs at Danilo, but he just couldn't overtake him, and he had to settle for the second step on the podium.
Mathew Scholtz
"There were a couple parts of the track where (Danilo) was quicker," Mathew said. "There were a couple parts where I was quicker. So, it was just always going backwards and forwards. That's mentally draining. I think it was maybe six laps to go, and I hit a false neutral going into corner 16 and lost it all. I tried to come back after that. I think I closed in slightly. It's obviously the first race of 2022. So, I kind of know where I was losing time. There were a couple corners going onto the back straight and onto the front straight where I was spinning way too much and losing a ton of time. Through the infield section, I felt good. Just need to work on one or two things, and I think we'll be able to maybe hold a couple 8's and low 9's for the second race tomorrow. Just a big thank you to the Westby Racing team. They've worked hard during the off-season and given me a bunch of new and better parts. We changed the whole bike with how the traction control works. First race, it kind of sucks that I was that close to the front, but I'm just going to be happy with taking a second and continue building from here."
Westby Racing Team Manager Chuck Giacchetto
"For the 2022 season, everything is the same and everything is different. What remained the same is the Westby Racing team's desire to push until the end. From what I saw today, that's exactly what happened. I'm thrilled with Mathew's performance as he undoubtedly left nothing on the table.
As for what's different, the 2022 Westby Racing Yamaha YZF-R1 Superbike is positively bristling with more refined parts to help us grow to yet another level of performance. Hard work by our technical team proved today that the fellas have used their existing assets and expanded their ability to make the Yamaha an even sharper weapon. Special thanks to everyone in the Westby Racing family and our supporters for helping us move forward as quickly as possible."
Westby Racing's Mathew Scholtz Notches Runner-Up In Texas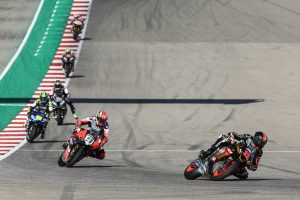 The Westby Racing team couldn't have asked for a much better start to the 2022 MotoAmerica Superbike Championship than the one they had this weekend at the Circuit of The Americas (COTA) in Austin, Texas. Last year's championship runner-up Mathew Scholtz notched two second-place finishes at COTA aboard the #11 Westby Racing Yamaha YZF-R1, and he led each of the two races on the weekend.
Starting from second on the grid, Mathew got a decent start off the line, but was shuffled back one spot on the opening lap. He quickly went to work, however, moving back up to second, and then he overtook former MotoGP rider Danilo Petrucci for the lead. The two fierce riders battled back-and-forth and swapped positions several times, with Mathew asserting himself at the front on lap three and being credited with leading laps four, five, and six. A casualty of the fight, however, was Mathew's tires, which began to lose grip as the laps wound down. Petrucci overtook Mathew on lap seven and didn't relinquish it for the remainder of the 14-lap race. Mathew held strong to his position and took the checkered flag in second place for the second day in a row.
Mathew Scholtz
"I could see that Danilo was a little bit stronger than he was yesterday in the middle part of the track," Mathew said. "So, I passed him in the corner and just tried to make sure that he couldn't drive and get me back. I thought Cam Petersen and Jake Gagne were a lot closer to us than they were. I think Danilo maybe passed me around the halfway point of the race. I'm really, really happy to be back up here on the podium, though. Two second-place finishes. I couldn't be happier. Both of these guys (Petrucci and Gagne) are extremely talented motorcycle riders. I'm honored to be up here on the podium with them."
Westby Racing Team Manager Chuck Giacchetto
"Moving onto day two, I felt Mathew would certainly be more aggressive but, to see him ride today with that much confidence made me really happy. Obviously, we have work to do with a short turnaround, but it's nice to leave here second in points but moreso with precious data for the technical team to review and build an even better plan of attack for our home race at Road Atlanta.
I'd like to thank our whole team, including those who do not attend the races. It takes a massive effort by the ladies at the Westby Office and our consultants behind the scenes. See you in two weeks!"
Mathew and the Westby Racing team will be back in action for round two of the 2022 MotoAmerica Superbike Championship, which takes place at Michelin Raceway Road Atlanta in Braselton, Georgia, on April 22 through 24.
MotoAmerica Superbike Standings
1. Danilo Petrucci – Ducati – 50
2. Mathew Scholtz – Yamaha – 40
3. Cameron Petersen – Yamaha – 29
4. Richie Escalante – Suzuki – 20
5. Jake Lewis – Suzuki – 20