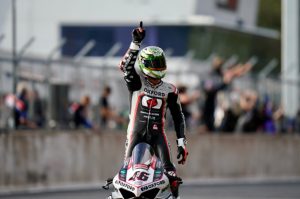 Tommy Bridewell fired himself firmly into Bennetts British Superbike Championship title contention after the opening round of the Showdown at Oulton Park, celebrating a commanding double victory in Cheshire for the Oxford Products Racing Ducati team to move to within nine points of the standings lead.
Bridewell had started the weekend with a sixth place before celebrating his first double win with the team on Sunday in two very different races.
In the second race of the weekend, Bridewell gave himself work to do after running on at Hizzys and dropping down the order to outside the top ten in the early stages. He had to fight his way back through the pack, snatching the lead on the final lap from Jason O'Halloran.
However in the final race of the weekend, Bridewell bolted to leave his rivals in his wake and claim his second victory of the Showdown, taking advantage of his rivals misfortunes to close the deficit in style.
Bridewell said: "I told my team that I've got nothing to lose, I'm here to win the championship. The dice rolled in our favour at the weekend, we did our first double win in BSB and Jason's had two DNFs then Tarran had a penalty in that last race.
"Pressure is a cruel thing, but I have no pressure on my shoulders. If I win, it I win it and if I don't I don't. I'm here to fight and here to win and that's what I'll do.
"At the start of the year I can remember going off in a race and thinking I've got to conserver the tyre but I had no option but to go hell for leather. I said to myself on the grid for the last one, 'right I'm starting from pole; I need to stay out of trouble and get out the way'.
"I didn't think I'd get the holeshot as my starts haven't been brilliant. So when I made a good start I just thought 'right I need to get out of here, I need to bolt'.
"Jason set a very slow pace in race two and I think it led people into some false pretences whereas I was still lapping at 34s through the pack. I caught the pack earlier doing 35s. So in that final race when I did a 34.0 and another 34.0, my board kind of confirmed I was getting away.
"The hardest bit for me is staying focussed. I had ten laps to go and I knew I'd won already, but you lose the race if you lose focus and lose concentration. I had to stay focussed. I had seven laps to go with a seven-second lead so if I threw that away I was going to be an idiot.
"I'm looking forward to Donington, although we have a little bit of work to do there. We have the pace to run at the front, but we need to make the bike better to win. It's certainly not plain sailing with my feet up, so I'll do my homework, the team will do their homework and we need to come out swinging at Donington and win again. When you win and you win again, and then again, you keep learning. I need to keep the ball rolling and I need to be lifting the trophy at the end of the year."