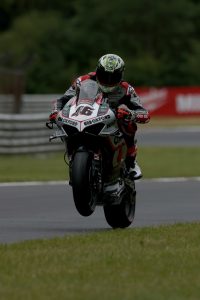 Tommy Bridewell will be bidding to go one better in the fight for the Bennetts British Superbike Championship when the season gets underway this Easter weekend (April 15/16/17) at Silverstone following a positive pre-season for the Oxford Products Racing Ducati rider.
Bridewell finished second to Tarran Mackenzie last season and after topping the recent pre-season test at Silverstone, the Devizies rider arrives at the opening round with confidence high ahead of the opening three races.
Bridewell said: "We have had a really strong pre-season test for definite. Snetterton was frustrating for me as a rider; to be fair the team did tell me that we had a lot to test, and it wouldn't be fun but it was crucial. Then we missed Donington Park because of the weather and then the two day test at Silverstone.
"The test at Silverstone was fundamental to be honest. We have a lot of new parts on the bike that we had to test and we found something at the last test as we had been experiencing a little issue.
"There were a lot of positives and one negative, but we continued riding on the last afternoon to fix it and we managed to, so because of that I am feeling really positive and strong coming into round one.
"Silverstone isn't a strong circuit for me usually and I have to be honest, I wouldn't say I am as confident going in to there as I am at some of the other tracks, but weirdly this year I am really looking forward to it.
"The new parts on the bike have fixed exactly what I wanted from last year and I am ready to get going this weekend."
Posted on Wednesday, April 13th, 2022 in News