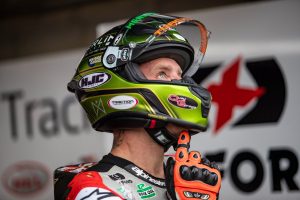 The last time the Bennetts British Superbike Championship visited Brands Hatch, the fans were treated to an incredible dogfight between Tarran Mackenzie and Tommy Bridewell. As the championship returns to the Grand Prix circuit this weekend, Bridewell is determined to add to his podium tally for the Oxford Products Racing Ducati team.
Bridewell claimed a trio of second place finishes last October as he fought with Mackenzie for the title; giving everything in his quest to become champion for the first time.
"Last time that we were at Brands Hatch it was a great weekend for us," reflected Bridewell. "It is funny because we had a lot of momentum, as it was the last round of the season and we had really nailed the fine details of the setting for the bike and I was riding at my prime. We were fighting for the championship and there was nothing to lose for me.
"The battle was really strong between myself and Tarran and the highlight of the weekend was that it was two different riders with completely different riding styles from completely different teams and bikes going for one goal. We were in truth a step ahead of everyone else and that was a highlight for me; I raised my bar but to be fair to Tarran he also raised his level as well. That was a nice thing to look back on – it was a two horse race and a real head-to-head."
With fond memories from the last visit to the Kent circuit, Bridewell is focused on the weekend ahead; with one podium in the bag from Oulton Park, he is feeling confident ahead of round five.
"I am looking forward to it this weekend," added Bridewell. "We are four rounds into the championship and there is an argument that people will say, 'you haven't quite had the start to the season you have hoped or people expected', but in all honesty I don't think that we have had a bad start to the season.
"We are just over ten points down on where we were this time last year, where we had a great start to the season. In that, we had a really difficult Donington and that was a sting in the tail. Oulton Park was a good weekend and we had podium pace, arguably fighting for the wins pace, but my mistake I crashed out. Obviously, that would have been a podium and then a podium in the last race, but we cocked up qualifying and so that made the Sprint race difficult so to finish sixth was good.
"So in truth the start of the season has actually been good and Knockhill was really strong for us. I am really happy and positive after that as I didn't in truth expect to be as strong as we were, so to only be a couple of seconds off the race win at Knockhill for me, is a very good weekend. All I want to do is win and my hands are full at the moment trying to beat the Yamahas and the Kawasakis as they seem to be strong at the moment.
"Again we have had a few rounds which have been tricky and a few where it hasn't suited me or the bike, but we have made it work well so I feel like we have gathered good momentum so far. That is why I am really looking forward to Brands Hatch, as we know that is a good track for me and for the Ducati."
Bridewell is feeling positive ahead of the next round, believing that the work that the team have completed over the opening four events will stand them in good stead as the Main Season reaches the second half and the Showdown beckons.
"The hardest bit so far this season has been for both me and the team to get our head around the dynamic of this new bike," reflected Bridewell. "I probably didn't realise the weight distribution difference of my bike now; the geometry and the settings are very, very different to last year and we are running completely different springs, heights everything – all the technical detail is really different.
"So we go to a round where you can go 'Tom, you won there by x amount of seconds last year, off you go, boom that is the setting' and I will come in and go 'the bike feels terrible'. We almost work from a basic; there are some bits that overlap, but it is not as easy as you would think. I think myself and the team have now got a good bearing on it and that is good going forward.
"We were under no illusion that we just needed to build into the season, like I do most years, especially because of the bike difference. If I am honest, I have done that for four rounds now, so Brands Hatch is going to be a case of me expecting more from myself, more from the bike and more from the team.
"I expect to be fighting for three race wins this weekend in truth. It is that plain and simple. I feel like the bike is ready and I am ready, the team is always ready so I think once we get to that we will continue it for sure."