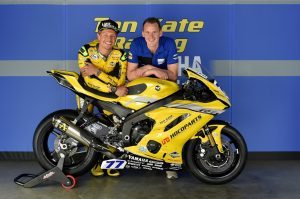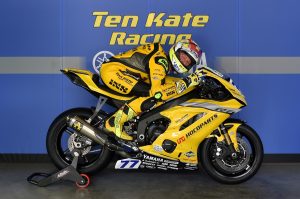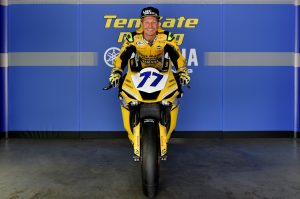 Dominique Aegerter will ride a special yellow and black Ten Kate Racing Yamaha R6 during the Dutch team's home race in Assen. This special #ProjectYellow livery was presented at the TT Circuit. In this legendary livery the past and present of Ten Kate Racing and Yamaha is coming together in a perfect way.
When you think of the Ten Kate Racing colours, and especially in combination with the past, you will think yellow and black. In 2002, 2003 and 2004, Ten Kate Racing won their first three world titles in a row as a private team with Fabien Foret, Chris Vermeulen and Karl Muggeridge in this yellow and black livery. This extraordinary success put Ten Kate Racing on the world map of motorsports for good. Later, when Ten Kate Racing became a factory Honda team, the livery on the bike disappeared. However, the whole Ten Kate company would always be associated with the yellow and black colours.
Yamaha, the brand Ten Kate Racing has raced with since 2019, also has a rich history with these colours. When Yamaha Racing celebrated its 50th anniversary back in 2005, the factory MotoGP bikes of Valentino Rossi and Colin Edwards were painted in yellow and black. This was the livery in which Kenny Roberts had won the 500cc world title three times in a row from 1978 to 1980.
The 2021 edition of WorldSBK in Assen is a special one for Ten Kate Racing for several reasons. It's the first time Ten Kate Racing will compete with Yamaha in World Supersport at Assen, the class in which the team scored nine world titles in the past. It's also Ten Kate Racing's first home race since 2018. In 2019 the event came too early for the new Yamaha team and last year the event wasn't held due to the pandemic. Therefore, Ten Kate Racing Yamaha wants to do something special in Assen and that will happen with the yellow-black livery under the name #ProjectYellow that Dominique Aegerter will race with. A livery with a look to the past, but also certainly to the present; a future with Yamaha!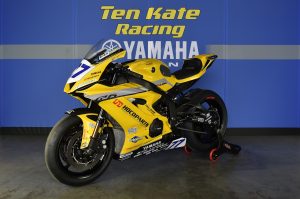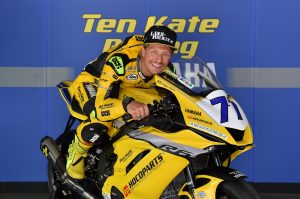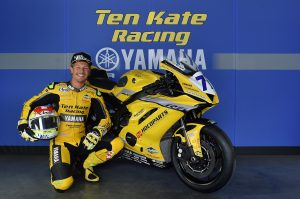 Dominique Aegerter: "You couldn't have made me happier than with this beautiful livery. Yellow is my favourite colour and I can't wait to ride with this livery. Ten Kate Racing has a rich history with these colours and has achieved a lot of success with it. It's a special weekend for the team as they have a home race in Assen again since a long time. I hope to get strong results with this beautiful Yamaha R6 livery in Assen!"
Team manager Kervin Bos: "It's our first home race as Ten Kate Racing Yamaha. We wanted to do something special in Assen and we have done that with #ProjectYellow. This livery actually has everything. It combines the rich history of Ten Kate Racing, but also of Yamaha, and it symbolizes our future together. Because our championship leader Dominique Aegerter will ride with this livery just once, we leave a historic period behind and then will officially continue with blue colours of Yamaha. We hope that the fans and our partners can appreciate this special project. Of course we won't forget Galang. For him we will organise something special during his home race in Indonesia."