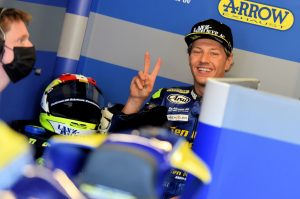 Ten Kate Racing Yamaha is heading to the WorldSSP round in Navarra well-prepared. Dominique Aegerter and Galang Hendra Pratama have tested on the Spanish circuit before. Aegerter will do everything he can to score two top results again, Galang Hendra Pratama is fit and will hunt for his best result of the season.
The Ten Kate Racing Yamaha truck is on its way to Spain for the eleventh and twelfth race of the 2021 World Supersport championship. The race will be held at the Circuito de Navarra. As well as the Autodrom Most, the Spanish circuit is new on the calendar. The Navarra circuit is almost four kilometres long and is characterised by a large number of first gear corners.
Dominique Aegerter starts the sixth round of the season as leader in the world championship with a 37-point lead over the number two in the standings. The Swiss rider managed to win six of the ten races so far. Galang Hendra Pratama injured his arm in Most, forcing him to miss the second race. The rider from Indonesia has recovered to race in Navarra after his unlucky incident in the warm up.
As usual in World Supersport, two races are scheduled in Navarra, starting at 15:15 on Saturday afternoon and 12:30 on Sunday afternoon.
Dominique Aegerter: "It's my third race week in a row. After Most and the MotoE in Spielberg we are now heading to Navarra. I can't wait to see the guys again and to ride the Yamaha R6. The team made a big effort so we could test there in the summer. It's a really special track. It's very bumpy and we have to go back to first gear six times. The feeling with the test was good. I'm fully motivated to work with the team again for a good weekend in Navarra!"
Galang Hendra Pratama: "I am 100% fit for the Navarra round. I have had physiotherapy and several checks. The doctor said that I can ride and I'm ready. I like the Navarra track. It is quite small and it's more a stop & go circuit, but I like that. I'm really looking forward to the weekend. I will push more and I hope to make it a good weekend like in Most before the moment in the warm up!"
Team manager Kervin Bos: We will go to Navarra well-prepared as we had a good test with both riders there. Galang is fit, fortunately his injuries were not too serious. Dominique is in fantastic form and the goal is to fight for top positions again. Galang knows the track well with the Yamaha R6, so we are aiming for his best result of the season. The team spirit is excellent, we are ready to rock!"
Posted on Tuesday, August 17th, 2021 in News